If you're a WordPress die-hard user and want to do everything from your dashboard, then you'd love the efficiency of WordPress email marketing plugins.
The plugins take the work of email marketing tools. You can build your list and create beautiful newsletters, pop-ups, and more from your WordPress dashboard.
I've researched eight of the best WordPress email marketing plugins in this article. You don't have to go through the laborious process of manually testing each option to get the right fit. 
Just by reading this piece, I'll give you a virtual experience of each tool so that you can have an easy time deciding.
But before we go to that, let's first answer a few critical questions.
Table of Contents
What Is Email Marketing Plugin and Why Do You Need It?
As mentioned earlier, WordPress email marketing plugins are an extension of email marketing services.
Let's put it into a little bit more context.
WordPress is good at creating blogs, websites, portfolios, online stores, and landing pages, but not in email marketing.
Therefore, as a user, you can either opt for Gmail, with its many email marketing features (like mail merge, email templates, email reminders, etc.), or purchase an email marketing tool. 
Luckily, email marketing plugins bridge the gap by integrating with WordPress. This allows you to perform basic email marketing tasks, including:
Sending newsletters
Collecting email addresses
Creating pop-up forms
Segmenting contacts
Forum notifications and a lot more.
The question of why you need a WordPress email marketing plugin goes back to the flexibility it brings to the table.
Since it integrates with your WordPress, you can do all things email marketing without leaving your dashboard. It's a huge time saver that most digital marketers want. Plus, the plugins are way cheaper when compared to email marketing tools.
Another thing to note is that the plugins can't work for email outreach. You can't integrate them with outreach tools like email finders. They need integrable CMS platforms like WordPress.
How to Choose a WordPress Email Marketing Plugin?
Before you pull out your wallet, first have a few considerations that will assist you in getting the perfect tool for your situation.
I'm saying "the perfect tool for your situation" because all WordPress plugins don't perform similar tasks across the board.
You'd want to choose a tool depending on these scenarios.
Growing your list;
creating a simple newsletter;
business type;
send custom notifications;
your CTR target.
So, the first thing is to determine the problem you want to solve. Once you have an answer, the following factors are ease of use, premium features, and functionality.
That said, let's check the best WordPress email plugins available today.
Top WordPress Email Marketing Plugins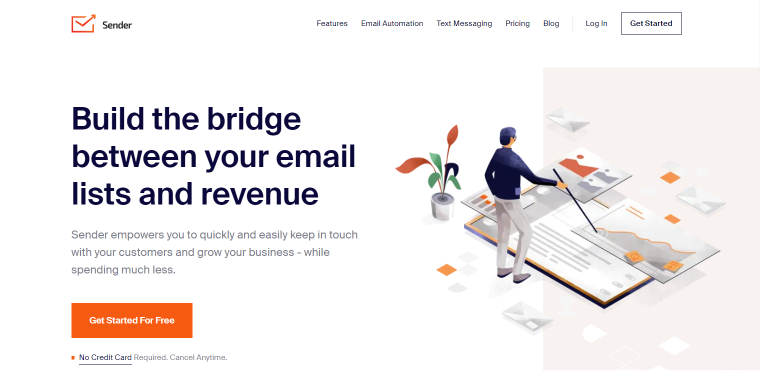 Sender is one of the most affordable yet powerful WordPress email marketing plugins trusted by over 180K companies.
The platform offers you functionalities to automate email marketing campaigns. Its forever-free plan includes up to 2,500 subscribers and 15K emails per month. Once your audience and marketing needs start to grow, you can upgrade to one of its plans with SMS marketing automation and offer customers an omnichannel experience.
In addition, Sender provides premade design templates and a drag-and-drop email builder that help you create professional newsletters in minutes. With advanced segmentation, you can group subscribers based on various attributes and personalize your newsletters to be relevant to your audience.
Besides the newsletters, its high-converting pop-ups (like spin-to-win or exit-intent) help you attract quality leads, which you can nurture into loyal customers. It is possible to track your email campaigns with newsletter heatmaps and detailed analytics. This way, you will know what's working and what's not and adjust accordingly.
Other key features include high email deliverability and integration with eCommerce platforms like WooCommerce and Shopify.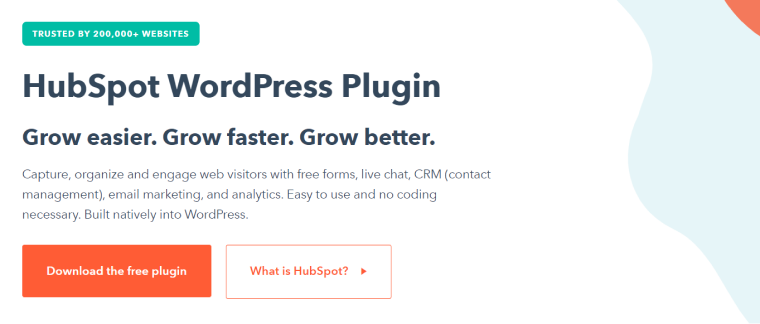 You can't talk about email marketing and fail to mention Hubspot.
Before we go further, you'll love the Hubspot WordPress email plugin because it's free. And that doesn't mean you get scanty software with hard-to-navigate dashboards.
The drag-and-drop editor makes the pop-ups and forms effortlessly to create. Once a visitor gives you their information, you can create an automated response email that contacts them with the promised lead magnet.
Another thing is the ability to create beautiful and responsive newsletters. There are more than 20 templates to choose from. Again, the drag-and-drop editor makes the process seamless.
The CRM takes the experience to a whole new level. You can automatically sync your website forms to your Hubspot CRM.
Therefore, it's easy to manage contacts, segment them into multiple lists and even track their interactions with your website.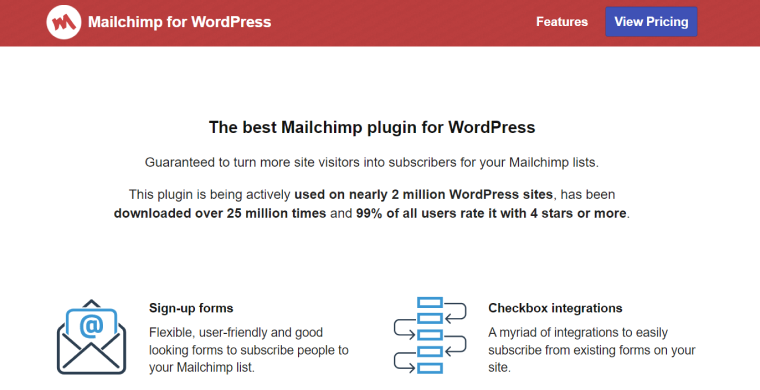 If Mailchimp is your email marketing tool, you need a plugin that connects to your WordPress account.
However, that doesn't close the door to non-Mailchimp users. Anyone using a different email marketing service can still benefit from the Mailchimp email marketing plugin.
Either way, the plugin enables you to grow your email list, view detailed reports about your campaign, send automated notifications for new subscribers, and more.
Its key features include friendly and dedicated support, mobile-friendly and optimized sign-up forms, and seamless integration with other popular plugins like Woocommerce, JetFormBuilder, Buddypress, etc.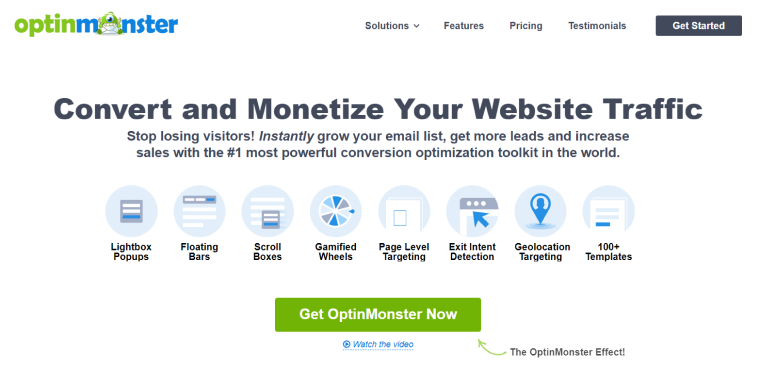 OptinMonster WordPress plugin has made a name for pop-ups and email newsletters. Currently, the plugin has over a million active installations.
In minutes, you'll find it easy to create beautiful pop-ups using the drag-and-drop editor. You can also use the same platform to develop interactive pop-ups like sticky announcement bars, gamified spin-a-wheel opt-in forms, and beautiful subscription forms.
Since the plugin doesn't have a parent email marketing tool, it integrates with almost all email marketing tools in the market.
This makes it the perfect option for users who don't want to be tied to plugins created by parent email marketing tools.
Plus, it opens arms for integration with your favorite CRM tools like Zapier, customer.io, Webhooks, and more.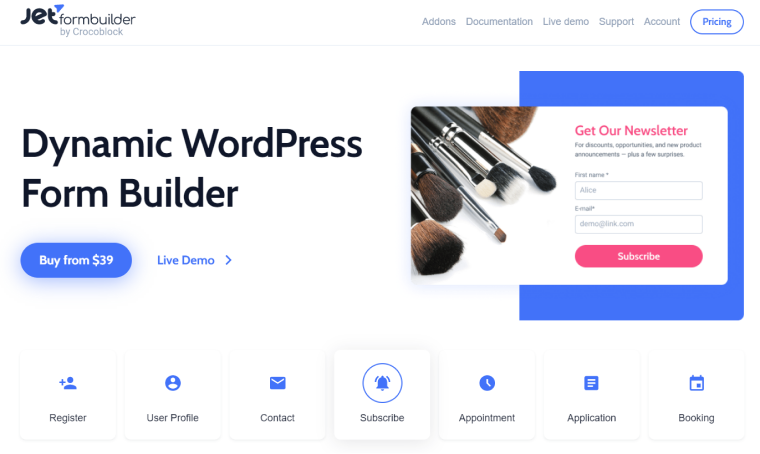 JetFormBuilder is a free subscription form plugin. This plugin is the official free plugin for WordPress by Crocoblock. It helps to place your subscription on any page you like and collect the leads faster.
You can create subscription forms and contact lists and get real-time dashboards like any other plugin. Furthermore, with JetFormBuilder, you can add ReCaptcha to your form and integrate with MailChimp, GetResponse, and other marketing tools.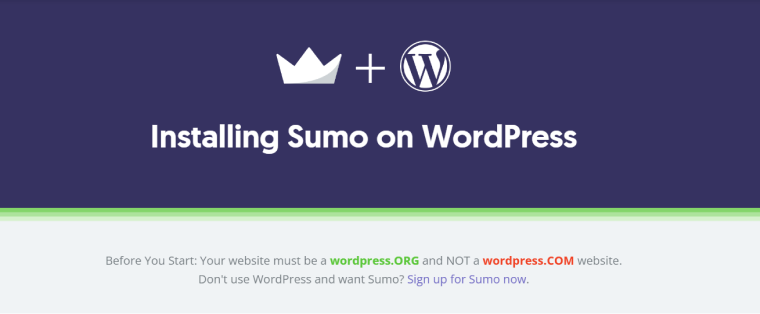 Sumo is another popular WordPress email plugin with over 50,000 installations inside WordPress.
While the tool is created to help you grow your email list, it goes beyond pop-ups, welcome emails, or automated drip campaigns.
It has numerous features that come in handy for anyone who wants to harness the power of social sharing.
One such feature is the "share button," which you can put anywhere on your site. This will allow visitors who are happy with your content to share your posts. As a result, you can organically tap into a new audience which helps grow your list.
Another feature most users appreciate is free customer support. Sumo understands that not everyone can code, and a simple "installation" manual isn't enough. They offer a one-on-one onboarding tutorial for all customers.

As the name hints, Newsletter was primarily created for list building and sending emails. The tool is so popular that 400,000 users chose it as their go-to email marketing platform.
The first feature to notice is the drag-and-drop editor. It's easy to use and will help you create beautiful and responsive newsletters for your campaign.
The automation capability is also something you'll appreciate. It isn't the same level as you'll see in ActiveCampaign, a complete email marketing tool.
But it still does a few cool things that you can't get from most plugins. For example, you can automate your newsletters to be sent regularly. This ensures that you're constantly engaging with your subscribers.
Lastly, the built-in reporting lets you see how your campaign performs. The insights help you make changes and optimize your campaigns for better performance.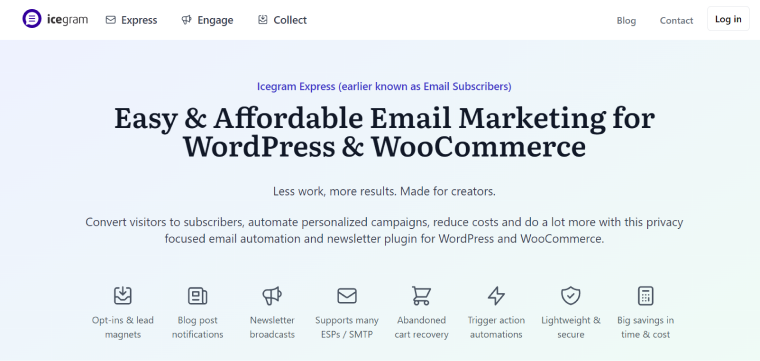 Icegram Express is the most accessible and pocket-friendly plugin you would come across.
100,000 users rely on Icegram Express to convert visitors to subscribers, automate personalized campaigns, reduce costs, and efficiently run their email marketing system
You can design subscription forms to grow your audience and use drag-and-drop blocks to create email campaigns without any code. You can also build email sequences and create trigger-based automation workflows.
Moreover, you can create list segments, add a captcha, clean your list, check your spam score, get ready-made email templates, and many more powerful features.
Conclusion
There are probably a zillion WordPress email marketing plugins. All are trying to sell you off based on the features.
However, the problem is that most offer similar features, making it harder to decide. The options we've given you are proven and tested tools.
They have stood the test time and proven to be worth it. After you've laid down your expectations, pick any of our suggestions and see how it goes.