Do you use WordPress taxonomies on the site? Or maybe you want to help site visitors navigate your content better?
Taxonomies are a useful tool that helps you categorize your products, services, and articles. It also helps to create navigation so anyone can quickly find what they need.
In this post, you'll learn what taxonomies are, why they're valuable, and how you can improve your site's navigation with them.
Table of Contents
What is WordPress Taxonomy?
Each WordPress site has a handy feature that allows sharing content, pages, and posts. For example, taxonomies are a tool for grouping. So, by default, in each WordPress site, there are two types of taxonomies—categories and tags.
They help visitors navigate the website quickly and efficiently while improving SEO performance.
Default WordPress Taxonomy Types
Taxonomies are a method of classifying content and data in WordPress. When you use taxonomies, you are grouping similar things. Default taxonomies in WordPress are Categories and Tags. Let's see the difference.
Category
Categories are classified as hierarchical WordPress taxonomies because you can create subcategories.
Let's take an example. Imagine you have a site selling jewelry. You divided all your jewelry into three broad categories:
Gold items
Silver items
Bijouterie
Then you decided to divide them by type of product:
rings;
earrings;
pendants;
etc.
These are the categories.
You can assign one or more categories to one post or page. But for the convenience of using the site, it is better to stick to the minimum required categories. Consider making them broader if you have to assign multiple categories to each post.
By default, you must assign a category to each post.
Tag
Another type of taxonomies is tags. These are non-hierarchical taxonomies because you can't create subtags.
You can assign an infinite number of tags to each post or page. They will also help site visitors navigate the page.
Let's go back to the jewelry store example. In addition to categories, you can assign a separate tag to each decoration. So, for example, you can assign tags like "a birthday gift for a girl," "a gift for a man," an exclusive, or an author's decoration.
And then, if a person seeks, for example, a birthday present for a girl, they will not have to browse through the entire website content. Instead, they will click on the tag to find the needed item.
Tag is an optional parameter. You can only assign them to individual publications.
Custom Taxonomies: What, Why, When?
You can create custom taxonomies if you are not comfortable working with default categories and tags.
What are custom taxonomies?
Custom taxonomies are another way to sort your content. Sometimes categories and tags are not just enough. For example, let's imagine you are making a website about traveling.
You can create taxonomies that divide the content on the site into bus tours, Asian holidays, cruises, etc.
You can show the visitors around the website. For example, add the ability to choose meals, hotel categories, tours, etc.
How to create custom taxonomies?
How can you create custom taxonomies? There are two ways: using a plugin or using HTML code. But, first, you must choose the right plugin and configure it.
In this video, you will find how to create a custom taxonomy using the JetEngine plugin:
To create custom taxonomies using HTML code, you must change the code on your WordPress site. Unfortunately, this is more difficult because you need the right lines of code and should know how to program.
How to Use Taxonomies in WordPress?
The primary purpose of taxonomies is to help you organize the website's content so that site users can quickly find what they need.
For example, if your content cuts across several cities or countries, you can divide information by these cities or countries. With that, a person can quickly locate everything they need.
Or, for example, you sell clothes. First, you can categorize it into women's, men's, and children's clothes. Then, make subcategories within: pants, shirts, skirts, dresses, etc. And so the user does not have to review the entire range to find socks.
Here is an example of categories on AliExpress.com, which has millions of products. Without its division into categories, the user could have spent several months finding the right product.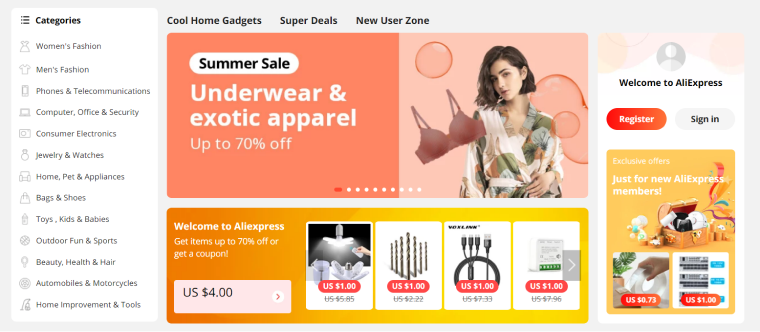 And this is what the subcategories look like. Once again, such a grouping simplifies the search tremendously.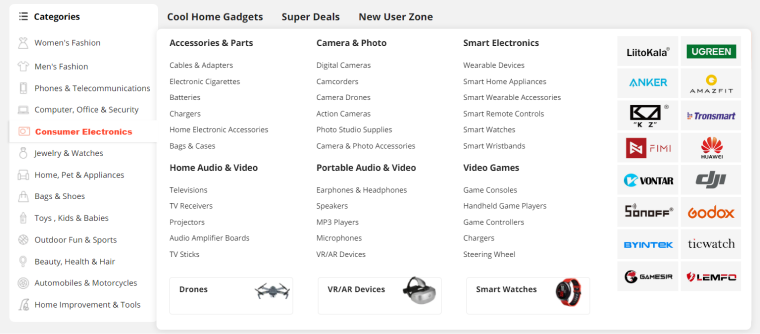 How to Show Taxonomies in WordPress?
If you want to display individual taxonomies in posts, you can do so in various ways:
place categories at the top or side new part;
create a tag cloud;
place categories or tags below the post.
How to do this without the help of additional plugins? Check the video below:
FAQ
What are the default taxonomies in WordPress?
There are only two of them: tags and categories. Of course, you can add several tags to your publications. However, making a limited number of categories and assigning 1-2 per publication is better.
How can I use custom WordPress taxonomies?
Custom taxonomies greatly expand your options. You can assign content to categories and tags the way you want. For example, if you have a recipe site, you can split dishes by ingredients, cooking time, and national cuisines. This would make the site more user-friendly.
What is the difference between categories and taxonomies?
A category is a type of taxonomies, just like tags. However, taxonomies is a broader concept.
Is it necessary to use taxonomies?
You'll need to specify a category if you're creating a post. Tags and other types of taxonomies are optional.
Final Thoughts
Taxonomies are a handy tool that helps you organize the content and help users find the information they need quickly. You cannot overestimate this functionality.
Plugins that help create new taxonomies can make your site even better, more convenient, and more functional.
Knowing what "tags and categories" are will help you better understand how to create custom taxonomies.
Use this information, and let us know in the comments how you use taxonomies on the site.