Almost every device we use to automate complex tasks uses artificial intelligence. However, we often argue that such devices are not "intelligent" but simply calculating tools after we learn how they work and use them in our everyday lives.
Today, implementing artificial intelligence in software development is a sign of progress and a way to design new, more innovative features. This article will present the best WordPress AI plugins for creating better websites.
🎁To learn more about the potential of AI in the WordPress ecosystem and spend exciting three days within the community of like-minded developers and enthusiasts, register now for the WordPress Web Agency AI Summit 2023.
Table of Contents
How Is Artificial Intelligence Used in WordPress?
Artificial intelligence (AI) is a simulation of human intelligence demonstrated by machines. AI refers to different processes in computer systems that mimic human behavior, such as using logic and rules for decision-making and learning from analyzing data to improve performance (machine learning – ML).
Regarding WordPress, artificial intelligence improves different management processes, automates complex jobs, and tailors website content according to visitors' expectations and search engines' requirements. AI-powered plugins are becoming popular solutions to make sites faster, smarter, and more accessible.
Among the main tasks that AI plugins accomplish are:
Boost website SEO. AI-powered plugins allow optimizing posts, pages, and other structures while they're being created. Such plugins analyze website content, compare it to competitor data, and suggest changes that must be done to increase page views and attract an audience that relates to your content.
Make websites more accessible. By designing accessible websites, you establish a better reputation for your brand and get through to more people. Many WordPress sites now use text-to-speech technologies provided by AI-based tools.
Introduce smart assistants. Chatbots that use artificial intelligence can improve customer service because they are available 24/7. They can make human workers more efficient by completing low-end repetitive tasks.
Certainly, there are many more ways AI technologies can make websites better. But, sometimes, website owners must limit the usage of content-generating tools if they want their content to be visible on search engines. According to Google Search Advocate John Mueller, Google Search Console considers automatically generated content as spam. It seems Google doesn't have the ability to detect auto-generated content, but I'm sure it's on the way.
Special Mention: Crocoblock AI Integrations
Before we start looking at dedicated AI plugins, let me tell you exciting news: JetPlugins now also work together with AI to give users more power. One way to make websites better is by joining OpenAI with a strong form builder, which is what the JetFormBuilder plugin can do. By connecting this plugin to your OpenAI account using different integration tools, you can unlock new properties.
Employing form fields to fetch prompts for the AI generator provides some impressive features. They include refining grammar in posts and listings, transforming text into concise summaries, crafting SEO-friendly meta descriptions, and more. This fusion of JetFormBuilder and OpenAI not only streamlines content creation but also improves the overall website experience.
Another plugin that has started adding integrations with AI is JetEngine, and the first feature is SQL query generation for Query Builder.
Using SQL Query Type, you can insert a custom query code and display whatever you want directly from your WordPress database on the front end. And the SQL query AI generator can give you such a code if you ask it with clear and simple human words! Read about this unique JetEngine feature in detail if that's something you need for your site.
Top 16 WordPress AI Plugins
Many WordPress plugins use artificial intelligence to facilitate website management and improve content. Here's a list of the best plugins that implement AI for different tasks.
🏆 Best for adding structured data to WordPress sites.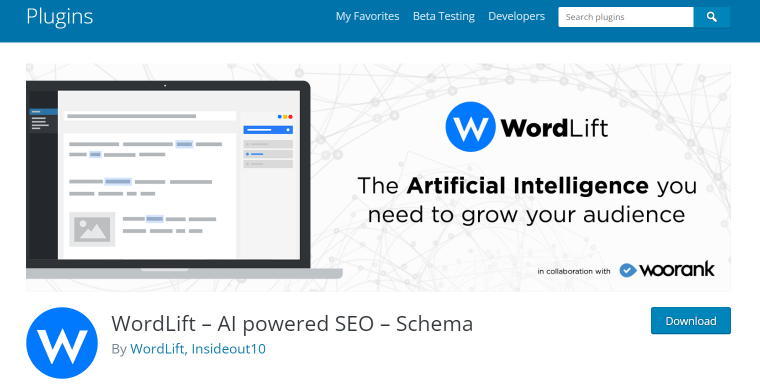 WordLift automates website SEO by analyzing all content, adding structured data or schema markup to it, and making it more understandable to Google. This plugin uses artificial intelligence to identify distinct words on the site and turn them into metadata. During the process, users can manually choose which keywords are preferable, thus controlling how the website's knowledge graphs look.
WordLift core features:
organizing references to external sources and internal pages;
suggesting related content to visitors leading them to archived pages and increasing user engagement this way;
enriching text with rich snippets;
integration with Google Data Studio tool for comprehensive analytics and reports;
timeline, navigation, geolocation, and search widgets.
Pricing: the Starter plan costs $588 per year for one site and includes ten schema markups. The Professional and Business plans sell for $948 and $2399 per year, respectively, and they have more schema types and advanced features and can be installed on more sites.
Pros:
attracts an audience that is more related to the site's content;
enhances UX with content recommendations;
free trial for 14 days.
Cons:
it still takes some time to learn how to use WordLift at its full capacity;
no free version.
🏆Best for optimizing large websites for search engines.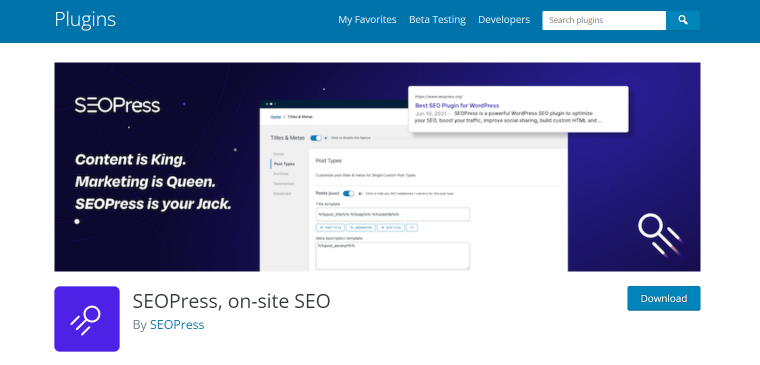 SEOPress is a powerful but lightweight WordPress plugin that allows search engine optimization of all web pages and CPTs through its interface. Unlike most other SEO plugins, SEOPress integrates with OpenAI. This feature utilizes artificial intelligence to generate SEO metadata (meta titles and descriptions) based on post content. It is especially useful for optimizing websites with hundreds of pages because it is available in bulk actions.
The plugin developers have plans to expand AI usage, so hopefully, we'll see some new examples of how AI can improve SEO in future versions of SEOPress.
SEOPress core features:
employs Davinci GPT-3 engine by default, but users can switch to other engines as well;
allows optimizing multiple web pages at a time;
highly trained models for nine languages.
Pricing: SEOPress is free, but AI integration comes with a Pro plan for $49 per year.
Pros:
multifunctional SEO plugin that employs AI;
affordable Pro plan.
Cons:
AI integration is not included in the free version.
🏆 Best for generating text and images for a Divi-built website.
Divi AI brings the power of AI to your fingertips right inside Divi's visual builder. You can use it to write content and generate amazing images out of thin air. In addition, the functionality helps you refine the existing website content using a set of handy, quick actions. It's like always having a content creator, copy editor, visual artist, and photographer at your side!
Divi AI core features:
integrated into Divi and WordPress, allowing it to generate more intuitive results automatically;
creates high-quality content and images on demand;
refines and improves your existing website content with the help of AI.
Pricing: You can try Divi AI for free to generate 50 items. To unlock unlimited text and image generation, you can purchase Divi AI for $24 monthly ($18/month if paid yearly).
Pros:
generates both spectacular content and images using AI;
unlimited text and image generation;
dozens of image and text refinement options;
30-day money-back guarantee.
Cons:
Divi AI only works with Divi, which isn't suitable for those using other page builders.
🏆 Best automation tool to detect spam comments on WordPress websites.

Akismet was designed by a reputable WordPress development company Automattic to detect and block spam comments even before they are marked as pending. This tool proved to be especially effective against spam bots, and there are over five million active installations of it.
After installation on a WordPress site, Akismet is constantly improving its work thanks to machine learning algorithms. Website admins can review comments caught by Akismet and point out the spam comments that broke through the protection system, enabling it to learn from its failures.
Akismet core features:
automatic detection of spam comments;
integrates with WordPress plugins through Akismet API;
provides spam detection history.
Pricing: free for non-commercial sites. Spam protection for commercial or business sites starts at $10 per month.
Pros:
solid protection against spam by bots;
improving SEO ranking when deleting comments with spam links;
free for personal use.
Cons:
most of the time not effective against human-made spam comments.
🏆Best for adding a GPT-like chatbot to a WordPress site.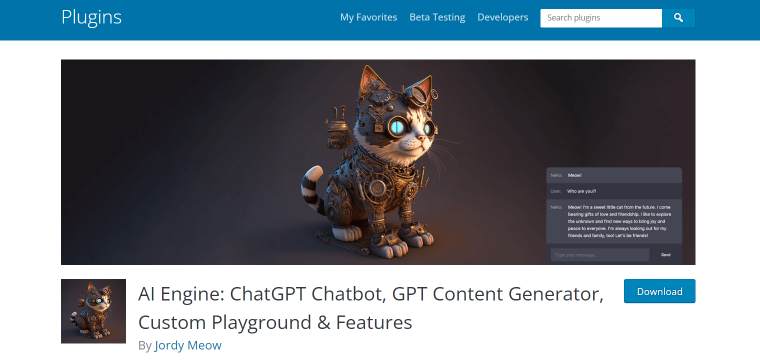 AI Engine is a fairly new plugin developed by Jordi Meaw that is rapidly gaining popularity. After 2000+ active installations on wordpress.org, it has only 5-star ratings, with users praising its novelty and smooth integration of AI with WordPress.
To enjoy the features of AI Engine, you'll have to create an OpenAI key and insert it in the plugin's settings. This allows you to add a sophisticated chatbot and content generator that rely on innovative OpenAI technologies to your website.
AI Engine core features:
simple interface for customizing a chatbot and even giving it personality characteristics;
ability to assign context awareness to a chatbot;
built-in statistics to monitor OpenAI usage;
AI Playground for translation, correction, discussions, etc.;
internal API to link AI Engine with other plugins.
Pricing: currently, most of the AI Engine features are included in the free version. The Pro version starts at $29 per year for one site and has a statistics module and content-aware chatbots.
Pros:
best free chatbot for WordPress;
customization options for creating unique AI models;
excellent support from the plugin developer.
Cons:
some features are still in beta mode.
🏆 Best for detecting malware, viruses, and malicious codes using cloud technologies and artificial intelligence.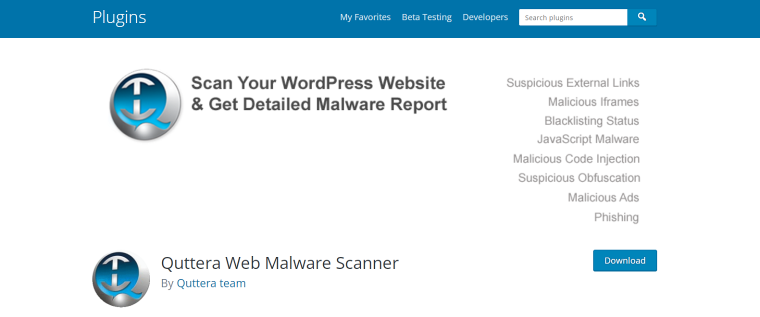 This plugin scans WordPress sites for malware, backdoors, worms, trojans, exploits, malicious iframes, malicious code injections, redirects, as well as other threats. The data is investigated on Quttera remote servers without changing any files. It also checks whether Google or other search engines blacklist your website.
Quttera Web Malware Scanner core features:
scans for web threats in different forms;
provides detailed investigation reports;
learns to improve scan results by detecting false positives;
provides blacklist status;
detailed classification of threats in reports;
tracks DNS attacks by monitoring DNS/IP.
Pricing: the free version is available with limited scanning options. The paid plans with a server-side malware scanner start at $120 per year for one domain.
Pros:
offers a complex scanner for web malware that uses cloud technologies;
feeds from the intelligence database to improve malware detection.
Cons:
free version has limited options;
doesn't protect from threats, only detects them.
🏆Best for creating AI-generated product descriptions for eCommerce sites.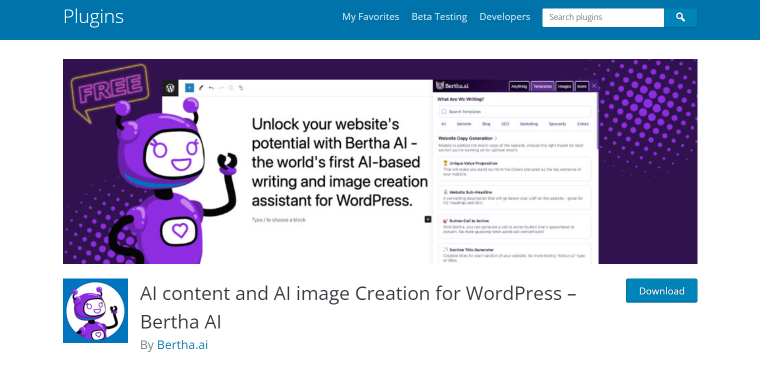 Using the GPT-3 language model by OpenAI, Bertha AI is among the best AI assistants built specifically for WordPress users. After the installation and activation of the plugin, you'll see a new animated character in every text window of your website, including the backend WordPress builder. Bertha AI can provide you with multiple ideas for every task, from section titles to full-on text blocks, and saves every produced output for later reuse.
One of the strong points of Bertha AI is the automated creation of product descriptions suggesting long-tail keywords and SEO description tags, and all it needs for it is a product name.
Bertha AI core features:
creating images based on your description;
a content rephrasing tool;
SEO keywords suggestions;
30+ pre-built content models.
Pricing: the free version lacks most of the core features. The premium version starts at $450 per year. You can also go with one-time payment options: $25 for 10,000 generated words and $15 for 100 images.
Pros:
smooth integration with WordPress, all the major page builders, and SEO plugins;
an abundance of AI tools for blogging;
pay-as-you-go pricing options.
Cons:
expensive yearly plan;
doesn't offer a chatbot like some other content AI WordPress plugins do.
🏆 Best for integrating AI tools in Elementor editor.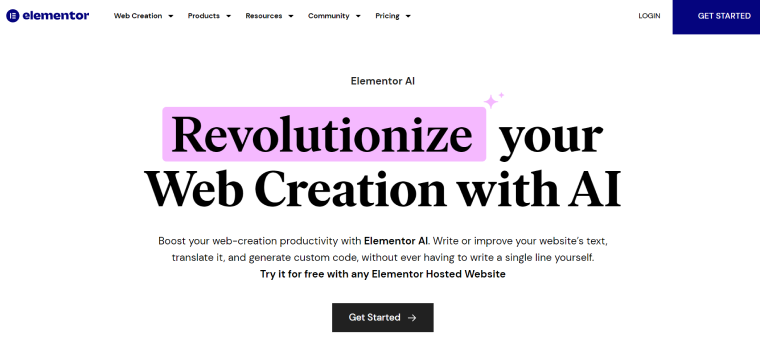 The Elementor team is rushing to get some of the hype and create a deep inbuilt integration of AI in our favorite WordPress editor. Although it does have some AI-powered features, like the adaptation of the layout of a web page to different screen sizes, the Elementor plugin hasn't been an AI-focused tool by now.
The Elementor AI is not available to the public yet, as it's still in the alpha stage, being tested internally. Most of the information about its current features comes from YouTube videos by content creators specializing in WordPress who got early access to the Elementor AI.
With Elementor AI, you'll see a new Write with AI sign when you create blocks with text. If you click it, you'll get to a new pop-up window where you'll be able to use a few prompt suggestions or come up with your prompt and generate a text. Upon generating a text, you can modify it using additional buttons: translate the text, make it shorter/longer, simplify language, change tone, and fix spelling & grammar.
When you open a window for inputting CSS snippets (in Elementor Pro, it's in Advanced > Custom CSS), you'll see a new Code with AI icon. After clicking it, you'll be offered to generate a CSS by writing a prompt. It seems the software recognizes loosely defined prompts and comes up with detailed specifications for the generated output. 
The third main feature announced by the Elementor team is AI image generation, but there are no details on how this integration will work.
Elementor AI core features:
inbuilt text generator;
translation into 29 languages;
generating CSS and HTML codes.
Pricing: $2.99 per month.
Pros:
creates great basic texts;
provides an advantage to someone who lacks CSS knowledge.
Cons:
the text generator seems to be unaware of the contexts and only creates content based on the latest prompt and the following modification options.
🏆Best for writing long-form articles with an easy-to-use AI assistant.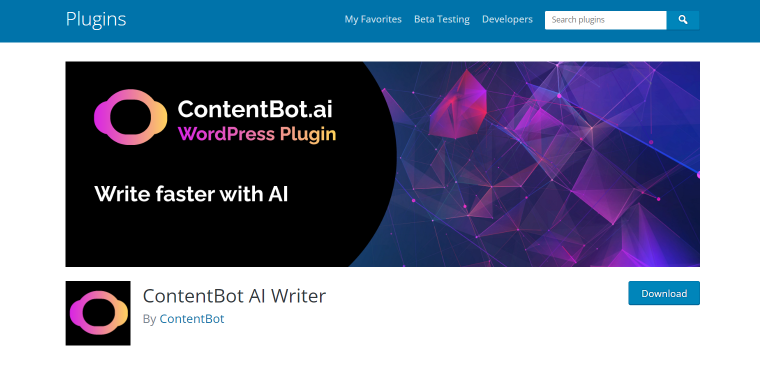 ContentBot is another content generator using OpenAI GPT-3 natural language processing system. After installing the plugin, you can start producing new content directly within the WordPress interface. It is a great solution for bloggers to speed up content creation. You can write a few sentences, ask the plugin to continue, and delete parts you don't like, and ContentBot will come up with a new, more relevant version. The built-in plagiarism tool will ensure you can use everything the AI created.
ContentBot core features:
powerful paraphrasing tool;
summarizer tool;
instructions chatbot;
45 writing templates (blog intro, full blog posts, tweets, sales emails, etc.);
rewrite tool to change the content's tone or make content appealing to specific audiences.
Pricing: a free version with just a few features is available. Premium plans start at $29 per month. You'd have to pay $59 monthly to enjoy all premium features.
Pros:
easy-to-use drag-n-drop post builder;
ability to create long-form texts quickly.
Cons:
doesn't have an image generator;
free and basic pro versions don't include essential tools like plagiarism checkers.
CodeWP (Free/Premium)
🏆Best for generating shortcodes and building complex queries in WordPress.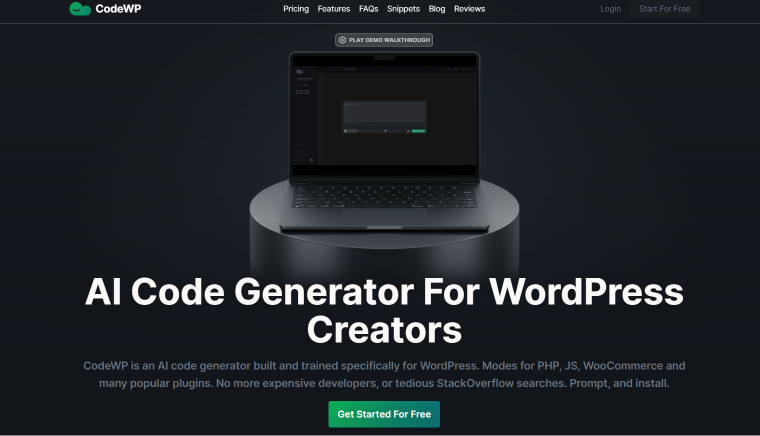 CodeWP is one of the best AI coding assistants for programmers and "non-technical" WordPress developers, with support for PHP and JS. With its help, users can create code snippets and complex queries that would otherwise take hours to complete.
The plugin features dozens of AI modes corresponding to specific plugins, uses, or products. The modes have different AI trained on different code bases to get accurate, high-quality snippets every time.
CodeWP core features:
support for major plugins and page builders like WooCommerce and Elementor;
dozens of professionally made tutorials;
an excessive library of example snippets;
general functions for all types and an increasing number of AI modes for specific tasks.
Pricing: the free plan allows for ten generations with a basic AI generator per month, and the Pro plan costs $96 per year.
Pros:
new features and modes are added weekly;
made specifically for WordPress users;
low price for a plugin that helps solve complex problems.
Cons:
no support for custom modes yet.
On October 18th, CodeWP v.2.0 was introduced, featuring a bundle of new features. The CodeWP team, led by James LePage, focused on implementing a novel conversational approach. Users can now chat with an AI bot trained on WordPress data to assist in code creation and troubleshooting. By using natural language prompts, CodeWP can even generate entire plugins.
🏆 Best for adding Google AI machine translation to WordPress sites.
While the free version of this translator offers mediocre statistical machine translations, the paid version provides very accurate human-like translations into and from the English language. It stores the translated versions of your website on remote servers creating a separate domain for each language. This way, every translation is indexed, and users can find your content using their native languages.
Google Language Translator core features:
hosting website translations;
human-level translation quality;
ability to manually modify translations;
Google Analytics integration.
Pricing: the free version of this plugin is available. The paid version with all advanced features costs $400 per year.
Pros:
improves SEO by indexing translated pages;
high-quality neural machine translation;
free version can be helpful.
Cons:
to enjoy all advanced features, like translation hosting, you must buy an Enterprise plan, which is quite expensive.
🏆 Best for managing emails, live chat, chatbots, and messages from one dashboard.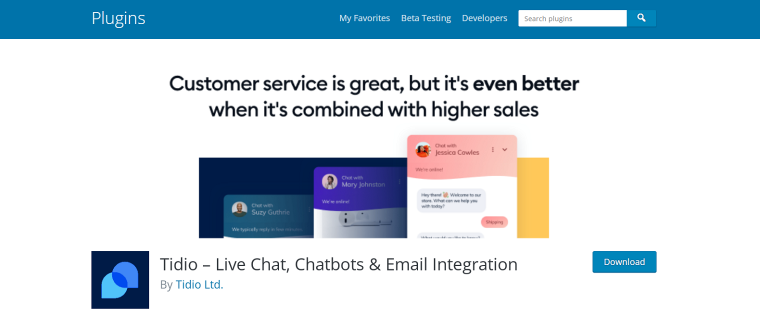 This plugin is an all-in-one communication solution. Its purpose is to upgrade the website's customer service by offering various communication channels and boosting sales by providing automatic chatbots with many functional templates. It is easy to modify or even create chatbot templates from scratch using a drag-and-drop editor.
Tidio has one of the highest rankings on wordpress.org among live chat plugins, with over 100,000 active installations.
Tidio core features:
managing all communication channels from one panel;
chatbot templates for different situations to increase user engagement (cart saver, returning customers, etc.);
drag-and-drug visual editor for working with chatbots;
natural language processing (NLP) technologies to identify frequently used words and answer simple questions by the customers;
seven-day trials on paid plans.
Pricing: most advanced features are available in the free plan, but they offer no chatbot templates and limit chatbot conversations to 100 visitors per month. The paid plans start at $190 per year.
Pros:
advanced chatbot builder for automation sales and customer support;
intuitive interface and management;
free version for small businesses.
Cons:
lacks integration with some major messengers (WhatsApp, Twitter).
🏆 Best for finding related website content and presenting it to visitors.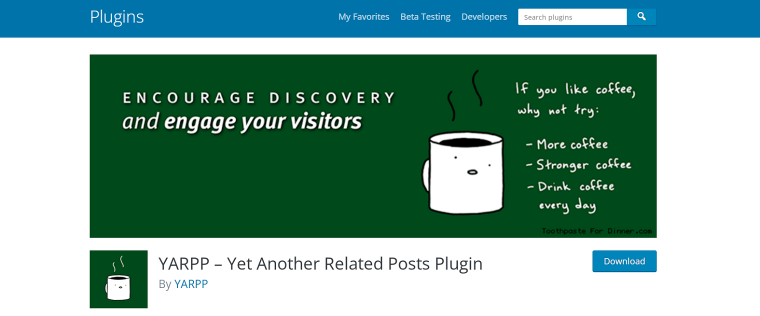 YARPP lets website visitors see posts, pages, and custom post types related to their original entries and finds them from across the site using advanced algorithms. It is estimated that related posts can increase page views by ten percent.
YARPP core features:
inbuilt catching for subsequent inquiries;
many options for placing related posts (shortcuts, blocks, widgets, REST API, and more);
pre-built list or thumbnail templates to showcase related posts;
compatible with all languages.
Pricing: free.
Pros:
the most popular related posts WordPress plugin;
fully customizable;
free.
Cons:
requires more server resources than similar plugins, which can be noticeable on larger sites.
🏆 Best for researching, writing, and optimizing content for SEO engines.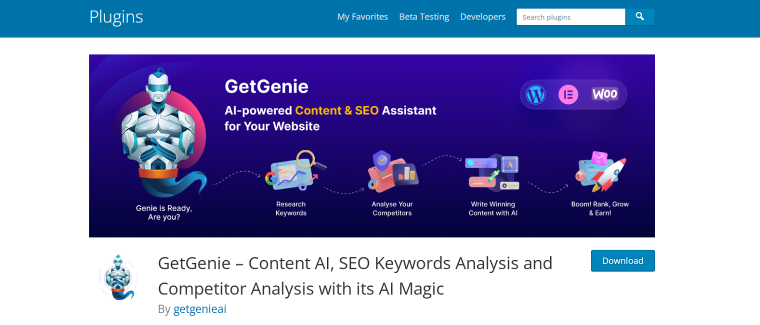 GetGenie is an AI assistant designed to accelerate the writing of high-quality original blog posts. This writing tool offers many templates to cover various frameworks, such as AIDA, BAB, and PAS. It also shows on-page SEO scores to optimize content instantly and provides valuable suggestions on creating SEO-friendly slugs.
With its "Genie Mode", content can be generated through prompts easily, and users can get a detailed response in return. Besides, GetGenie recently rolled out its chatting platform "GenieChat," which can yield quick answers too.
GetGenie core features:
30+ templates for content writing;
provides analysis of competitor data;
idea generation tool for blogs;
enables one-click blog generation;
generates content in multiple languages;
enables human-like chatting with 22 personalities on "GenieChat";
presenting on-page SEO score.
Pricing: the free version is available with some limitations. The paid version starts from $19 per month.
Pros:
saves time for copywriters;
starts checking content on SEO-friendliness during the writing process;
free version available with satisfactory word and analysis limit;
has a free version and a 14-day trial on paid plans.
Cons:
offers fewer writing templates than some other content-generation tools.
🏆 Best for building internal links on WordPress sites.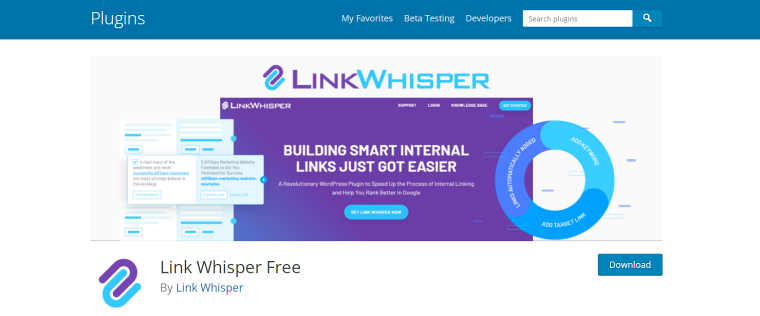 Link Whisper provides the easiest way to create internal links. Making intracontent connections with related posts on the website is often underused, but it may be necessary both for user engagement and improving SEO ranking. The plugin's AI-powered engine analyses website content and suggests related posts and links in a newly created box under the written text.
Additionally, Link Whisper provides detailed reports of broken links and 404 errors.
Link Whisper core features:
automatic link suggestions;
in-depth link reporting;
ability to fine-tune recommendations by deciding which keywords are relevant.
Pricing: free version is available. Paid plans add many advanced features, such as automatic and cross-site linking, costing $77 per year for one site.
Pros:
easy-to-use;
the free version has many useful functions.
Cons:
no free trial on paid plans.
🏆 Best for users who want to learn effective SEO practices.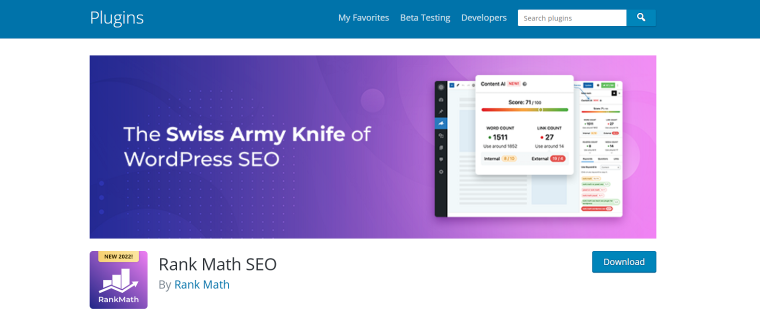 RankMath AI-powered SEO plugin has over one million users. With its help, you can control which content is indexed and how it appears on search engines.
Multiple built-in suggestions make it easy to optimize website content and allow users to learn about the best SEO practices. Despite a large number of advanced features, its well-thought-out design and set-up wizard make RankMath easy to use, even for inexperienced users.
RankMath core features:
20+ pre-defined schema types;
30 in-depth SEO tests;
smartlink suggestions;
SEO-optimized breadcrumbs;
detailed website analysis to identify SEO-related issues.
Pricing: the free version of RankMath includes many functions, and the paid version costs $59 per year and can be used on unlimited personal sites.
Pros:
feature-rich AI-powered plugin;
numerous suggestions and a wizard make RankMath beginner-friendly;
reasonable price on the paid version.
Cons:
some users report conflicts with other plugins.
What's Next?
In November 2022, AI research company, OpenAI, launched ChatGPT – a sophisticated chatbot based on GPT-3, the company's language model released in 2020. Two months after its launch, ChatGPT has over 30 million users sending OpenAI skyrocketing to the level of tech giants. In our article, we have already seen brand new plugins that use GPT-3 and are wildly popular (AI Engine, CodeWP), as well as renowned tools that rush to welcome this revolutionary technology aboard (SEOPress).
On February 6th, Google announced its rival AI chatbot, 'Bard.' So, it's safe to say the AI arms race has begun, and it will make a major impact on content production, web development, and the online environment in general.
FAQ
What is AI?
Artificial intelligence (AI) is a simulation of human behavior during the decision-making process by machines.
What is machine learning?
Machine learning (ML) is a part of artificial intelligence that defines the capability of machines to analyze inquired data to improve their performance.
What is the purpose of WordPress AI plugins?
We often use AI plugins to create virtual assistants, text-to-speech readers, spam protection and automate website SEO.
Summary
Artificial intelligence techniques find use in various spheres of our lives. AI-powered WordPress plugins offer advanced features to accomplish different purposes.
WordLift is an excellent solution for the automation of website SEO, and it gives the best results when combined with human-made instructions.
AI Engine, one of the most popular applications of artificial intelligence, creates virtual assistants which communicate with site visitors via chatbots and live chats.
SEOPress utilizes OpenAI technologies to improve website rankings in SEO.
The Google Language Translator plugin is the best tool for adding AI machine translators to WordPress sites.
Quttera Web Malware Scanner is an AI-powered plugin that can find most web threats on WordPress sites.
CodeWP is the best solution for generating shortcodes in WordPress using artificial intelligence.
For anyone who needs to check content for SEO-friendliness, GetGenie is the best choice.