Digital education is all the rage now. It's fast, fun, and productive; plus, you don't even have to go anywhere – the action takes place online. Many recognized the obvious perks e-learning brings and started developing one WordPress website after another. Today, there are so many smart-looking educational portals – advertising and selling online courses – one can hardly manage to stay indifferent.
So, it hit me: why not dive deeper and find out how they are built? No need to guess – it's all about WordPress LMS plugins, but which exactly? Let's see what the market has to offer and explore the best items on the list.
Table of Contents
What Features Should a WordPress LMS Plugin Have?
Since we've established their main purpose is course creation and selling online, LMS plugins must offer fairly all-embracing toolkits. They alone define whether the plugin is a good investment, feature- and money-wise. Below, you will find the top LMS plugin features, which will help you build a decent online course portal.
Course content builder. Frankly speaking, it would be difficult to submit a single course without a proper editor. In addition to a user-friendly interface, the plugin should allow you to upload video and PDF files, links to other content, etc.
Course progress bar. It's very important to show students where they currently stand and how far is the course completion. Higher motivation is guaranteed.
Content dripping. Such a feature will help to give out the course content incrementally: new materials become available once the student completes the previous lesson.
Application manager. It is necessary to monitor the enrolled students and charge them according to the purchased membership level.
Automated email notifications. Students need to receive emails about a completed registration, successful payments, password changes, progress milestones, etc.
Internal knowledge evaluation. Tests and assignments are a great way to check whether students have absorbed the course material. You could add quizzes to the program, offering fun learning experiences to the audience.
Homework submission. Make sure it's not only easy to download assignments but also send them back for evaluation.
Certificates and gamification tools. You can offer incentives like badges and award certificates to students after course completions.
Various payment gateways. When choosing LMS tools, always look out for decent payment integrations. It's not enough to incorporate one payment option, as it may be inconvenient to use or non-accessible from somewhere around the globe.
Promo marketing (optional). It is possible to implement affiliate programs, giving out commissions and coupons in return for mentions and recommendations.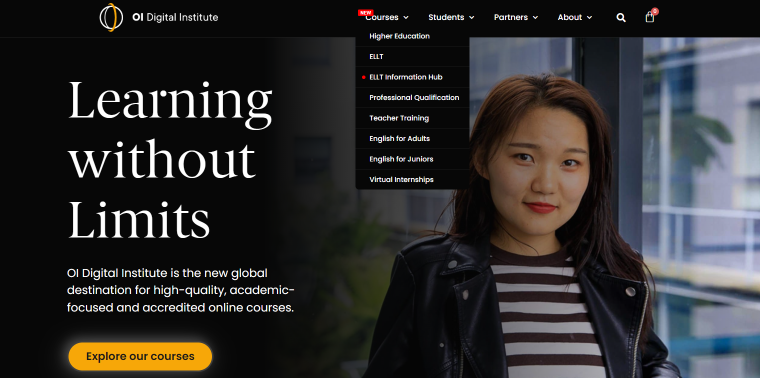 The Best WordPress LMS Plugins Compared
Now, let's compare popular learning management system plugins paying attention to their functionality, pricing, and competitive advantages.
🏆 Best for easy course creation and selling them online.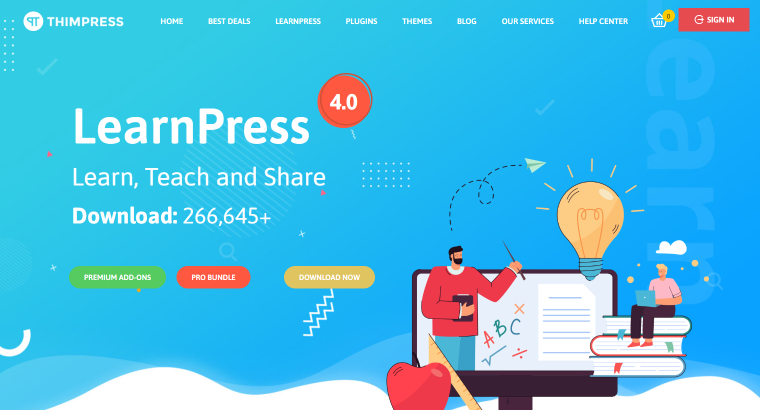 LearnPress is a WordPress LMS plugin by ThimPress, which is highly acclaimed on the market. According to WordPress.org, the plugin has already reached over 100K installs. Using LearnPress, one can build different educational platforms and online schools without coding skills.
For the ultimate course-building experience, there are 20 free and paid Education Themes, which already include some premium LearnPress extensions. The most popular theme is Eduma.
Key features:
the plugin works with any WordPress theme;
user-friendly interface;
it is possible to build LMS portals as a multisite;
add more functionality to the core plugin using premium extensions;
the ability to create a full curriculum layout, edit and manage it;
course management features allow you to share the course and check its stats;
Stripe, PayPal, and WooCommerce are among the supported payment methods;
third-party integrations, including Elementor, Contact Form 7, WPBakery, MailChimp, Zoom Meeting, etc.;
the plugin is available in 14+ languages;
active REST API feature.
Pricing:
The core plugin is free, but there is a PRO bundle priced at $610 for one website (one-time payment). The bundle includes 28 premium add-ons, subject to lifetime updates and 6-month support.
Pros:
free core plugin and free support;
some advanced features are available in the free LearnPress add-ons;
over 50 LMS and education themes, ready for customization;
continuous plugin updates;
a mobile app able to transform a WordPress website into a mobile-friendly LMS.
Cons:
some really useful features are only available to premium members;
pricey PRO bundle as per one project.
🏆 Best for building a full-fledged online course marketplace.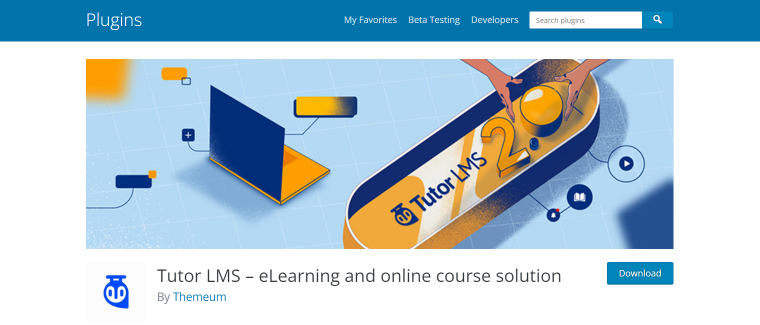 Another popular LMS solution among WordPress users. Tutor LMS by Themeum can boast 60K+ installations in addition to its 4.7 stars. The plugin is free and feature-rich, which makes it a decent option on the market. Visual front-end course builder, live classes and attendance management, personalized dashboards, multi-tutoring, and more are among the strongest plugin features.
Key features:
intuitive drag-and-drop course builder;
the ability to create lessons, quizzes, assignments, and set up content dripping;
live classes feature working through Zoom, Google Classroom, and YouTube;
customization-ready design layouts;
multiple style settings;
convenient dashboards for teachers and students;
the ability to create e-learning portals for a mobile audience;
inbuilt event calendar;
analytics and reporting will show the course performance and profitability;
it is possible to set up notifications for students and tutors;
the plugin supports 27 languages;
the ability to create custom grading scales;
multiple video sources (self-hosted, YouTube, Vimeo, etc.);
it is possible to engage multiple instructors at the same time;
various payment gateways supported.
Pricing:
Tutor LMS is a free plugin, though a premium version is available, too. There are three plans – Individuals, Freelancers, and Agencies – priced at $149, $199, and $299 per year.
Pros:
the core plugin is free;
30-day money-back policy;
multiple advanced features in the free version;
visual course builder and course preview;
easy lesson management;
the ability to track course progress;
drag and drop certificate builder;
Gutenberg compatibility;
the ability to build courses in Elementor, Oxygen, and Divi;
multiple quiz types.
Cons:
update to v.2.0 may cause errors on production websites;
reportedly rude customer support.
🏆 Best for building manageable course platforms and selling courses.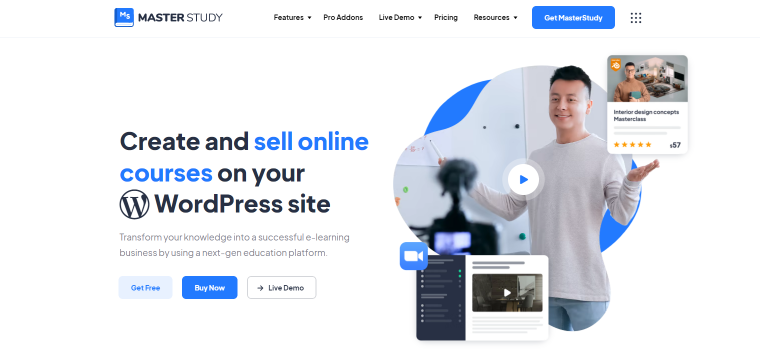 MasterStudy is a plugin for WordPress helping independent coaches/tutors and education institutions build dedicated e-learning platforms and online course marketplaces. It's a powerful course-building plugin, installed and appreciated by over 10K WordPress members. It is coding-free and feature-rich, and the core plugin is gratis.
Key features:
front-end course builder allowing you to create courses, lessons, quizzes, and assignments;
student activity and performance management;
the ability to create a points-based reward system for students;
content dripping;
internal communication through DM, email notifications, and announcements;
different monetization methods: PayPal, WooCommerce, Stripe, etc.;
multiple payment options;
supports Elementor, WP Bakery, and Divi Builder;
among other integrations are Contact Form 7, WPML, Mailchimp, H5P, Paid Membership Pro, Zoom, Google Classrooms, and GamiPress.
Pricing:
MasterStudy LMS is free. The pro package for a single project starts at $155 per year.
Pros:
free core plugin;
free LMS Starter theme to launch a course platform right away;
100+ LMS features, including interactive lessons, multi-language support, and certificate builder;
a marketplace can benefit from course bundles, group courses, and revenue distribution;
the ability to import/export LMS settings;
numerous third-party integrations;
no coding skills are required;
14-day money-back guarantee.
Cons:
one might want to find a budget-friendly alternative.
🏆 Best for implementing engaging quizzes, online courses, and lessons.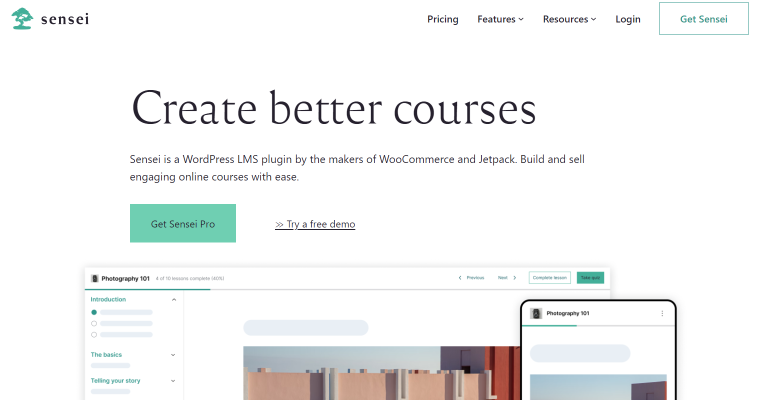 The brand behind Sensei LMS is Automattic, the same company owning WordPress.com, Jetpack, and WooCommerce. The plugin is claimed to power all the internal courses and training by Automattic. So far, it has scored over 10K active installations. Sensei LMS operates under the motto "Teach freely" and provides all the necessary tools to build a comprehensive and user-friendly e-learning portal.
Key features:
student progress tracking and performance management;
detailed reporting by groups;
the ability to embed video content from Vimeo, YouTube, and VideoPress;
multiple style settings;
a special Learning Mode to eliminate distractions while teaching;
access to interactive blocks like flashcards, questions, image hotspots, task lists, and more;
WooCommerce integration gives access to the one-time payment, membership, and subscription-based monetization models;
the ability to give out the course content per drips;
advanced quiz features;
the ability to create student groups and course schedules;
conditional visibility for the lesson content;
Pricing:
Basic features are free, and the premium package costs $149 per year.
Pros:
free core plugin;
requires no coding experience;
the plugin is compatible with any WordPress theme;
three free extensions allowing you to create downloadable certificates, attach media files, and convert existing blog posts into courses;
14-day refund policy;
creative interactive blocks feature;
24/7 support.
Cons:
some required features are only available in the premium package.
🏆 Best for building a custom architecture for e-learning projects.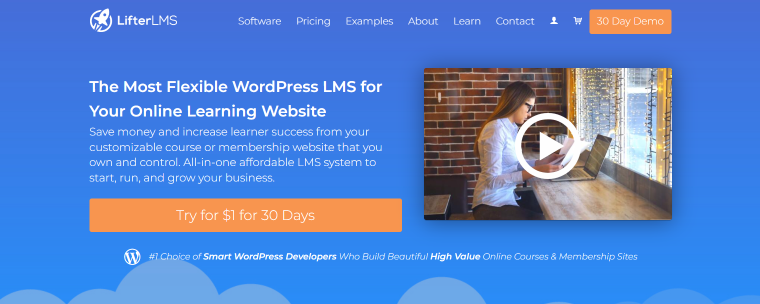 LifterLMS was launched in 2014 by Chris Badgett and Thomas Levy. Their plugin is a robust LMS platform tool combining course-building, eCommerce, and membership plugin features. LifterLMS is widely used by WordPress educators, freelancers, agencies, and industry professionals. So far, it's got more than 10K active installations.
Key features:
functional course builder allowing you to create anything you wish: lessons and course pages, checkout, achievement badges, quizzes and results pages, pricing tables, and more;
supports popular WordPress editors such as Elementor, Gutenberg, Divi, Beaver Builder, etc.;
direct WooCommerce integration allows you to sell course bundles;
the ability to add multimedia and drip content;
the import and export tool to shift the platform content;
numerous moneymaking tools: unlimited pricing models, recurring payments, coupons, and multiple payment gateways;
multiple third-party integrations, including PayPal, Stripe, ConvertKit, Authorize.Net, Mailchimp, and more.
Pricing:
Basic features come for free. There are three premium bundles – Earth, Universe, and Infinity – for one, five, and unlimited projects, priced at $180, $360, and $1200.
Pros:
LifterLMS is a self-hosted solution;
free core plugin;
the ability to test the waters for $1 (30-day trial);
flexible drag-n-drop course builder;
no need to install a separate membership plugin;
active LMS user community and quality support;
a social learning feature which enables users to like the courses.
Cons:
the basic plugin version lacks advanced features; using it, you get to build a very simple e-learning platform without even a payment gateway.
🏆 Best for creating professional and engaging courses in a few clicks.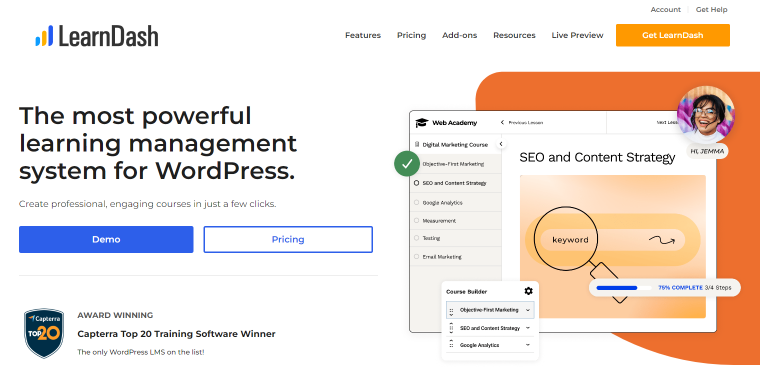 LearnDash is a premium LMS solution offering a full-fledged toolkit for creating and selling courses online. The plugin won Capterra's Top 20 Training Software contest and is trusted by industry leaders. It's easy to use, intuitive, and feature-packed – all to create engaging and meaningful learning experiences.
Key features:
drag & drop course builder;
the Focus Mode for distraction-free learning;
dynamic content like drip-feed, video lessons, linear course progress, etc.;
unique quiz-building tools;
the ability to set content visibility rules;
badges and a point-based evaluation system;
leaderboard creation;
certificate builder to mark course completions;
membership plugin features;
the opportunity to sell course bundles;
different monetization options – from payment models and gateways to automatic renewal notifications and scheduled content;
44 premium add-ons and third-party integrations;
detailed student reporting and management;
a gradebook to evaluate students' knowledge.
Pricing:
LearnDash has three pricing plans for one, ten, and unlimited projects. The prices are $199, $399, and $799, billed annually.
Pros:
the plugin is compatible with any modern WordPress theme;
15-day money-back policy;
bulk access for students allowing them to share one account;
supports Elementor, Divi, and BeaverBuilder;
highly customizable;
active REST API feature;
the multisite option enabled;
different media formats are supported – SCORM, video, SWF files, audio, HTML5, xAPI, etc.;
free and paid starter themes for faster WordPress website development;
the ability to purchase LearnDash Cloud – a ready-made website optimized for digital learning.
Cons:
🏆 Best for building and selling courses using a no-code content builder.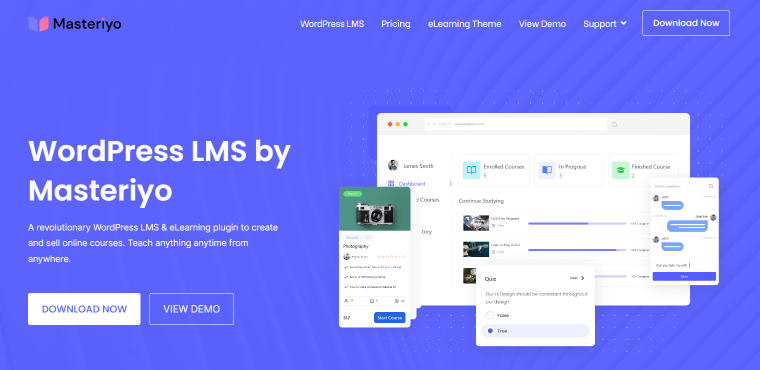 Masteriyo LMS is a free plugin for WordPress, no-code, and easy to use, just like its fellow plugins. So far, the solution has powered over 2 thousand projects. Its "super-fast and minimalist" course builder allows both creating and selling online courses.
Key features:
course building easy as ABC;
clean user interface and distraction-free mode;
quiz-building toolkit;
the ability to create a learning page with a progress bar, course navigation, and Q&A system;
starter templates to quickly roll out a course-selling website;
a free eLearning Theme suitable for Gutenberg Beaver Builder, Elementor, and Brizy users;
the ability to involve multiple instructors.
Pricing:
A free core plugin plus premium bundles – Starter ($199), Growth ($299), and Scale ($499). All costs are billed annually.
Pros:
easy-to-customize settings;
theme-friendly;
14-day 100% refund policy;
fast LMS loading;
inbuilt order and purchase system.
Cons:
no content drip feature;
all advanced features are available in the premium package only.
Bonus: Rising LMS Stars
Although it's next to impossible to cover all the best WordPress LMS plugins, here are a few honorable mentions:
WP Courses – a mobile-friendly LMS with 900+ active installations. A premium version starts at $79 per year for a single website.
CLUEVO LMS – a functional LMS builder liked by over 700 WordPress users. It's got PRO bundles and premium add-ons for every taste.
Academy LMS – a feature-rich LMS plugin for WordPress, appreciated by 500+ users. At the moment, all functionality it offers is free.
Pro tip
Wondering whether it's possible to build a course-selling website using Crocoblock plugins? Check out the examples below built with JetEngine and other JetPlugins.
👗 Mymy Couture – a virtual boutique and atelier where one can purchase a sewing course.
💬 Prosa Nova – sells digital courses related to education, culture, and technology.
💄 Alina Filip Pro Makeup – a makeup studio offering online and live courses to its audience.
💼 Gatrim – offers marketing courses to business owners who want to get practical skills.
🧰 Govaguide – a platform that offers a course teaching to work at heights.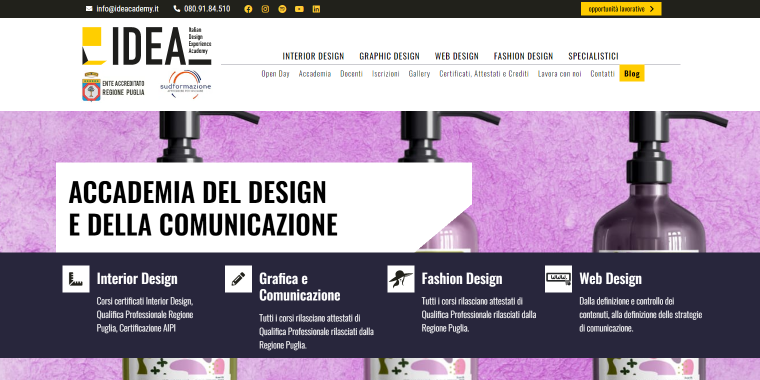 WordPress LMS Plugins FAQ
What is LMS?
LMS stands for "leaning management system" and represents a software tool allowing you to create, manage, and sell courses online.
Are LMS plugins free?
Usually, basic functionality comes for free, as the core LMS plugins can be downloaded from WordPress. Advanced features never cost a dime.
What features should every LMS plugin have?
Always look for a decent course creation toolkit, which will cover lessons, media addition, drip-feed content, course progress, quizzes, student management, monetization, and payment options
Summing Up
Picking the right LMS plugin to build a digital education hub is very important. Such a plugin must have different features aimed at selling courses and providing worthwhile learning experiences for students.
Today, I've reviewed the seven most popular solutions among WordPress users and compared their strong and weak points. Feel free to explore them and see which one offers the most functionality you need.