JetTricks is a relatively new plugin from Jet family that was released along with Crocoblock subscription. Its functionality is centered mostly on visual effects, and its main purpose is to assist in creating eye-catching content.
First, after its initial release, JetTricks provided us with Hotspots, View More and Unfold widgets. There were also Sticky Column effect and Parallax Element functionality which are available in the widget's Advanced settings.
However, this July JetTricks got updated to v.1.1.0 and there are three more effects included in the package at the moment.
Let's take a sneak peek at each of them and learn about the new functionality in more details.
Satellite Element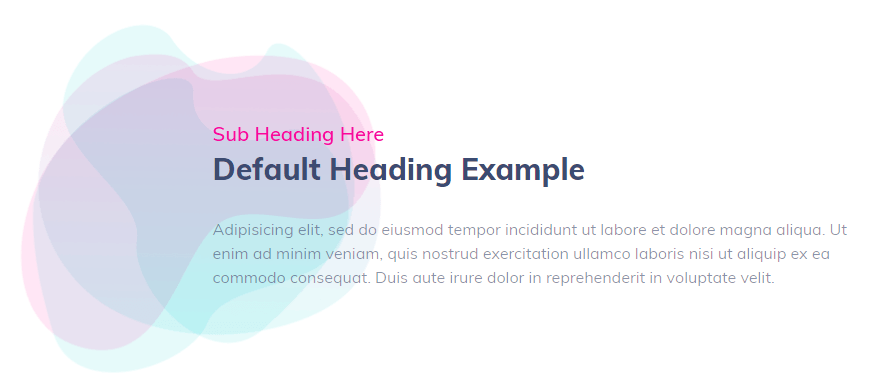 When talking about Elementor and building content with it we're always bound to the structures, such as sections, columns and widgets. It is possible to use minus paddings and margins in sync with Z-index values to get one structure element below or above the other. Yet, these additional elements have no real connection between them.
That's when JetTricks Satellite Element comes into play. It provides the functionality that is very similar to the well-known "before" and "after" CSS selectors that allow to place content, literally, before or after the added widget.
How to Enable Satellite Element?
Satellite functionality can be enabled for any widget on the page. Just click Edit widget option and switch to Advanced settings > JetTricks. Here turn on Enable Satellite option. Right below it you'll see all the available options and settings.
At the moment it is possible to add images as well as text and icon elements as satellites for the widgets. The style and content settings are depending on what satellite element type one chooses to use.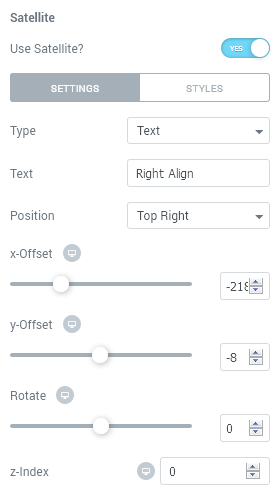 E.g., when one selects Image content type, he automatically gets the ability to choose an image from media library and set its position. When one selects Text type, there is a field for the text to be shown as a satellite.
Satellite Element functionality is invaluable for creating powerful multi-layered designs. It makes the process of arranging and decorating content really easy.
Tooltip Functionality
While Hotspots widget provides opportunity to create animated makings for the important details, and its usage seems to work for image content only, the Tooltip functionality is very different from it.
Tooltip effect allows to add the stylish tooltip blocks to practically any widget, and makes it extra easy to add explanations to any content displayed on the page.
How to add a tooltip?
In order to enable tooltip for the widget we'll have to click Edit Widget option and then navigate to Advanced Settings block. Here let's open JetTricks functionality and switch Use Tooltip control to the active position.
After that you'll be able to access JetTricks Tooltip Settings and switch to Style block to customize its appearance according to your needs.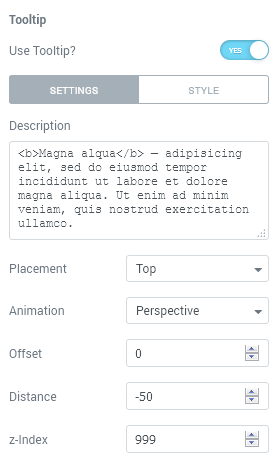 The tooltip content needs to be placed in the Description field. After that, you'll be able to change the tooltip position, offset, distance, and even apply Z-index in the case you want it to be shown above the other element.
The style settings, as always, are immense, and provide everything for making a very simple tooltip an important part of website's design.
Section Particles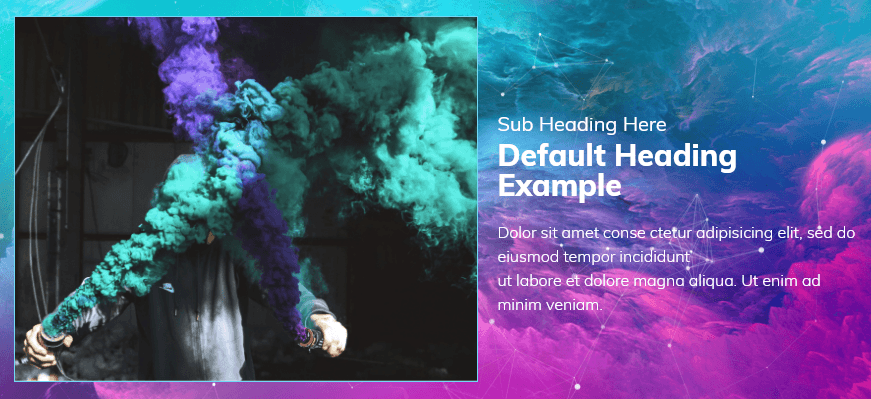 Section Particles happens to be the most intriguing effect included in JetTricks update. Lately, there were loads of minimalistic and clean designs that were vibrant at the same time due to the moving particles in the background.
Unfortunately, when working with Elementor one either has to learn coding or needs a ready solution to add the particles to the, say, section's background.
JetTricks Section Particles is just the very solution, that can assist in adding the animated particles to the section's background via JSON code.
How to Add Section Particles with JetTricks
First, let's choose the particles to apply for the section. You can do it using this source which provides ready animations that can be customized according to one's vision and then downloaded as JSON file.
What is the most enjoyable about this animations library is that one can play around with the particles number, density, shape, and color, and then just download the ready file. No real coding knowledge is needed.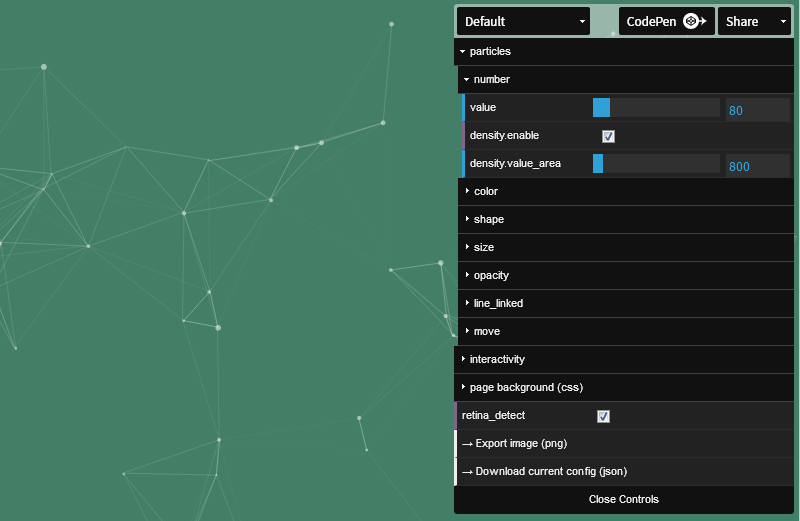 After saving the file to your desktop just open it with any notepad or another code editor convenient for you and copy the full code to the clipboard.
It's time to apply the code to the section. Click Edit Section and then open Advanced settings. Here you need to locate JetTricks block and turn on Enable Particles.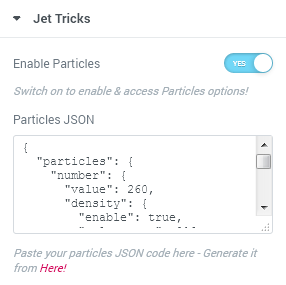 In Particles JSON paste the code you've copied. Actually, that's all! Now you can watch the animated particles effect and be sure your website visitors will like it!
What I like the most about JetTricks is that this plugin allows making content look fantastic and yet it keeps the things as simple as they should be. It makes your ordinary pages way more stylish and helps deliver information more effectively.
And what is the most important, is that the plugin continues to evolve and gets even more features. It makes difference, and it is definitely the most stylish plugin from Crocoblock Jet plugins pack.