Meet Crocoblock, the all-in-one toolkit for creating WP websites with Elementor page builder.
More than 3 million people all over the world enjoy working with Elementor — an intuitive page builder that allows creating web pages literally on the fly.
Making the process of creating websites easier for everyone is one of the most important goals in the web-development world nowadays. That's why our team has created multiple addons for various purposes, astonishing skins on different topics, a light Elementor-compatible Kava theme, etc. – everything for your work with Elementor and WordPress to run smoothly.
What's Inside Crocoblock?
Crocoblock subscription includes the powerful set of top-notch Jet plugins, made especially for those who enjoy working with Elementor and want to add even more functionality and content widgets to the existing ones.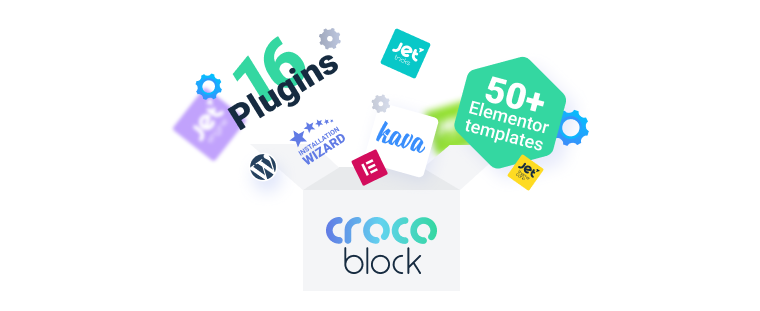 A Huge Set of Jet Plugins
All the plugins are updated regularly in correspondence with our customer's feature requests and are code-free, they can be easily installed and are made for different things, like:
Additionally, there is an Installation Wizard by Crocoblock which allows you to install the whole pack of plugins in a few clicks! Read more about the Wizard.
Light and Clean Kava Theme
Light and simple Kava theme is also included in the Crocoblock subscription together with the Kava Child theme, and one can use both the theme and the plugins together, or use the products separately for different projects. Such things are always up to clients and their needs.
Loads of Demos on Different Topics
The list of the website templates is already huge, and every skin is not only well-designed but also is carefully thought-through. One can find different skins on any topic in Crocoblock Dashboard, like for fashion stores, estate agencies, medical websites, spa salons, restaurants, etc. And this is only the beginning!
Popup Gallery
There is no need to create a popup from scratch anymore. In order to save your time, Crocoblock team has created pre-designed popup templates for versatile demands. You can find pop-ups which include sale offers, contact and subscription forms, maps, countdown, etc.
Decide when you want your pop-up to show up: on page load; when the user has been inactive for a certain period of time; during the page scroll; on a specific date; or when one wants to leave the page. And many more options!
Caring Support Always Ready to Help
Crocoblock customers don't need to worry about the lack of knowledge or experience. The skilled support team is always open for communication about Crocoblock products, providing efficient help.
There is also a huge Knowledge Base available. And in Crocoblock community on Facebook one can ask any questions and get the answers directly from Crocoblock team.
Simple Licensing Is What Matters
Depending on your needs, you can choose the license that will cover every aspect of your future projects. And there is no need to spend more costs than it's actually needed. There are no pitfalls, everything is easy and clear.
There are two different types of licensing available:
1 website – your license key allows you to use the Crocoblock products for building only one website. The customer will receive all the updates and new demos for one year.
Unlimited – allows creating multiple websites and projects with Jet plugins. All the updates provided by Crocoblock will be available for one year.
All the plugins are packed in 5 different packages for your convenience. Choose the one which meets your needs best of all.  If you are seeking for a complete set, then the All-Inclusive Yearly or Lifetime packages are definitely for you.  
Design package is for those who are looking for the perfect tools to create stunning designs easily.
Multi-Tool package is a must-have subscription for you if there is a need to create a fabulous and smooth website providing that it's not an online shop.
E-Commerce package will complete the website-making toolkit of a WooCommerce shop owner. The package includes all the plugins needed to make your online shop a successful business.
All-Inclusive Yearly package gives you access to a full set of the Jet plugins for a year. Create an unlimited number of websites with Crocoblock!
All-Inclusive Lifetime will rid you of any headache. It includes each and every product ever created by Crocoblock. Just imagine the power which you will be endowed with!
And the best part is that you can upgrade the license whenever it is needed.
Don't hesitate to check the Frequently Asked Questions block in order to get more answers to the questions you're interested in!
Crocoblock service is just what one looks for when he wants to go ahead with time and wants everything in one place. The service includes everything from the theme to skins, demos and plugins. It is convenient for everyone, regardless of one's experience in the field of website building.
All the products included are often updated, and the list of plugins and demos will become even larger with time. Join Crocoblock, and start building the future together with us!