WordPress newbies sometimes wonder, "What is a plugin?" and "How to use plugins?" It's time we answer these questions.
Today, WordPress plugins are a popular way to create a website's desired look and feel. Using plugins, one can add a registration form, set the payment system, organize post types, expand default product fields, attach pop-ups to page sections, and more. But before, plugins were not so feature-rich.
In this article, you will learn how WordPress plugins came about and why they have become so popular. Keep reading. ☕
Table of Contents
What Is a WordPress Plugin?
A plugin is a software component that extends the default WordPress capabilities and helps add extra functionality to websites.
They level out the ground for experienced WordPress users and first-timers, as plugins allow building websites without coding. With their help, anyone can add the desired functionality to their website. Another vital thing is that WordPress supports third-party plugin development, meaning any developer can code a plugin and add it to the WordPress repository.
Today there are so many free and premium plugins it's even hard to fish out the most convenient and suitable one. Form building, booking, CPT, WooCommerce, AI plugins – you name it.
But they didn't always exist. ☝🏼
WordPress Plugin History
WordPress was created in 2003 by Matt Mullenweg and Michael Little as a b2/cafelog platform. At first, WordPress did not support plugins, and developers used "hacks" to add some features. Hacks was a set of batch files with instructions on where to add the code.
The ability to add plugins was introduced in 2004 by Ryan Boren. He proposed a system of hooks and filters that became the basis of modern plugins. Since then, they have started developing plugins for WordPress as we know them.
This system allowed you to hook into specific events and run pre-written code. After this update, the developers no longer had to edit the code, meaning a lower risk of breaking the site.
In addition, plugins have simplified working with websites for those who do not know how to write code. Now they can simply turn the needed features on and off.
Over the years, plugins have become very popular and have started to perform many different functions.
There are currently over 60,000 free plugins on the official WordPress website, the number of which is growing every minute.

How to Install, Delete, and Update Plugins
Finding and installing plugins is very easy. To do this, you need to follow these steps:
Decide what functionality you want to add. For example, you want to add a Custom Post Type, place a registration form, or some interactive elements. Each feature can be found in many different plugins, so choose carefully.
Find suitable plugins and select the one you will install. A variety of plugins can perform the same function. Therefore, you can choose the one that suits you the most. You can choose a feature-rich plugin, similar to Crocoblock plugins, or a one-task plugin. Read the reviews and decide which one will be the right fit.
Go to Plugins > Add New in the admin panel. Enter the plugin's name in the search bar and select it from the list.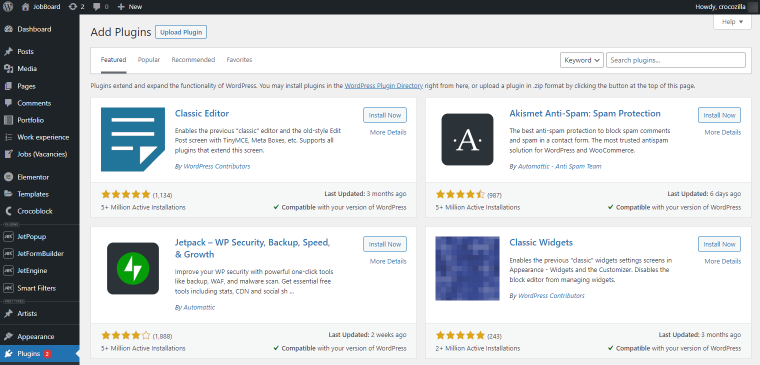 Click the "Install Now" button, and after downloading, click "Activate."
Now you can use the functionality of the plugin.
If you can't find the plugin's name in the search, download it from WordPress.org or buy a premium plugin. Once downloaded, you will see a zip file.
You can drag this zip file into a dedicated field in the Add New section. After installation, don't forget to activate the plugin as usual.
If, for some reason, you need to remove the selected plugin or temporarily deactivate it, you can do so from the Plugins > Installed Plugins menu in the admin panel.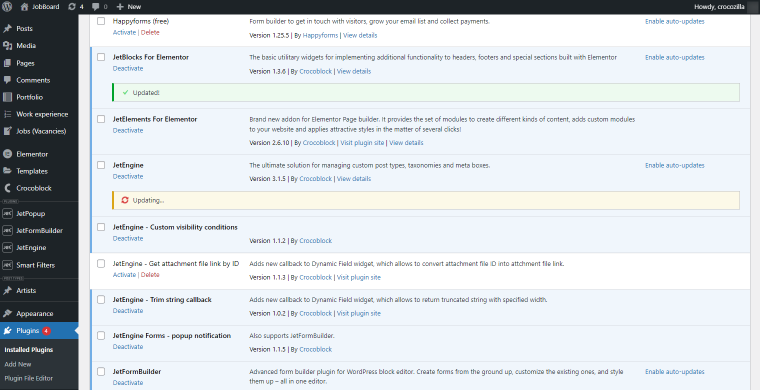 All plugins are updated from time to time. Some of them are updated automatically. Others show notifications that updates have been created and are ready to install. To update the plugin manually, click the "Update" button, and to set automatic updates, activate the "Enable auto-updates" toggle.
NOTE
Sometimes you do not want to set automatic updates because newer plugin versions and betas can be poorly tested. As a result, there might be a plugin conflict or critical error resulting in a website crash. When dealing with a live website, it's always better to update major plugins manually.
As mentioned earlier, WordPress plugin developers can code their own plugins from scratch and add them to the Plugins directory. Learn how to create a plugin from this article.
What to Look for When Choosing a Plugin?
So, let's figure out how to choose the best plugin for the website.
Be sure to look at what other WordPress users write so that you understand what functions the plugin performs and whether it is convenient to work with.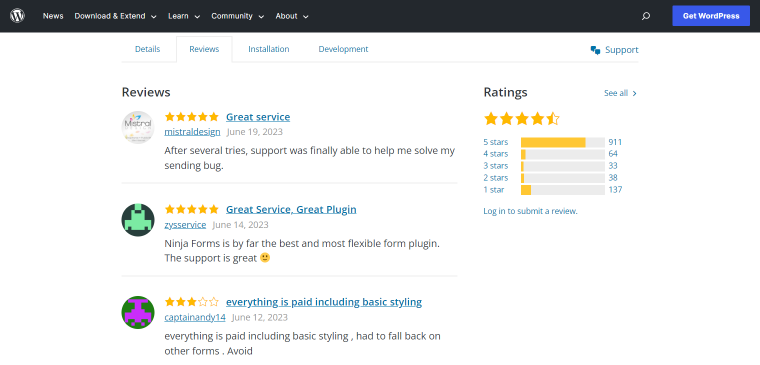 View security certificates
Today, many plugins have weak security protections. Therefore, before installing something on the website, you must check its safety. Find out which security plugins you can use to protect your website from hacker attacks.
Check how the plugin affects the loading speed
Many plugins are poorly coded, which affects the entire site's loading speed. If the site loads slowly, it can affect the customers' browsing experience. Therefore, it is crucial to speed up the website. You can use GTmetrix to check how fast the entire website works and how a particular plugin affects its speed.
FAQ
What is a plugin in WordPress?
A WordPress plugin is a software component that adds functionality to the WordPress site and works like a program. You can turn it on and off if needed.
Why add plugins to the WordPress site?
Plugins help you add the necessary features and custom design elements and make a website stand out.
Do I need to use plugins on my WordPress site?
Not necessarily. If the built-in WordPress functionality is enough for you or you know how to write code, you can go without plugins.
Last Words
Plugins are helpful additions to WordPress functionality. They help you implement virtually anything you can think of, and there's even no need to learn WordPress. From interesting blog post designs to multi-level forms and order pages – plugins can make it all happen.
The creation of plugins has genuinely changed the way WordPress works now. Now it's not just a blogging platform; WordPress powers more than 43% of all sites on the Internet. Therefore, when we talk about plugins, you should never forget there is the very functionality you need – you just have to dig deeper. 😎