There are a huge variety of membership website types, and almost always, several categories can be assigned to the same website. Very often, membership websites are also directory or multi-vendor marketplace websites.
We offer a wide variety of plugins that become your toolset in creating exactly the membership website you need and a lot of ready solutions called dynamic templates. They are available for all Crocoblock subscribers with All-Inclusive and Lifetime plans. They can be easily modified, but a lot of work is already done for you, and I genuinely love them.
But now let's dive into the examples of membership websites made with JetPlugins, and I hope they will inspire you.
Membership Websites Created With JetPlugins
There is a sequence of steps for almost any membership website, and this checklist with useful links to plugins and tutorials will be really helpful. JetEngine, as usual, plays the central role, being a driving force behind the dynamic content and having such functional modules as Profile Builder or Conditional Logic.
But other JetPlugins are also essential to put everything together properly. To paint a clearer picture, I will give lists of plugins used by the websites featured in this list.
Jazz Events Live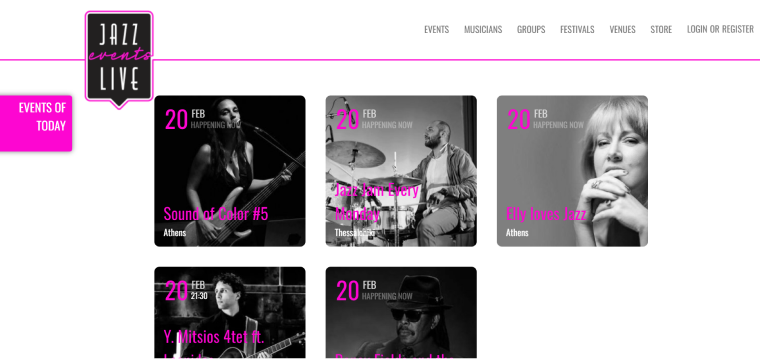 Developer: Studio Koch.
Theme & Template: Hello by Elementor.
Plugins: JetEngine, JetElements, JetWooBuilder, JetBlog, JetReviews, JetPopup, JetTabs, JetBlocks, JetReviews, JetSmartFilter, JetFormBuilder.
This is a beautiful execution of a membership website for Greek jazz musicians, promoters, festival organizers, and venues. It uses the powerful functionality of JetPlugins to get what was intended.
The idea of the site is simple yet powerful: a member can register there and add musicians, events, and venues. There are separate pages for all these categories with filters. The whole website is very dynamic, so when you click on a musician, you can see all their events and bands. Also, it's nice that musicians who offer lessons are marked with a special badge.
The main page shows upcoming events for today and tomorrow and indicates that it's "Happening Now" if you visit a website during the event.
There's also a shop not only with traditional merch products but also "coins," using which members can feature the event or a venue.
Overall, the design and the site structure are nice, clear, and well-thought-out.
ErdeMED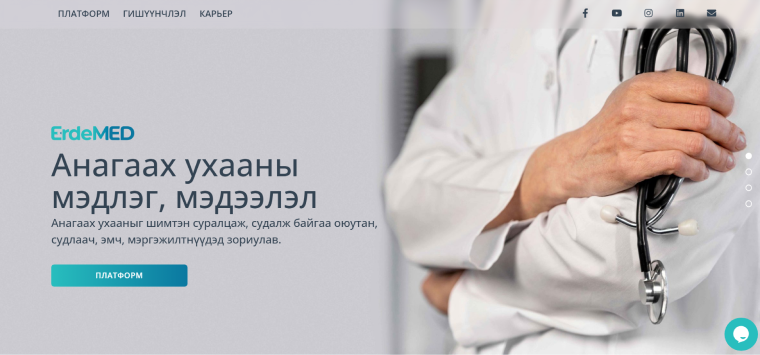 Developer: Budkhand.
Theme & Template: Hello by Elementor.
Plugins: JetEngine, JetElements, JetBlog, JetSearch, JetTabs, JetBlocks, JetReviews, JetThemeCore, JetWidgets for Elementor.
This is a really well-done medical platform for Mongolian doctors with paid membership and a powerful knowledge library for medics and potential clients. Both can find useful professional information (in the members-only area) and read public articles. Also, there are doctors' contact, specialties, area for discussions, etc.
It's amazing how they used the potential of JetPlugins to the fullest: JetEngine dynamic listings to form almost the whole site, with great attention to detail and even a side menu for the Platform area using JetMenu. The developers created a legit custom knowledge base based on JetEngine Listings, made great use of the Conditional Logic feature to hide member-only pages, and, of course, properly used a Profile Builder JetEngine module.
Topicimes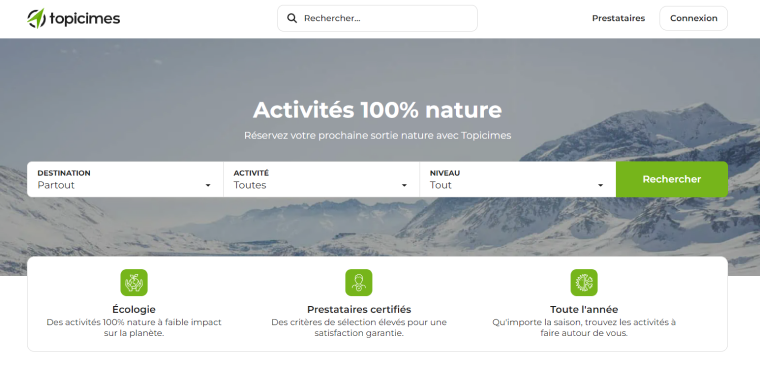 Developer: Louis de Villeroché.
Theme & Template: Hello by Elementor.
Plugins: JetEngine, JetElements, JetBlog, JetMenu, JetPopup, JetSearch, JetTabs, JetSmartFilters, JetBlocks, JetReviews, JetThemeCore.
This website is very similar to the one described in another article about building membership sites. Also, the developer shared his story and said a couple of words about the website creation process. So, it's a site for travelers where paid members can publish Activities, and other people can contact them and book those activities.
There are beautiful, well-designed Categories and Activity pages, a nice Home page with new, promoted activities, and a selection by region and categories. Of course, they were created with the help of JetEngine listings.
The members can register using JetFormBuilder, upload their certificates for running a business, and get manually verified due to legal reasons.
Volunteer Ottawa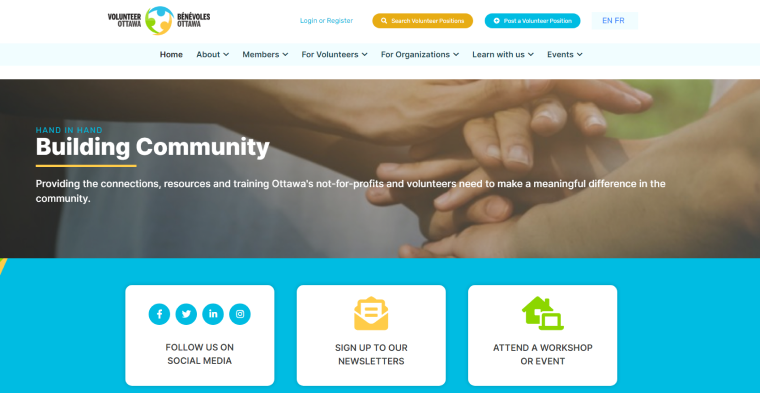 Developer: Osamu Wakabayashi.
Theme & Template: Kava.
Plugins: JetEngine, JetElements, JetBlog, JetPopup, JetSmartFilters, JetBlocks, JetThemeCore.
This website is for connecting volunteers and volunteer positions. Also, it has a big section with various events and a learning materials catalog. Actually, this website has a lot of useful classified directories: for volunteers, organizations, etc. There's, of course, a member-only section where they can post their listings and filter what they need.
The developer used Memberpress for membership functionality and JetEngine for storing and displaying custom fields (there are many of them because members provide a lot of information), as well as JetSmartFilters.
You can watch a more detailed walkthrough video about this website from the developer:
Pagan Places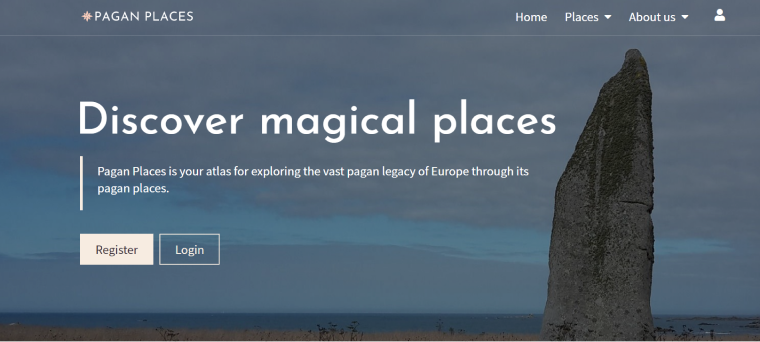 Membership site JetEngine
Developer: Andreas van Woerkom.
Theme & Template: Dankwin.
Plugins: JetEngine, JetElements, JetPopup, JetSmartFilters, JetBlocks.
This website was made to collect a European pagan legacy and become an atlas of places that were considered sacred many centuries ago. Of course, it's very hard to do without members who contribute and add such places located in their countries. So they can register and add photos, descriptions, and locations of what they have found. There's also a directory of members with open profiles and their contributions created using JetEngine.
Obviously, such a website is impossible to imagine without a map; that's why a developer made good use of the JetEngine map listings.
If you want to see more showcases and tutorials, check out this playlist by Danica Louwe:
Wrapping Up
JetEngine plays a key role in all the membership websites described here, and for a good reason: it offers an extensive set of features and modules, such as Profile Builder, Conditional Logic, and a lot more. However, it's not a plugin specifically for membership websites, and the good news is that you can build something even more extensive using it and other JetPlugins, such as JetSmartFilters, JetElements, JetThemeCore, and, of course, JetFormBuilder to provide the front-end submissions, signing in and registration.
And don't forget to feature your membership sites in the Made with Crocoblock section.