Find inside sales pages galore, all pre-styled to display the garments in the best light. A stand-alone Reviews section is there to back the purchasing decision. Add Related Products block to help the buyer complete the look. You are free to customize any Elementor single product page template top to bottom.
Make the products more shoppable
JetProductGallery supports different single product page layouts on the same website.
Output the applied product attributes as clickable banners and compact category cards. Alongside quick filters, there are discount badges to tempt the buyer. You are at liberty to create another grid layout, just mix and match the elements.
JetWooBuilder Global Widgets let you show the store window at its best.
Sometimes it takes too much filtering to hunt the best fashion items. JetSmartFilters got you covered. Use the pre-set multi-level filtering tool or get a new one up and running.
Inbuilt AJAX filters:
Extra filtering features:
Integrate a "Featured Products" block into the shop sidebar and drive more sales.
My Account page
Two-template My Account page for both registered and new users is totally work-ready. Feel welcome to customize it as you wish.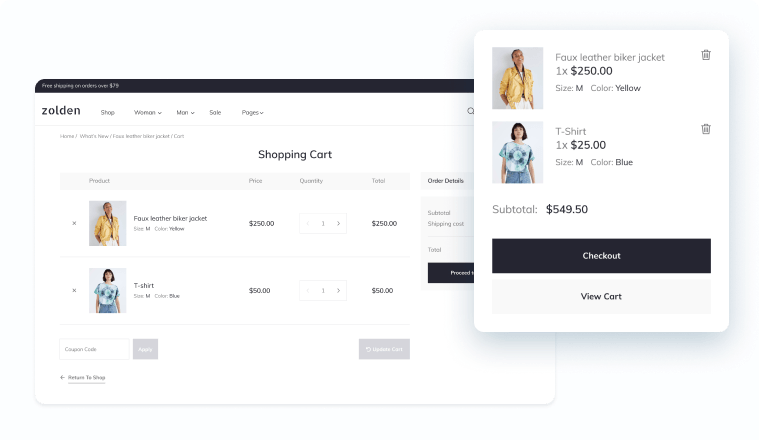 Cart page
A simple yet stylish Cart page will show all the order details, as well as the "Return to Shop" button, and cross-sells.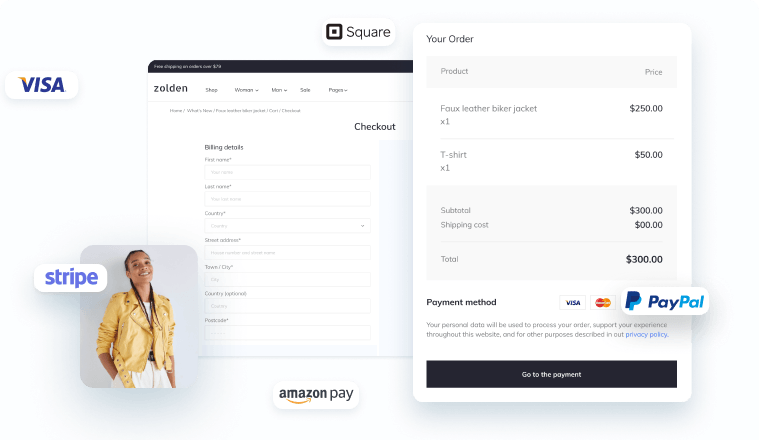 Checkout page
Find inside two Checkout page templates that cover a total of 5 required forms, payments, and complete order review.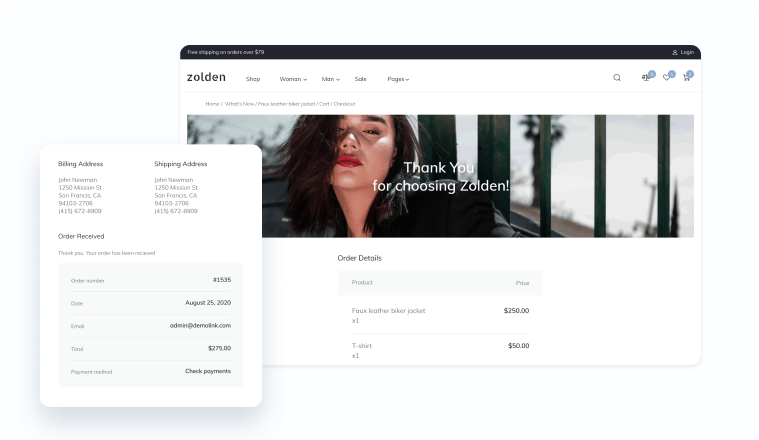 Thank You page
Meant to confirm a successful purchase, a Thank You page is likely to brighten any customer's day.
A simple way to preserve site logic and aesthetics is to assign custom templates to My Account, Cart, Checkout, and Thank You pages. Inside Zolden, you'll find ready-to-use templates created with JetWooBuilder widgets and WooCommerce integrated.
Build every WooCommerce shop page template the way it suits the website design.
Why Crocoblock
+ Dynamic Templates
Excess pages, skins, and plugins galore you might need one fine day. That is not a Zolden story. It contains nothing but the essentials for this development project.
We adopted the "Less is more" approach and made the template simple and easy. Forget about removing the unnecessary components. Unpack the Crocoblock package and build the best WooCommerce store on the web.
Go All-Inclusive to Unlock

WooCommerce Shop Template
Pick Your
Subscription
Plan
18 JetPlugins
150+ JetWidgets
50+ design templates
Product updates
Professional support
Number of projects
Already Got Crocoblock All-Inclusive?
2
Install and activate the plugin
3
Follow Wizard's instructions
4
Enjoy powerful templates
Frequently Asked Questions
Depending on the subscription type you've purchased, you might get four different product sets perfectly fit for your purpose.
The Design set fully suits for creating webpage designs and styling all kinds of content. It includes 8 powerful plugins.
The E-commerce set will be perfect if you're looking for the products to boost your online store or even build it from scratch. It includes 4 more plugins along with the ones needed for design.
The Multi tool set is the best choice if you're looking for the tools to build a website with the complex structure, custom post types, post relations, and taxonomies, need to add a booking form or want to work with dynamic functionality. The package includes all the plugins for design as well as JetEngine and JetSearch.
The All-Inclusive Package gives access to all Jet Plugins for one year. This set is perfect for creating a structured and website with complex structure.
There's also an all inclusive Lifetime subscription plan that includes all the products available at Crocoblock.
All the plans represented above include a free Kava theme, a set of pre-designed demos and popup templates within JetPopup plugin's library, and come with premium professional support.
Please, note, that with time the list of the plugins and the functionality of the packages will be extended.
Yes, you can use the products from Crocoblock subscription or acquired as separate items to create the websites for end-users.
Please, note, that the terms of using the products from Crocoblock depend on the license type you've acquired.
However, you shouldn't pass your account details or the license keys to any third-parties.
After the subscription license expires the website built with Crocoblock products will keep working. However, it will be impossible to get the updates, use the templates library, access the Downloads directory in your Crocoblock account.
If you won't renew your subscription, you should download and save the latest versions of the plugins from your account.
It's not recommended to make any changes in the ready website you've created with Crocoblock if the license is out of date.
First, make sure you've got enough money on your credit card in order for the system to automatically charge you and prolong the subscription license.
In case there is no money on the credit card, the license won't be prolonged automatically.
You'd have to be aware that if you need to continue working with Crocoblock products, you'd have to prolong the license manually.
Another option is to cancel the existing subscription and purchase the new one and use it.
Yes, you can upgrade a license at Crocoblock by paying only the difference between the price of the license you've got and the price of the license you want to purchase.
If you have any Crocoblock subscription (Design, Multi-Tool, E-Commerce) you can upgrade to All-Inclusive Yearly and Lifetime automatically via your Crocoblock account. If you have a subscription for 1 website (Design, Multi-Tool or E-Commerce) but want to upgrade to unlimited websites, contact Crocoblock support. If you want to upgrade from Design to Multi-Tool, from Design to E-Commerce, or upgrade from Multi-Tool to E-Commerce, contact Crocoblock support. If you have a single plugin and want to upgrade to any other Crocoblock subscription, contact Crocoblock support.