JetAppointment. WordPress appointment
plugin for Elementor and Gutenberg
This plugin is working with Elementor editor
This plugin is working with Gutenberg block editor
This plugin is working with Bricks editor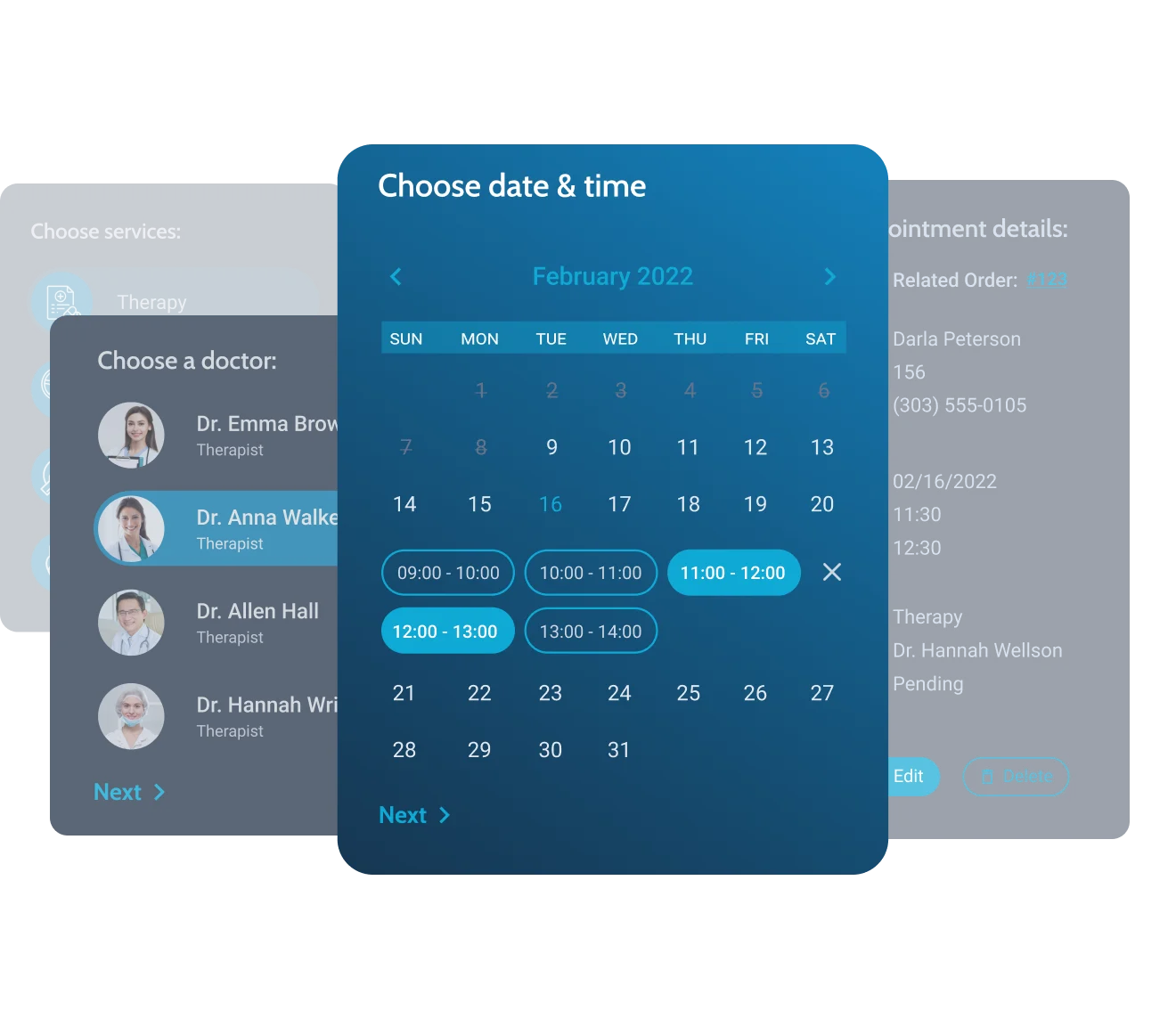 What's New
Appointment export feature
Create the appointment backup in the CSV and iCal formats
2.0.2
WooCommerce REST API checkout
Added new compatibility to JetAppointment
2.0.2
Zoom
integration
Book Zoom calls through the JetAppointment engine
2.0.0
Build Appointment Sites & Offer

Hourly Service
Create a Functional

Appointment Booking

Site
Explore JetAppointment

Options & Settings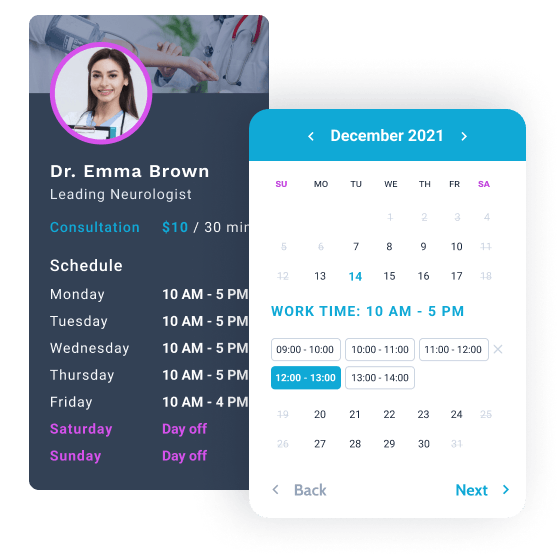 Complete the general appointment setup
Add the vital appointment details not a single form can do without – business days, working hours, days off, and the provided services.
Add holidays and rest days to the schedule
Adjust the schedule for all services in one place
Use custom calendar labels for weekdays and months
Configure individual service duration, price, etc.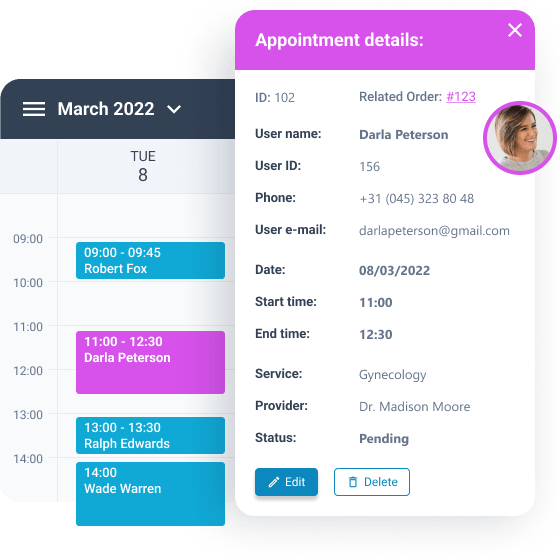 Adjust other
JetAppointment settings
Flesh out the appointment by indicating the between services, maximum capacity per certain services, and payment information.
Arrange the buffer time before/after the service sessions
Set the price per one time slot, hour, and even minute
Find all the payment information in the special settings columns
Set the maximum capacity per any given service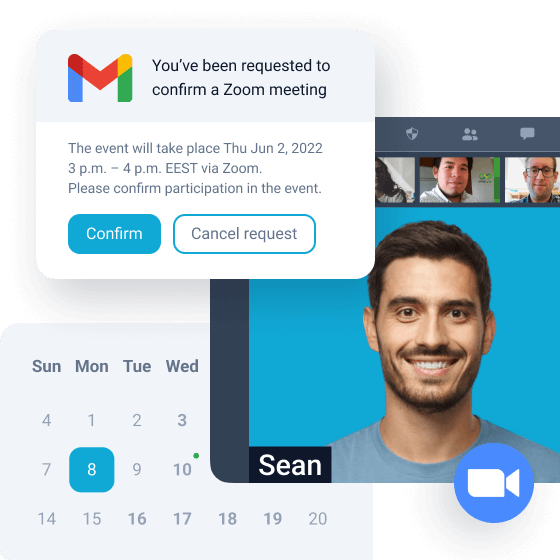 Schedule a Zoom call and use confirmation links
Users pick a vacant slot, and the appointment engine will book a Zoom video call and communicate all the details to participants via email.
Add and configure Zoom API endpoint
Attach Zoom meeting data to the appointment
Send a confirmation URL to the service provider by email
Manage scheduled Zoom meetings in the dashboard
Create the appointment confirmation / cancellation links
Customize User Scenarios


for Smooth Appointment Booking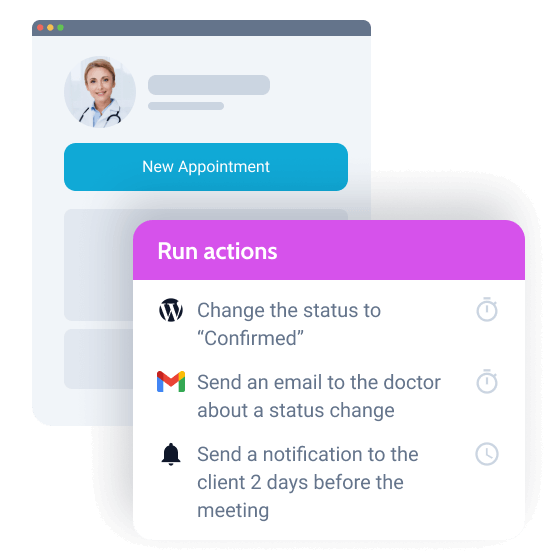 Create Workflows for each appointment's lifecycle stage
Configure different appointment workflows for sending confirmation emails, upcoming event notifications, confirmation/cancellation requests to service providers, and more.
Trigger the action on appointment creation/status change
Set workflow actions to run immediately/when scheduled
Configure one/multiple workflows for the same appointment
Combine existing actions into one set to personalize UX
Create a unique Workflow to cover a specific appointment routine
Allow Booking Appointments

from Different Webpages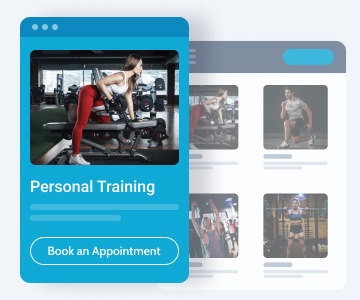 Single service page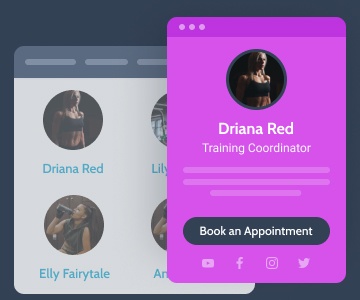 Single provider page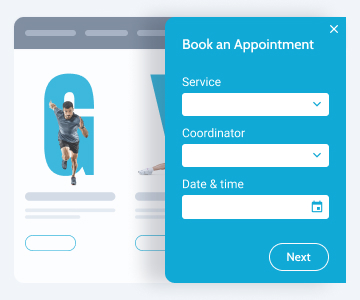 Form in a pop-up
Appointment Booking

Schedule Types
Time picker
Allow customers to schedule appointments when they want and set their start/end times.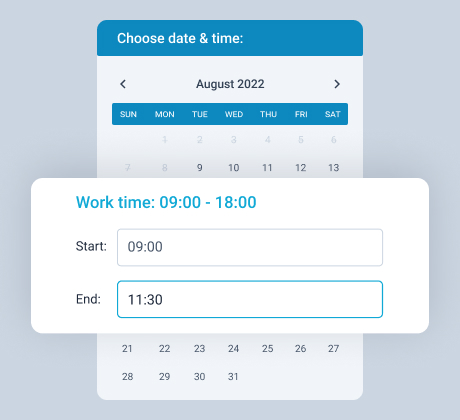 Fixed time slot
Set a specific time slot allowing the customer to book a service at a fixed duration and price.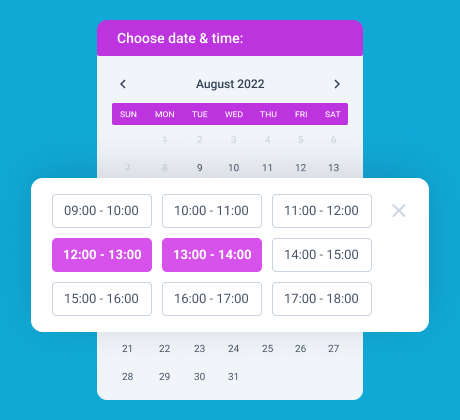 Recurring appointments
Make the appointment booking semiautomated. Users can choose to repeat the scheduled appointment every day, week, month, and year.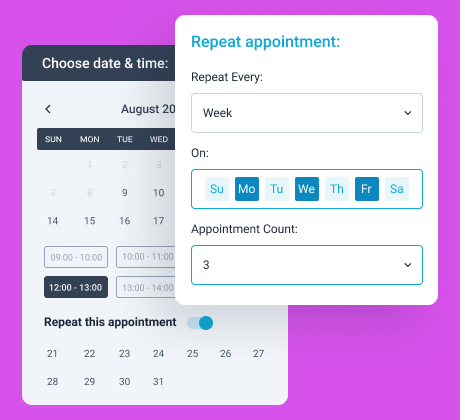 Discover

Additional JetAppointment Features
Create & Configure

Appointment Booking Forms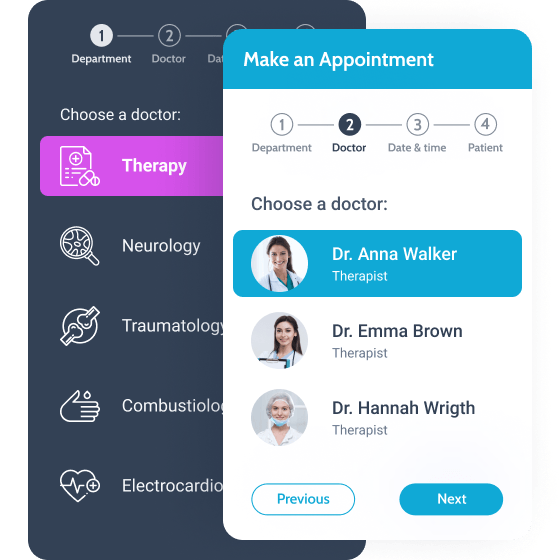 Extend the form
functionality
Combine the power of JetAppointment with the JetEngine plugin. It is fully packed with essential options and various style settings. Implement any to create a well-performing appointment booking system on WordPress.
Display the appointments as a self-explanatory listing
Mix and match the field types to make each booking informative
Use smart notifications to ensure the services are booked smoothly
Let clients book services right from the single provider page
Create and apply custom templates to the Provider/Service fields
Use page breakers to create a multi-step form
Manage Appointments Via

Clean Dashboard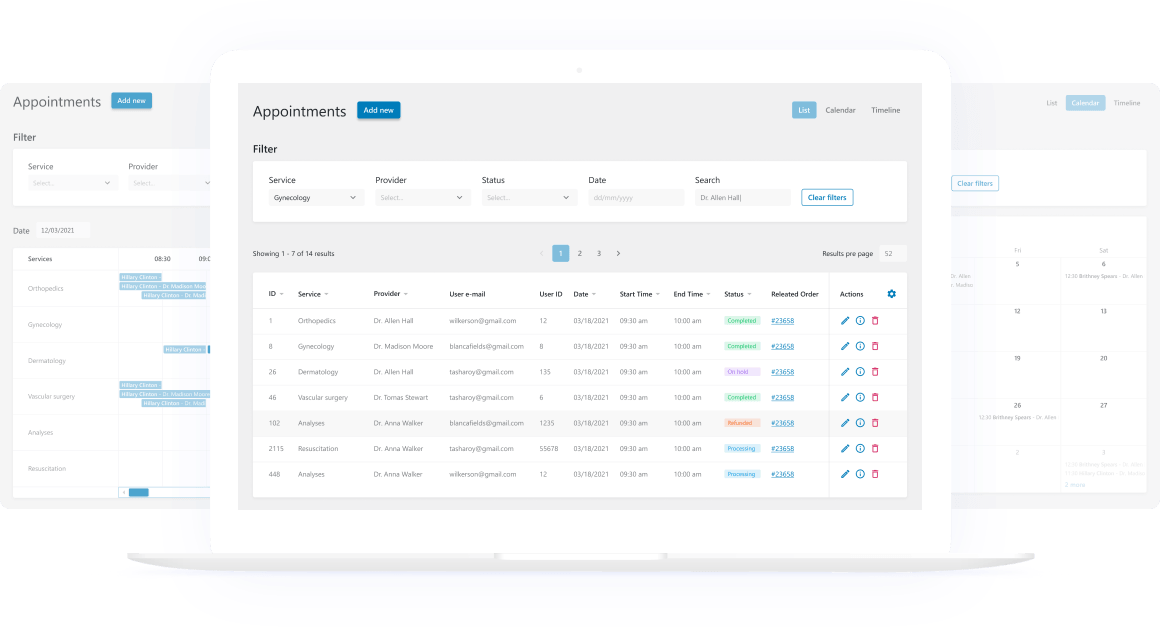 Add & edit appointments
View the essentials on every scheduled appointment, add new ones, edit their data, and delete them if necessary.
Appointment filtering & search
Filter the requests by Service, Provider, and Status. You can also search for appointments by Date and meta fields.
Different schedule layouts
Visualize the schedule as you please – decide between the JetAppointment's List, Calendar, and Timeline views.
No More
Installation

Routine

Enjoy a guided wizard. We arranged the easy steps for you: customize the services and providers, add new fields to the form (comments, phone numbers, etc.), set the company's agenda, and get the ultimate premade layouts.
Choose services & providers CPT
Set required & custom DB columns
Indicate working hours & days off
Configure additional settings
Complete the setup & open settings
Integrate External Apps to

Automate Processes

Unlock all payment systems available from WooCommerce modules alongside third-party email services like Zapier and Integromat, Google Calendar, and more.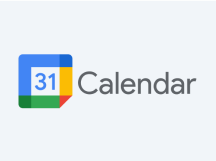 Browse Crocoblock-Powered
Live Demos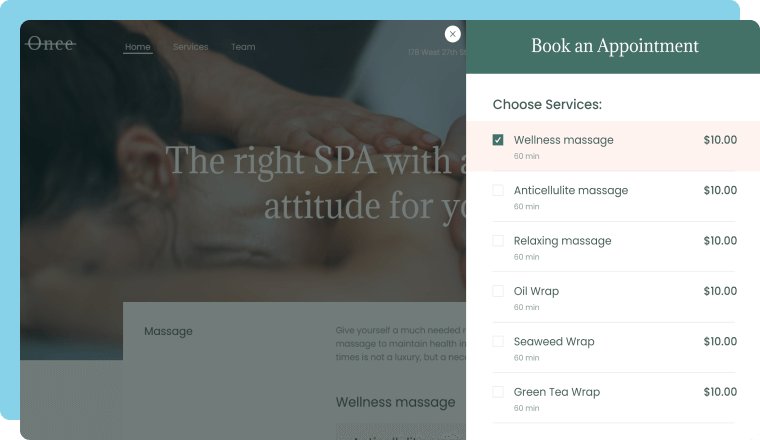 Spa appointment
Make it possible to book any beauty & spa treatment online.
The core:
Therapist single & catalog pages

Treatment single & catalog pages

Appointment functionality

Multi-step booking forms

WooCommerce integration
View demo
Appointment functionality

vs.

Alternatives

Compare the holistic functionality of the Crocoblock appointment
plugin to competitors feature by feature.

Learn more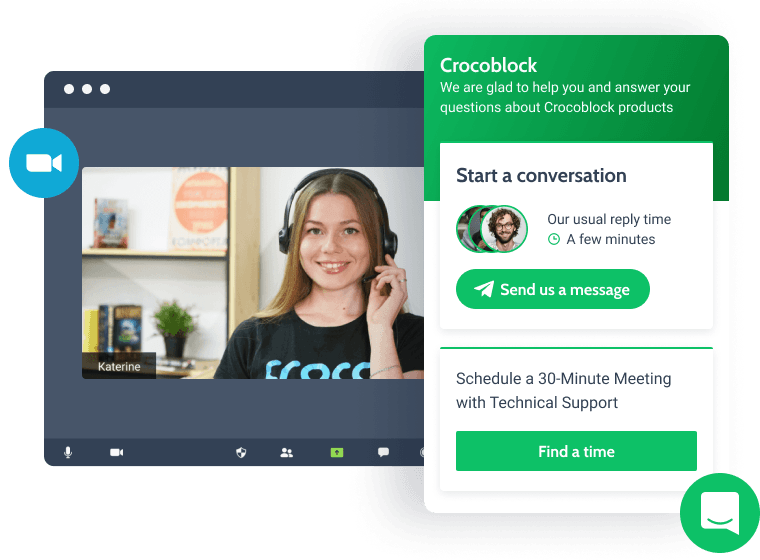 Excellent and personal support
Our competent support agents will gladly answer all questions via tickets, live chat, messengers, and Zoom calls.
Contact Support
Watch

JetAppointment Tutorials
Choose Subscription
30 days money-back guarantee
Custom subscription
Subscription price for 1 website only. For more choose the Unlimited websites in the cart.
0 widgets

included

JetAppointment plugin

1-year product updates

1-year of Zoom & Chat support
All-Inclusive subscription
150 widgets

included

20 JetPlugins

1-year product updates

1-year of Zoom & Chat support
Go pricing
For more details on the Subscription proceed to the Pricing page