Do you require more options for creating and editing websites quickly? Do you want to make editing easier while avoiding creating new code each time?
With the aid of plugins, widgets, and code, numerous options are available if you build a website on the WordPress platform. For instance, you could start a blog, a website for ordering business cards, a portal for booking tours, etc.
The ability to create advanced fields is one of the most important features for many website owners.
Let's decide which tool to use to expand the options and create custom fields.
Table of Contents
What Are WordPress Custom Fields?
Let me briefly describe custom fields to demonstrate how useful this tool is.
Blog posts and regular pages are the two types of content that WordPress excels at handling. However, developers must spend several hours creating functional code to fix the issue if the task is more difficult.
Additionally, there is a chance that everything will "break" if you need to make changes to the page after it has been created, like adding a new product or changing the text that appears opposite the image. If any character is unintentionally deleted, it renders the entire website inoperable.
What will save you time and effort are advanced custom fields. You can post new products, offers, tours, courses, and other things without writing any code. Instead, you can make several templates, include the required fields, and freely edit the data.
You market tours to Europe, for instance. You can quickly display to site visitors the available locations, the price of a new Paris tour, and the number of available seats by using custom fields.
Let's now compare the two incredible plugins, ACF and JetEngine. Which one best fits your style?
Before we start:
Custom fields are just one aspect of JetEngine.
All of JetEngine's features are available for review here.
JetEngine Overview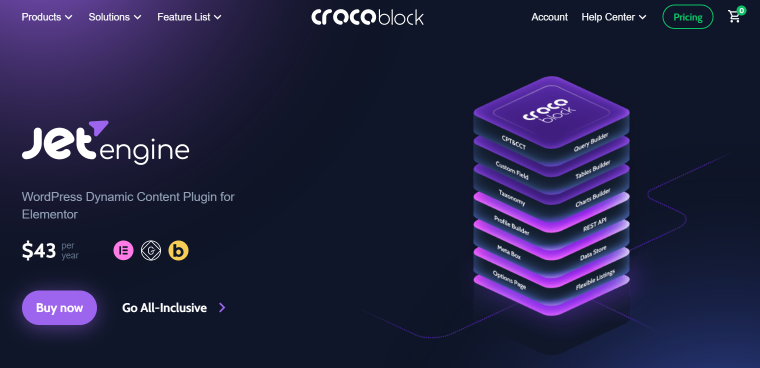 Developer: Crocoblock
Since JetEngine is a powerful dynamic content plugin, it has all the resources required to put even the daring concepts into practice.
The plugin is ideal for advanced users who will benefit from all its features.
The plugin has 47 valuable features in total. Here are a few examples:
custom content type;
taxonomy;
custom fields;
meta boxes;
options page;
listing grid layouts;
etc.
You can quickly create custom pages and add the fields you require.
ACF Overview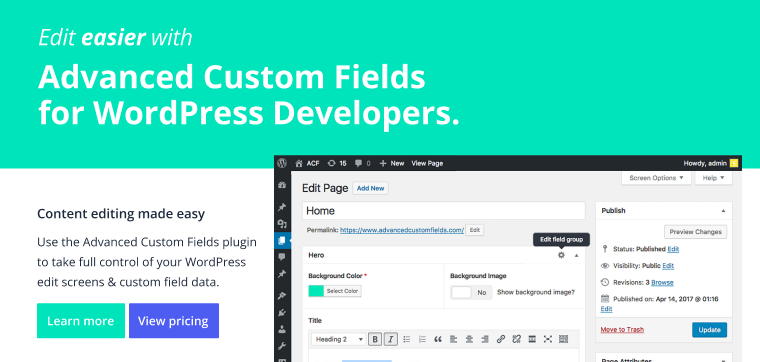 Developer: formerly Delicious Brains Team, now WP Engine.
What exactly is ACF? It is another well-known plugin. Because the plugin's primary purpose is to assist you in creating custom fields, its functionality is significantly less than that of JetEngine. However, you have everything you need to create advanced custom fields.
The ACF plugin, like JetEngine, is intended for advanced users. And to use it, you must first understand the possibilities it provides.
As a result, among the ACF Pro functions are:
the repeater field;
custom blocks;
the flexible content field;
options pages;
the gallery field;
the clone field;
etc.
What Are Their Similarities?
Both plugins are intended for advanced users and enable the creation of custom fields. It implies that they have a lot in common. So let us begin by going over them again.
Everything has been compiled into a handy table to help you compare the capabilities of these two plugins: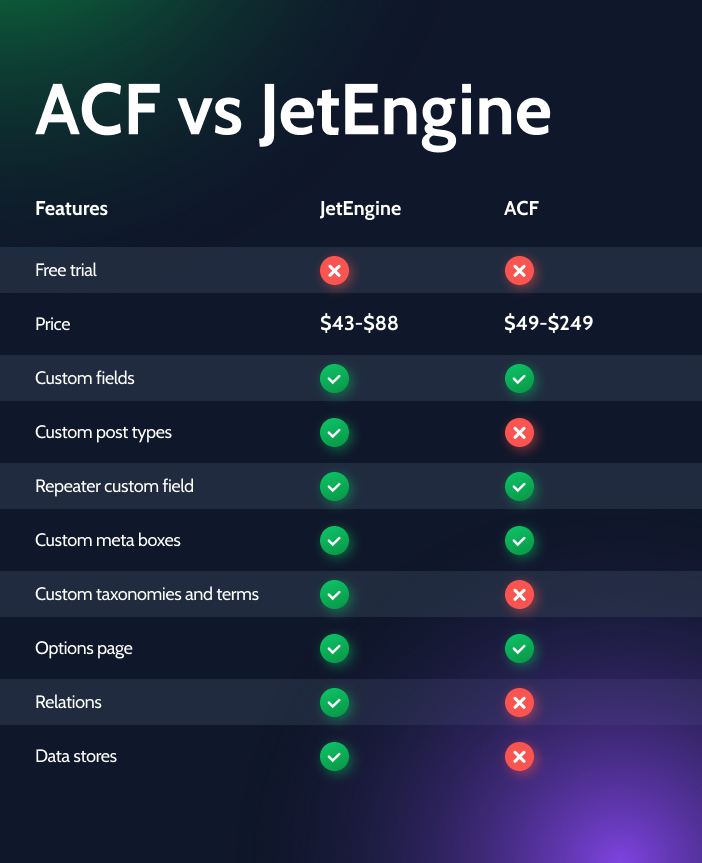 As you can see, the plugins share a lot of similarities. You can include custom fields such as text, time, date, checkbox, media, numbers, etc. The information you enter will be saved, and you will not have to enter it again. For example, if you're selling cars, you might want to include fields for engine size, mileage, year of manufacture, and fuel type. When you create a new card, you choose a predefined value, saving time.
You can use a repeater custom field to avoid adding the same fields over and over. This feature can create new pages, posts, products, and users. Simply enter the information once and use it repeatedly.
The following useful function that both plugins have is custom meta boxes.
It is the ability to add meta box groups to posts, taxonomies, and CPTs. It's useful when you need to add more information to an existing page or post on your website quickly.
Is it necessary to include your contact information or signature on each new page? The options page will assist you in quickly adding such global data. It is another feature shared by JetEngine and ACF.
Enter it in the desired form and use it with a single click on the selected pages.
ACF vs. JetEngine: Who Will Win the Cup?
Now let's look at the differences. After all, the purpose of this article is to assist you in determining the best solution for your website. And for that, you must establish what is presented in one plugin and is missing in another.
Custom fields
Yes, this point falls under the broad category of key differences. For example, you can add text and images with both plugins. However, there are some distinctions.
JetEngine provides 17 custom fields, the most popular of which are text, media, date, time, and various icons. Although you cannot add a map with this plugin, it does have another useful feature called Map Listing. It makes it easier for your customers to find you.
🙌 ACF does not support custom Iconpicker fields.
Custom posts types
One of the most useful features for developers is the custom post type. It enables you to create some page types once, then build new ones based on the template and quickly edit them, such as a product card. You can create a description template once, upload a photo, and reuse it for new products.
Unfortunately, ACF lacks this useful feature.
Custom taxonomies and terms
This feature assists in categorizing various types of content, posts, products, and pages based on specified parameters. As an example, suppose you sell books. While working, you can add genres and select only science fiction or detective stories.
This useful feature is not available in ACF.
Data storage
It is a repository for the end user's personal information. You can save wishlists, favorites, purchases, likes, and so on.
This feature is not available in ACF, but prospective customers will appreciate it because it allows them to save their favorite products and publications and share wishlists with their friends.
Prices
Pricing policies differ between JetEngine and ACF, which is essential when selecting a plugin.
JetEngine costs $43 per year for a single site. You can use all of the plugin's features on a single resource.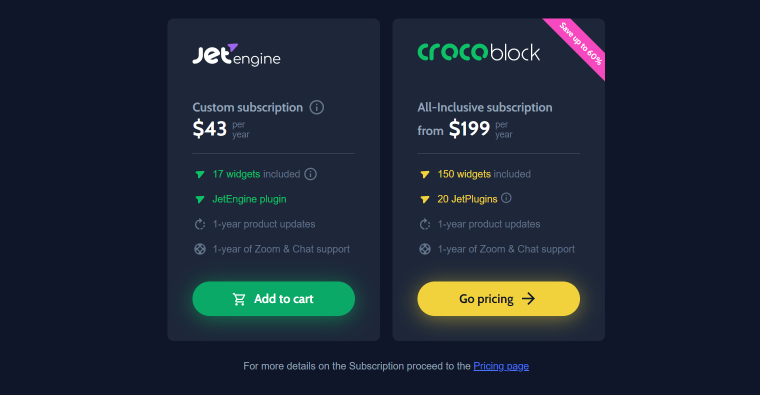 You can upgrade to the second package for $88/year if you require more sites. You also get one year of support and access to all subscription updates. If you don't like the plugin, you can get a refund within 30 days of purchasing it.
ACF offers three different packages.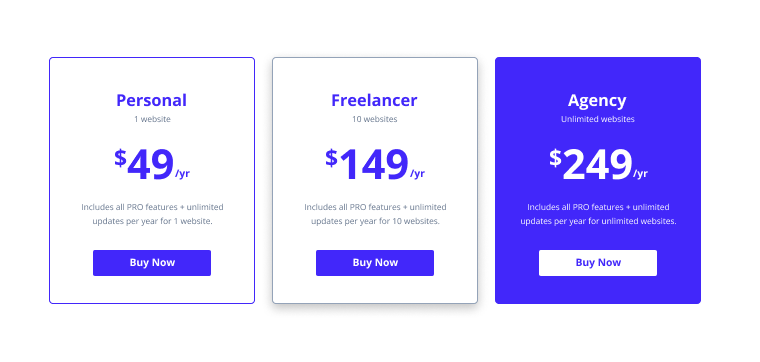 The first one allows you to install the plugin on one site, costing $49 per year. The second package costs $149 per year and allows for the installation of plugins on ten websites. The third option costs $249 per year and will enable you to work with unlimited sites.
User experience
Each developer and type of site has its own task. It is convenient for someone to work with one plugin and for someone with another. We can be comparing the advantages and disadvantages of different plugins and features for a long time. But the reviews of people who use plugins in their work every day are always more eloquent.
Here is how the Crocoblock community rate ACF vs. JetEngine plugins: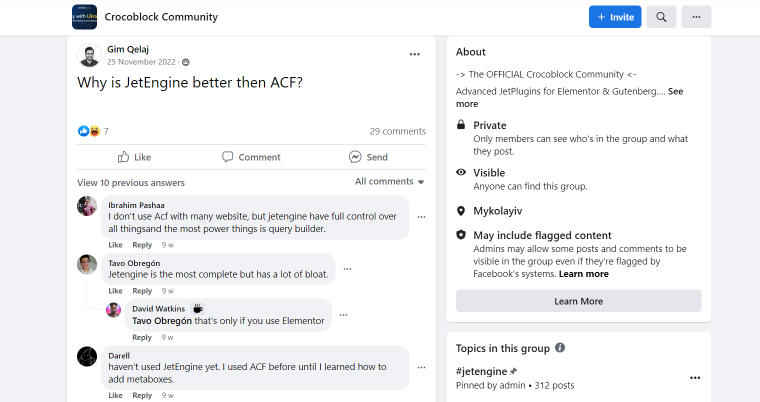 FAQ
What is the JetEngine plugin?
It is a dynamic content plugin. It helps you to add different elements to the WordPress website without coding: text, video, images, meta boxes, taxonomies, and custom post types. You can create any website just with drag and drop.
What are the differences between ACF and ACF Pro?
ACF Pro has more features than free ACF. It includes the repeater field, ACF blocks, a flexible content field, the gallery field, and the clone field.
What are ACF and JetEngine capable of?
These plugins allow you to build the site you want faster without writing any additional code. You can configure and populate the required parameters and fields.
Is programming knowledge required to use the JetEngine and ACF plugins?
No, but you should learn about the WordPress platform and experiment with the plugins before using them.
Can I purchase a perpetual subscription to JetEngine and ACF plugins?
Unfortunately, ACF does not yet have this option. However, a JetEngine lifetime membership costs $999. This will provide you with a plethora of additional options for your website, lifetime support, 20 Crocoblock plugins that can be used on an unlimited number of sites, 12 dynamic templates, 47 design templates, and so on.
To Sum Up
Because the JetEngine plugin is designed specifically for creating custom fields, it has more features than ACF. As a result, JetEngine provides more options.
You can cross-reference them and choose the best one for you. Also, share which plugin you used for work and why in the comments.