As AI technology continues to evolve, web agencies and developers are finding new ways to benefit from the capabilities of machine learning. From generating designs and images, creating written content, or assisting with code auto-completion – there is no doubt that the AI boom has created many powerful tools for web agencies to utilize.
With the help of these tools, businesses can easily optimize their workflow and increase efficiency. In this blog post, I will discuss some of the top AI-powered software tools available today that can help web agencies in many ways.
👉To find out which AI tools are designed specifically for use with WordPress editor, refer to our previous article.
Table of Contents
How AI Tools Can Improve Web Agency Efficiency
With the advances in technology, it's only natural that people try to automate simple tasks and make their work easier. The software that mimics human intelligence (i.e., Artificial Intelligence) has helped web agencies and Internet users in general for several years now. 
That includes image and speed recognition software, personalized recommendation tools used by eCommerce sites, and autocorrect and predictive text tools used on smartphones. However, the latest developments in machine learning allow for accomplishing tasks with unprecedented complexity and creativity.
Here are the most stunning and game-changing ways AI-powered tools change web development:
AI can create images and videos based on user inputs saving a lot of time for designers and artists. Additionally, AI algorithms can analyze an imported image and text commentary to make image variations. AI-generated images are always unique and don't have human factor mistakes.
By using natural language processing algorithms, AI can analyze large amounts of data and identify trends, patterns, and insights. When users input relative prompts, this information is used to generate written content that is informative and engaging. AI can help writers by suggesting ideas, developing outlines, or making drafts.
Finally, AI can assist web developers in several ways. It can speed up coding by suggesting code snippets based on the context and coding patterns it learned previously and even create whole websites based on verbal descriptions.
Overall, web agencies have a wide range of AI-powered tools available to them. Let's see the best of them in the next section.
Best AI Writing Assistants
One of the aspects where AI can improve quality and streamline the workflow for web agencies is text creation. Here are the top AI tools for generating, analyzing, and editing textual content.
🏆 Best for agencies looking for an all-in-one solution for generating content.

Jasper.ai is one of the most popular AI-powered platforms that accumulates many tools for writing blogs and monitoring and optimizing the performance of agencies. It has mostly 5-star reviews on Trustpilot, with most users praising its flexibility and ease of use.
Overall, the written content produced by Jasper is high-quality, but it has the same flaws as the other AI-generated content, such as a lack of originality and occasional repetitiveness. With some training, you will learn to provide the right prompts and have better results. One way to use Jasper.ai for writing original content is brainstorming ideas in the "Chat" function before developing them in the long-form section of the platform.
It can also generate high-resolution 2MP images in different styles based on a brief description. Even though this function is still in the beta phase, the results are quite impressive. When you request a new image, the software provides you with four alternatives, and after you make a choice, it learns about your preferences and makes better recommendations next time.
Pricing: Jasper.ai Starter plan is $40 per month, Boss Mode with all advanced features is $82 per month, and the 5-day trial period is available.
Jasper.ai main features:
pre-built templates for writing blogs, ads, product descriptions, emails, and more;
plagiarism checker.
Pros:
an all-in-one solution for agencies to create high-quality content and automated agents.
Cons:
many users reported difficulties signing off Jasper.ai paid plans before the trial period expired.
🏆 Best for editing texts.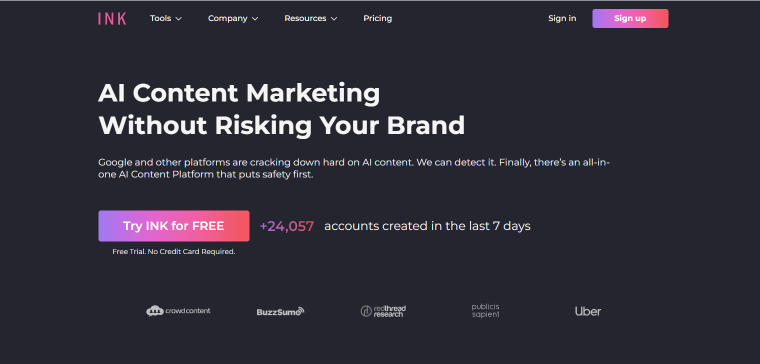 INK AI Writer is a writing tool in the form of an online AI document editor. Thanks to its clean and straightforward interface, the users can switch between using different features while creating the copy. This includes a checker, paraphrase, SEO optimization tool, and content planner.
INK AI Writer can be beneficial for content marketers as it can generate and optimize titles, CTAs, product descriptions, and more for popular social platforms. The powerful Command Mode feature allows generating text following your instructions and relevant to the context of your previous paragraphs.
INK AI Writer main features:
WordPress plugin for importing .ink files;
user-friendly interface;
templates for generating social media content;
ability to learn about content resources;
multiple accessibility features.
Pricing: the Professional plan is $468 per year and includes all of the features described above. The Enterprise plan is $1188 per year and is optimized for team usage.
Pros:
generates high-quality texts that can pass AI-detection tests;
has top-notch content-editing features;
has team management features, making it ideal for large content creation agencies.
Cons:
first-time users will need some time to learn all the features of this software.
🏆 Best for generating product descriptions and sale copy.

Copy.ai generates human-like written content based on your input. By analyzing everything from keywords to images you want to use, it can detect your brand's voice and generate content for your website or social media channels.
This AI tool is prominent for offering a variety of templates for making ad copy and short-form content. Using artificial intelligence, it analyzes your website content and creates unique ads in the form you choose to connect better with your audience and increase conversion rates. This is especially useful when working on a marketing campaign requiring multiple creative executions.
Other than creating and editing written content, Copy.ai can be successfully used for extracting text from images and videos and creating captions.
Copy.ai main features:
25+ supported languages;
multiple tools for writing sales copy and product descriptions;
providing multiple outputs to your ideas simultaneously,
providing citations and sources for your content;
ChatGPT-like chatbot.
Pricing: $259 per year.
Pros:
a great overall writing assistant for a reasonable price;
focus on a short-form copy;
uses in-depth analysis of your content for generating unique texts.
Cons:
the free seven-day trial plan allows for generating very little content, not enough to try more than one or two Copy.ai tools.
🏆 Best for users needing advanced writing assistance and text-generator in one tool.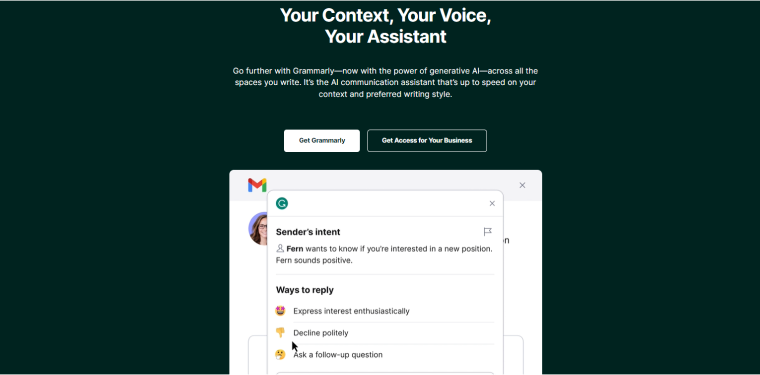 Grammarly, already an essential tool for writers worldwide, is evolving to offer even more value. With the introduction of GrammarlyGO, it expands beyond traditional grammar and spell-checking. The new on-demand generative AI tool empowers users to compose, rewrite, and brainstorm easily. It presents a pop-up with buttons that assist in crafting prompts and integrates into existing Grammarly products.
This development transforms Grammarly into an all-in-one writing assistant, identifying text flaws and providing creative solutions — a feature many writers have longed for.
Grammarly AI main features:
instantly generates and rewrites text;
allows adjusting prompts with a set of commands for quick modification of the generated replies;
works wherever Grammarly is working.
Pricing: GrammarlyGO is available with the free plan offering 100 prompts monthly and with the premium subscription ($12 per month) offering 1,000 prompts.
Pros:
a comprehensive writing tool assisting during all stages of the content creation;
integrates with online apps as well as Windows and Mac software.
Cons: has a limit on the number of prompts used per month.
🏆 Best for experimenting with an online AI assistant.

HyperWrite provides an AI-powered writing assistant to help writers enhance their writing skills. The platform analyzes the text and provides suggestions for grammar, spelling, tone, and readability improvements. It can also generate text from your prompts using the ChatGPT-4 engine.
What's unique about this platform is that it offers an AI assistant for performing basic Internet tasks, like booking flight tickets or ordering pizza. Although the current version of an AI assistant has a limited range of functionalities, it hints at a promising future where AI will support humans in a broader spectrum of activities.
HyperWrite main features:
provides many tools for text analysis and generation;
offers an AI assistant for everyday online tasks.
Pricing: the free version with limited capabilities is available, and the paid plans start at $20 monthly.
Pros: offers an ambitious plan to expand AI assistants' capabilities.
Cons: the free plan doesn't include innovative tools.
🏆 Best for quick production of great texts if you have great ideas.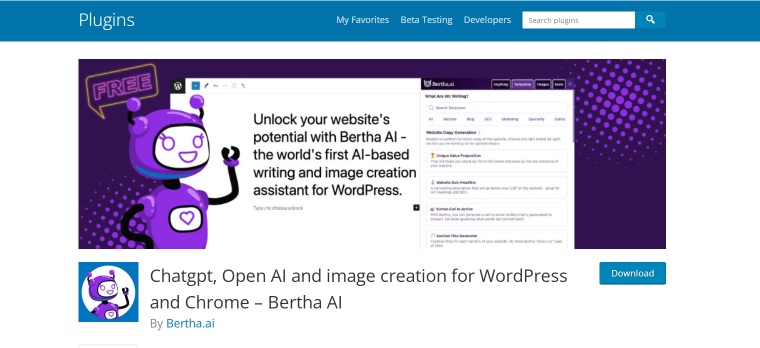 Bertha.ai is designed to streamline content creation for web agencies and copywriters. Its standout feature is its proficiency in generating high-quality, context-related, long-form written content based on your provided topic and brief description. Bertha.ai ensures quality by offering a sample piece for your approval before delivering the full article. Then, it allows you to make specific requests for the text. This is especially useful as the free version and premium plans have word limits per month.
Furthermore, Bertha AI provides a Chrome extension with Bing Chat-like capabilities and additional options such as image generation and tone adjustment. It also helps improve prompt writing and offers a library of prompts for enhanced efficiency and creativity.
Bertha.ai main features:
flawless integration with the WordPress Block builder;
ability to improve generated text before the AI-generator is finished;
produces different content depending on the target audience and tone of voice;
content rephrasing tool;
multiple content templates in paid versions.
Pricing: the free version allows the generation of 5,000 words monthly, and the paid version costs $20 and allows the generation of 1 million words and 20 images per month. Whenever you need more credits for image generation, you can purchase an additional "Pay As You Go" license.
Pros:
generates high-quality written content that passes AI-detection checks;
fully compatible with WordPress builder;
pay-as-you-go pricing options.
Cons: basic image generator.
AI Tools for Website Design
The following design tools for web agencies can be used for generating images and videos, streamlining designers' work.
🏆 Best for creating the highest quality artistic images.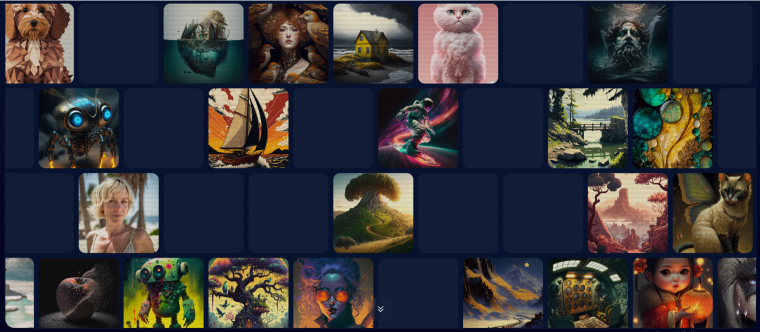 Midjourney is one of the original research companies that revolutionized image generation by using natural language processing and machine learning. The users can interact with the Midjourney bot by entering prompts through the Discord server chat. By default, all generated images are visible to all users on the server, giving the art-generating process a community feel. Consider this if you're planning to use Midjourney for business purposes.
As for image quality, Midjourney is constantly improving and currently creates more complex images than the competitors with better textures and colors. It is great for generating artistic, dream-like images or simple stock photos.
Midjourney main features:
generates four variants of images using prompts;
provides a prompt with a description of the image you upload that you can later modify to remix the image.
Pricing: there are three subscription plans from $96 to $576 per year, allowing different GPU (Graphic Processing Unit) times.
Pros:
very realistic pictures;
deals with the issues with images of human details (fingers, ears, teeth) the best;
choose between four image models.
Cons:
a free subscription is currently unavailable;
works through a cluttered public server.
🏆 Best for agencies looking for an image and video generator in one package.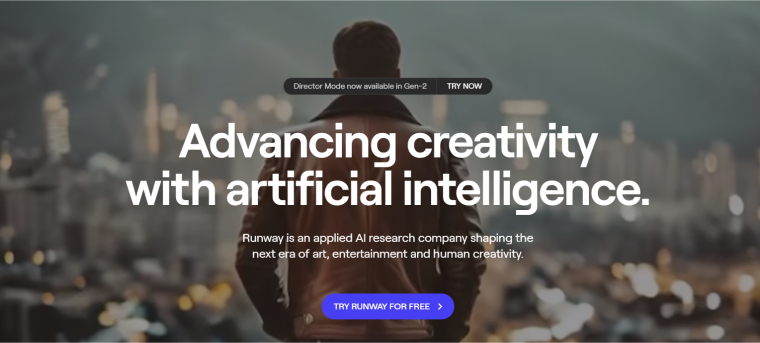 RunwayML is an accessible creative platform for artists, designers, and developers. It provides various image and video editing tools, each with detailed functionalities. Its standout feature is converting images into videos and text into images in a single package. This allows users to craft video scripts for video generators and reinforce them with relevant images. RunwayML enhances AI comprehension of the author's ideas, empowering creative professionals to bring their vision to life.
RunwayML main features:
provides a mobile version;
includes an array of AI tools for generating and editing visual content;
allows users to modify existing AI models and create new ones.
Pricing: a free version with limited capabilities is available, while the paid plans' prices range from $12 to $76 monthly.
Pros:
offers more AI tools for working with visuals than any other AI generators;
has a friendly interface and tutorials.
Cons: while it includes many sophisticated features, it has fewer video-editing capabilities than some specialized tools.
🏆 Best for providing many customization options for image generations.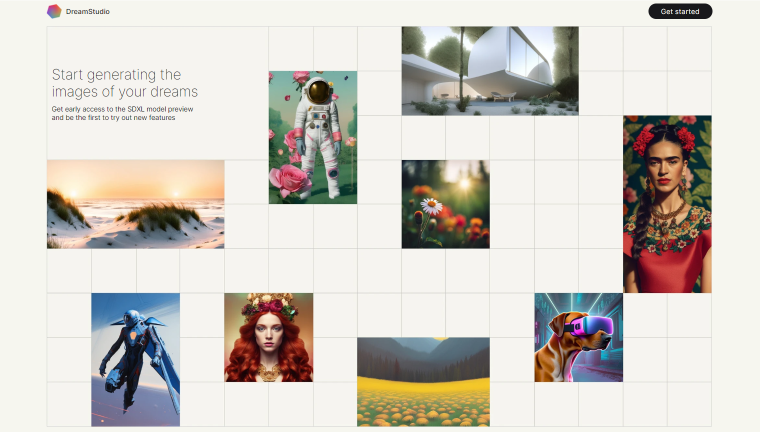 Unlike some text-to-image generators, DreamStudio is not confined to the cloud; users can run it locally on their computers. With this app, you can define the size and proportions of the generated image, how closely it matches the prompt, what to avoid in a picture, how many versions to generate, and more. Because DreamStudio can be accessed locally and not through a server bot, it is easier for beginners to learn how to use it.
DreamStudio main features:
ability to use thousands of models for generating images or fine-tune your own model;
upload and modify images;
use DreamStudio as a cloud service or run it on your computer.
Pricing: $10 buys 1000 credits to roughly allow you to create 5000 images.
Pros:
highly customizable;
easy-to-use.
Cons:
provides less detailed images when using the same prompts compared to Midjourney.
🏆 Best for users who want to learn about AI image generation tools.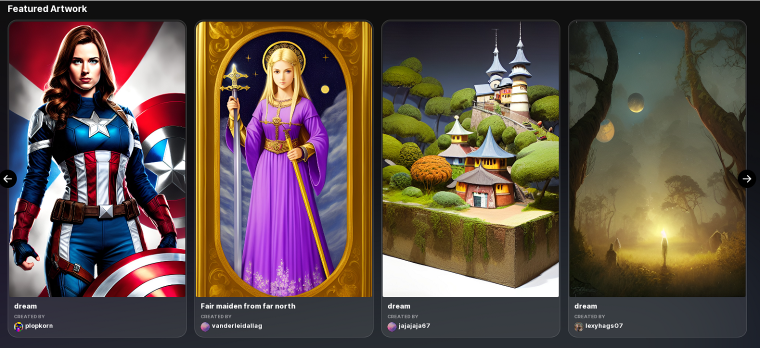 Dream by Wombo is very easy to use and available online for free. It's a great tool to play around with, as there are no limits to how many images you can generate. Some of the features are available to subscribed users only, but the free version still offers a lot compared to other word-to-image generators.
The quality of generated pictures is not bad. But the software might omit prompt details occasionally, so getting the right image may take many attempts.
Dream by Wombo main features:
50+ styles;
ability to modify generated images.
Pricing: free for all users with some features locked; paid subscription is $169.99 one-time payment.
Pros:
the easiest app to use;
free version available with no subscription or registration needed.
Cons:
struggles to create the right images when the prompts are very detailed.
Uizard (Free/Premium)
🏆 Best for website prototyping.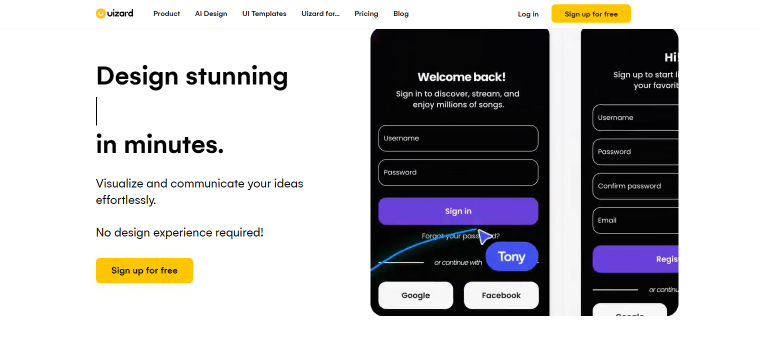 AI-powered prototyping tools like Uizard allow the detection of potential issues very early in the web development process, saving time and money. This software converts hand-drawn sketches into fully-fledged prototypes accelerating productivity and removing typical mistakes. Uizard AI is trained to detect various elements from screenshots, such as typography, layouts, and colors, and turn them into editable designs.
Uizard main features:
converts drawings and screenshots to editable designs using AI;
drag-and-drop editor;
generates themes from uploaded images;
pre-built templates;
provides multiple tools for real-time collaborations.
Pricing: a free version allows working on two projects; the Pro plan costs $144 per year and creates up to 100 templates and projects, and the Business plan allows unlimited projects and team management functionality.
Pros:
great tool for creating mockups for landing pages, website and mobile app prototypes, and more.
Cons:
UX is not absolutely intuitive, and learning how to get perfect results takes a while.
Best AI Tools for Web Development
AI tools for web development automate code generation and analysis, significantly expediting the development process. Additionally, these tools improve website accessibility by automating tasks like alt text generation, keyboard navigation, and content translations.
Cursor (Free/Premium)
🏆 Best for detailed analysis of the existing codes.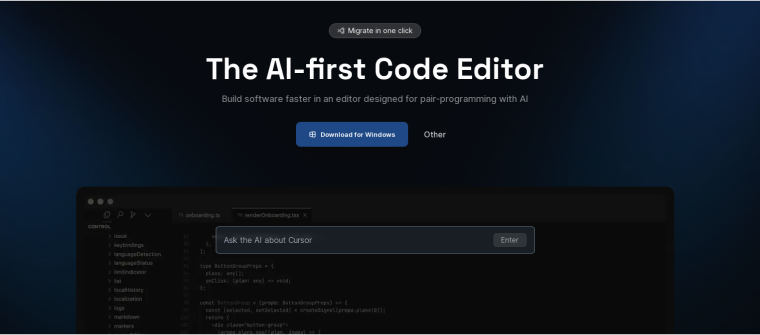 Cursor is an innovative AI-powered code editor. Its bot, trained in various programming languages, provides real-time feedback and recommendations to developers, covering code style, security, and performance. As code is typed, auto-completion suggestions enhance efficiency and minimize errors. Alternatively, this tool can scan your entire codebase and discuss it with you.
Cursor also offers real-time collaboration, code sharing, and feedback tools. This comprehensive platform enhances coding speed and accuracy and encourages knowledge sharing among developers.
Cursor main features:
provides a coding platform with helpful tools, like autocomplete;
ChatGPT bots trained in various programming languages;
integration with custom code libraries;
provides detailed explanations for the generated codes;
collaboration tools.
Pricing: a free version with limited AI uses is available, while the Pro plan is $20 per month.
Pros:
allows building software faster using AI tools;
offers a privacy mode where none of your codes are stored outside your computer.
Cons: the free version only includes basic features.
Tabnine (Free/Premium)
🏆 Best for web developers who want to speed up their work.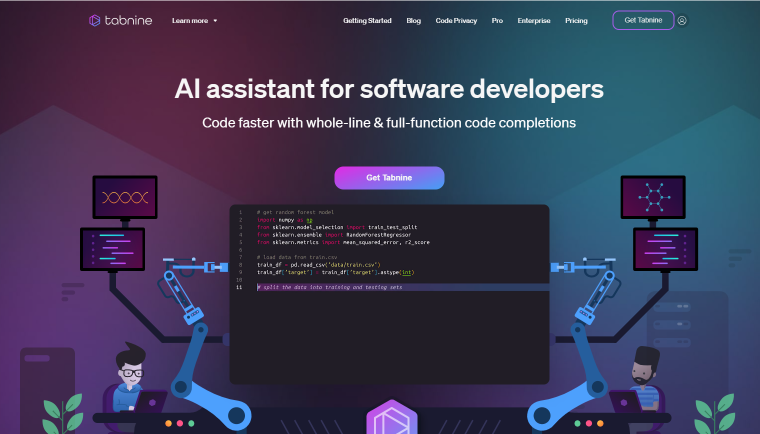 Tabnine is an AI-powered autocompletion tool designed to speed up programming. By recommending code completions based on coding patterns, Tabnine promotes consistency and quality of the code while reducing the need for multiple code reviews. This tool supports 30+ coding languages and can be used locally or on the cloud. Finally, Tabnine never stores or shares user codes without their consent.
Tabnine main features:
works with 30+ programming languages;
can be used locally, unlike competitors;
allows users to train their Tabnine model.
Pricing: a free version allows short code completions; the whole-line and full-function code completions come with a $12 per month Pro license.
Pros:
code completion based on machine learning;
developers don't have to expose their codes to the Internet when working within their wireframe;
has a functional free version.
Cons:
because your code is never exposed to the public, you can't learn from more experienced programmers.
🏆 Best for improving website accessibility using AI.
AccessiBe is a WordPress plugin that enhances website accessibility without altering the original code or user interface. It scans a website's interface every 24 hours and, using background machine learning processes, identifies issues that may pose challenges for users with disabilities.
To enhance UX, it offers a customizable side panel for personalized interface adjustments. You can adjust preset profiles for use by individuals with specific disabilities. Additionally, accessiBe employs image recognition AI technologies to identify images and generate alt text.
AccessiBe main features:
premade adjustable user profiles;
generation of alt text for images;
daily rescans of all web pages;
makes websites compatible with keyboard navigation.
Pricing: the Standard plan for websites under 1,000 pages costs $499 annually.
Pros:
compliance with rules and guidelines by ADA, AODA, EAA, and WCAG;
AI-powered monitoring and scans.
Cons: no free plans.
🏆 Best for building simple websites using artificial intelligence.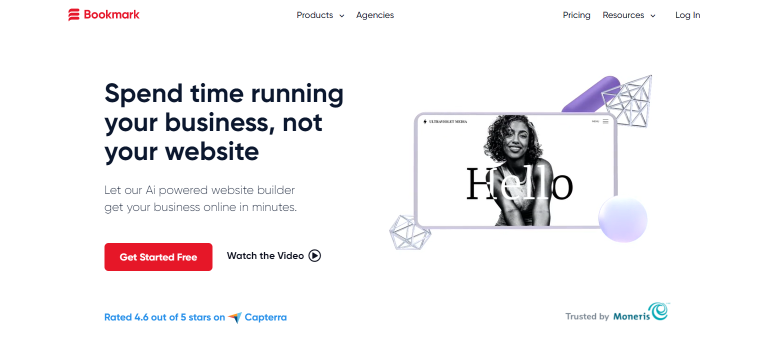 The emergence of machine learning software prompted the appearance of AI website generators. AiDA is an AI-powered website builder focused on creating online stores and blogs. Users can answer questions about their business and design preferences, and the software will automatically generate a website for them. Then, users can change web pages manually and fill them with the content.
AI website builders are attractive for non-techies who want to get online first, but web developers can also benefit from them and use their products as a base.
Bookmark AiDA main features:
allows user permissions for blog contributors;
categorizes posts for better navigation;
has built-in eCommerce features.
Pricing: the Business plan with all advanced eCommerce features costs $300 annually.
Pros:
allows businesses to get an online presence in no time;
provides unlimited storage and bandwidth.
Cons:
the customization features are limited;
some AiDA customization options require coding.
WPML (Premium)
🏆 Best for enabling your website to cater to a global audience by offering multilingual functionality.
WPML is a prominent WordPress plugin streamlining multilingual website management. As revealed by WPML CEO Dario Hrvatin at the Crocoblock AI summit, the plugin now employs AI to scan your site and create translations relevant to the context.
With WPML, you can translate your entire website or choose specific pages for translation, with word count affecting pricing. Additionally, it is compatible with plugins, like JetEngine, to translate dynamic content that appears on the website automatically.
WPML main features:
supports 65 languages;
compatible with various AI engines;
allows human support for AI translations;
provides the creation of glossaries for consistent language usage.
Pricing: the basic Multilingual Blog costs €38 per year, while the Multilingual CMS plan with advanced AI features is €99 yearly.
Pros:
advanced translation management system;
precise control over what parts of the website need translation;
30-day money-back guarantee.
Cons: advanced features, such as automated translation, are not included in the cheapest plan.
Best Web Agency Tools for Marketing and Client Support
The following web agency tools use smart bots to enhance marketing strategies and client interaction.
🏆 Best for automating communications with clients.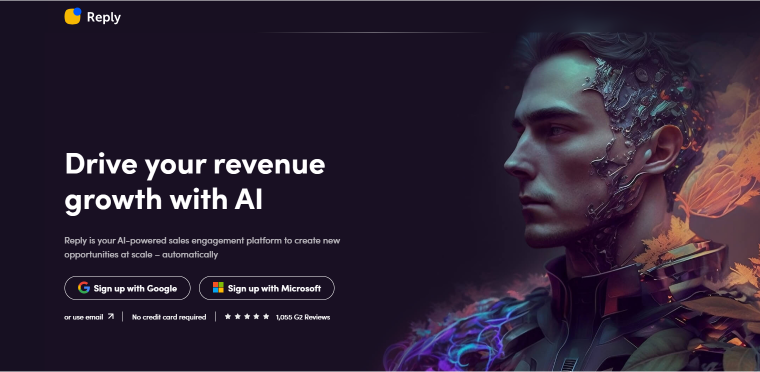 Reply.io is a software that uses advanced AI technologies for sales automation and email outreach. With the help of the in-built ChatGPT-based assistant, you can create prompt and follow-up emails, add people to the created email sequence and launch an email campaign. The advanced AI algorithms allow for establishing a more personalized approach through various channels – emails, social media accounts, chatbots, and messengers.
The software provides detailed reports and analytics features, allowing tracking of the success of sales outreach activities and improving forthcoming campaigns. Reply.io can help agencies to automate their communication with clients while keeping it personalized.
Reply.io main features:
offers web crawl tools to extract business emails from various resources;
LinkedIn automation to create personalized connection requests;
advanced contact management features;
automated calendar and appointment booking;
AI assistant for creating personalized emails and messages.
Pricing: the starter plan costs $60 per month and allows one mailbox, Professional plan costs $90 and includes two mailboxes and features working in teams.
Pros:
all-inclusive AI-powered solution for companies that need to streamline their communication efforts.
Cons:
the learning curve is steep, so don't expect it to bring results instantly.
🏆 Best for email warm-up campaigns.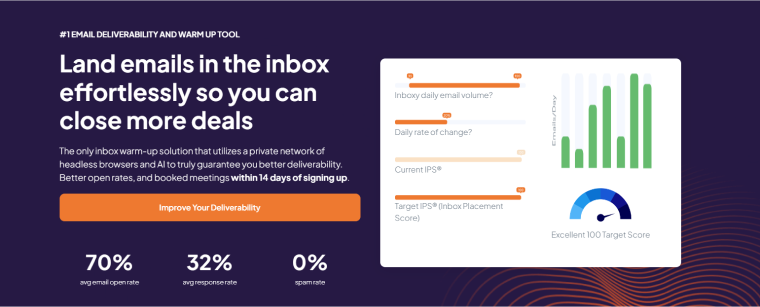 Warming up a domain is crucial to ensure the legitimacy of email communication, especially for launching newsletters and internal products. With the help of AI, Inboxy facilitates interactions between high-reputation email addresses. By exchanging data in private networks, it helps ensure that in future email campaigns will run smoothly.
Additionally, Inboxy uses AI bots to scan the email content and help to make it more engaging. This way, the content has more chances to be seen by the decision-makers you target.
Inboxy main features:
provides it's own internal browsers to help emails get through spam checkers;
120 daily emails per inbox;
allows tracking your domain's reputation metrics;
captures live email statistics to adjust sending settings.
Pricing: $47 monthly.
Pros:
an essential AI-driven tool for marketing campaigns;
focuses on email deliverability.
Cons: it doesn't offer a free trial period.
🏆 Best for agencies who want to create chatbots for various roles using a simple interface.

Smartly.ai is a user-friendly platform for non-technical teams to build powerful chatbots using a no-code, drag-and-drop visual editor. It incorporates cutting-edge Conversational AI algorithms for robust understanding and dialog capabilities. The platform provides reports for bot performance, allowing campaign optimization on the go. Smartly extracts helpful information from various source types, ensuring accurate client interactions. 
Smartly.ai main features:
supports multiple languages;
integrates with Facebook, Messenger, Slack, and other popular platforms;
reads information from scanned documents and photos.
Pricing: €199 monthly.
Pros:
easy-to-use no coding solution;
advanced statistics and the ability to change bot's behavior online.
Cons: some users have reported slow performance when working with large data loads.
FAQ
How can web agencies benefit from AI tools?
AI-driven tools can automate time-consuming tasks, improve website accessibility, enhance marketing strategies, and provide valuable insights into client behavior and preferences.
What is the best AI tool for digital marketing?
Some of the highly-regarded AI tools for digital marketing include Inboxy and Reply.io.
How can AI online tools improve client support for web agencies?
AI tools can enhance client support by providing real-time responses to client inquiries through smart bots. This can improve response times and overall client satisfaction.
Does Grammarly use AI?
Yes, Grammarly uses artificial intelligence (AI) and machine learning to provide grammar and writing assistance. Additionally, Grammarly has introduced a GrammarlyGO feature, which allows users to quickly compose, rewrite, and edit texts with the help of AI.
Recap
By leveraging the power of artificial intelligence, web agencies can ensure they create better websites that will rank higher on search engine results pages. Let's recall the benefits of the AI software tools we discussed above.
Bertha.ai can create original and human-like content and can be used in WordPress.
Jasper.ai is the best AI software for creating images and texts.
INK AI Writer has the most features for editing and paraphrasing.
Copy.ai focuses on generating short-form copy.
Midjourney is an AI-powered tool that can create the highest quality artistic images.
RunwayML provides the biggest number of AI design tools for web agencies.
DreamStudio has the most customization options to create the exact image you need.
Dream by Wombo is very easy to use and allows for generating unlimited images for free.
Uizard is the best AI tool for creating prototypes from hand-written sketches.
Bookmark AiDA is a tool for creating simple stores in no time.
Tabnine is an AI tool for developers to speed up their work and improve their skills.
WPML aids in the automated translation of websites so they can reach a wider audience.
AccessiBe is an advanced AI solution for improving a website's accessibility.
Reply.io is a software allowing the launching of high-quality email campaigns.
Inboxy excels in creating email warm-up campaigns.