This article may interest you if you have a travel agency or plan to create tourism websites for your clients. In the last few years, I have worked for several alternative tourism companies in Europe and learned a few tricks to help you.
Table of Contents
Understand the Tourism Sector Characteristics
The tourism sector has a lot of opportunities nowadays. Despite the big portals and tour aggregators, there is plenty of room for small businesses and professionals who want to build travel websites and make their way in this sector.
Travelers want more and more personalized and different experiences. Mass tourism is giving way to another way of enjoying our holidays.
Tourism companies specializing in nature trips, sports, cultural routes, retreats, and many other activities can take advantage of this trend.
To do so, having a website capable of capturing users' interest is essential for success.
Plan a Travel Website
From my point of view, content creation and SEO is an excellent opportunity to generate visitors and customers. If you specialize in a specific destination or type of tourism, it will be much easier to make your way in search engines.
Many tourists are unaware of everything possible to do at the destination, so you must be the one to guide and inspire them. To achieve this, plan how you will invite users to browse and find different ideas for their trip when building a travel website.
A good strategy is to create a web architecture that contains the different destinations, activities, accommodations, and tours you offer.
If you work on the content and tourism web design properly, your website will rank well in search engines and capture the traveler's interest.
A blog will help send traffic to different categories of your web architecture and demonstrate your expertise in the niche.
Work on the Travel Website Content
As customers, we always want the greatest certainty about the product we buy.
This is also true for the travel niche, so we must make every effort to gather all the necessary information.
The user expects to find information quickly, for example:
what to bring on the trip;
activity duration;
time of the year when one can book a tour;
distance, if it is a route;
whether it's possible to bring children or pets.
Organize this information in a way that makes it easy to consume. A list of details with icons or a section for frequently asked questions is advisable.
It is essential to create website tour copy from scratch and make it engaging, readable, and plagiarism-free.
Pro tip
When preparing a copy, try to describe the emotions and adventures travelers will experience. It is the key for users to want to book a tour from you.
Booking Tours Through Your Website
This is a complex point because it is not always possible to automate the booking process. Sometimes it is necessary to manually check the availability of accommodation, activities, and guides.
In that case, a contact form is sufficient if it includes the departure date, number of people, and contact details.
Fortunately, there are many ready-made booking solutions available today. They are popular because:
everything inside is already pre-configured for you;
you can customize whatever you like – from texts to design elements, etc.;
it is basically a workable website, and the hardest part – dynamic content and bookings – is already set up;
they save you time.
Crocoblock offers several Dynamic Templates in the travel booking niche. For instance, Travengo is a tour agency website template allowing users to book tours to different European and American destinations.
Learn more about Travengo components and check out the video above; it helped me a lot.
Travengo has everything up and running:
custom post types and custom fields;
tour single pages and archives;
booking engine and forms;
AJAX-based filtering tool, and more.
The best part is you won't have to mull over how to create tourism websites. 😉 You could take a template and see how it works, then build a travel website similar to it.
Create the Website Using WordPress
Creating the individual tour and accommodation pages using JetEngine and Elementor (or Gutenberg editor) is easy, even if you're not a WordPress expert.
The goal is to create custom fields to allow you to add and modify tours quickly and easily.
For example, you can create a custom field for each main tour data.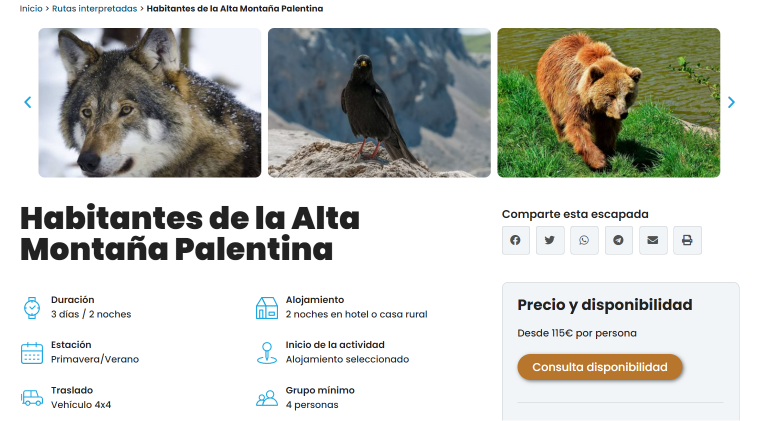 With JetEngine's listing grids, you can create the layout of each tour card and display them in attractive grids. A photo and a short description can be enough to catch the user's attention.
JetEngine allows you to create custom taxonomies, so use your imagination to create as many tour listings as options you offer to your customers:
one-day activities;
family-friendly tours;
summer tours;
guided tours.
Do you have a lot of tours or accommodations? You can allow your users to filter the tours using the JetSmartFilters plugin.
Do you want the traveler to book tours on your website? You can use the JetBooking plugin and integrate it with WooCommerce payment gateways.
Take Care of Your Website's Look and Feel
If you visit big travel websites like Booking.com, Airbnb, and the like, you will see that they follow similar design patterns. Simplicity and order are essential to avoid overwhelming information.
Try to follow these patterns but add a personal touch that fits your brand image.
Guide the User Through Your Website
Think about how travelers plan their trips. They could start by looking for accommodation, and then you can offer activities. Or perhaps the process is the other way around, and they are interested in a particular activity while the accommodation is less important.
In either case, prepare your website to guide the traveler through the process without making it complicated. Choose the text of your calls to action well so they always know what to do next.
Content Is Still King
How to make a travel website content-rich, you may wonder? It's easy – good photography, video, and copywriting will be essential for your website and promoting your service on social media and video platforms.
All the time and budget you invest in these areas will pay off in future sales for your business.
FAQ
What is a travel website?
A travel website is a portal for prospective travelers planning a touristic experience. It usually features tours to different countries, provides information about accommodation and entertainment, and allows visitors to book a trip and pay for it online.
How to build a travel website?
Several options are available. You can build a website using WordPress plugins, custom HTML and coding skills, or a ready-made dynamic template.
What should a travel website include?
A travel booking website should primarily include tour pages, details about duration, pricing, accommodation, quality photos, etc. Next, one should build a booking form, connect it to a payment gateway, and set calculations. A good travel site should have filters, a quick search, a booking engine, and user reviews. Last but not least, the site should be mobile-friendly.
To Sum Up
I hope these tips will help you figure out how to create a tourism website and make it look professional. These tips, which I have learned from making travel websites over the last few years, can improve your website's conversion.