Websites with extensive content or product catalogs face a common challenge: enabling users to locate what they want. It's not only about delivering search results; it's about providing a navigation system that grants users quick familiarity with the full spectrum of available data. By employing filters, users can grasp the essence of your public offerings within a minute.
For WordPress websites, the solution comes in the form of dedicated plugins. This article provides a head-to-head comparison of two premium WordPress search and filter plugins: FacetWP and JetSmartFilters. We'll discuss their capabilities and ease of use and weigh the advantages of each.
Table of Contents
FacetWP Main Features
FacetWP is a well-established WordPress plugin with a solid reputation among WordPress developers. Let's first review what functionality FacetWP adds to the website and how its visitors can benefit from it.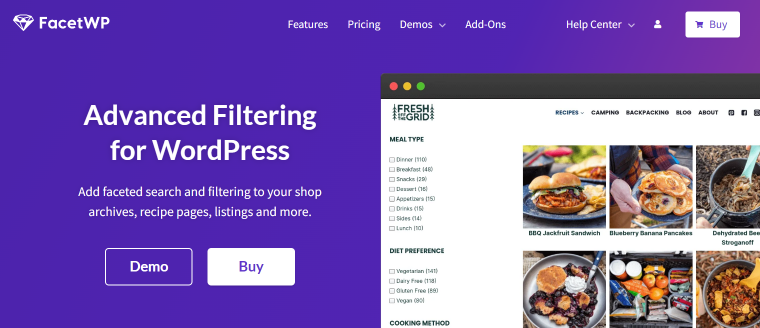 FacetWP filtering functionality
As suggested by its name, the plugin's core purpose is to build a filtering tool for users to sort WordPress content with custom facets. Facets come in various types, each suited to different purposes. Some types work well when you need to select from a small set of options, while others are more effective when you want to refine your search based on criteria with a larger number of options, like price or date.
So here's a list of the facet filters provided by FacetWP. Most of them create types of input fields well-known to the average Internet user.
Checkbox. Allows users to select one or more options from a list of checkboxes. Useful for filtering content with multiple categories or attributes.
Dropdown. Provides a drop-down menu for users to select a single option from a list. It is useful for presenting users with a predefined list without taking up much space on a page.
Radio Buttons. Allows users to make an exclusive choice from a list of options presented as radio buttons.
Slider. Allows users to set a range by dragging a slider handle. Useful for filtering content with numeric values like price ranges or dates.
Number Range. Enables users to specify a numeric range using minimum and maximum input fields. Suitable for filtering content with numerical attributes.
Date Range. Provides a date picker pop-up for filtering content by start date, end date, or both.
Search. Offers a search box for users to input keywords or phrases to filter content based on text matching. This feature is based on the standard WordPress functionality, which targets only the titles and bodies of posts and pages.
Select. This type of facet creates a drop-down menu with checkboxes for search categories and a search field for locating them faster.
Hierarchy. Adds a drop-down menu to display hierarchical taxonomies like categories and subcategories and lets users drill down into specific content.
Proximity. Allows filtering results by location on a map. The users can enter the location address in a field and choose the radius among pre-defined options in a drop-down menu or using a slider. Alternatively, they can click the "Locate me" button to search through the area where they are.
Star Rating. Allows users to filter content based on average or selected.
Sort. Adds a drop-down menu with options for changing a listing order. For example, the results can be listed by name (A-to-Z or Z-to-A) or by a chosen numeric criteria (highest or lowest first).
NOTE
Selecting the right facets for your filtering tool significantly impacts the user experience. When developing a filtering tool and deciding on the types of input fields to use, it's essential to consider the user's perspective and prioritize the most efficient ways to refine their search.
UI provided by FacetWP
FacetWP prioritizes usability, ensuring users can effortlessly achieve the desired results. The filtering tools integrated into FacetWP come together to enhance the overall user experience and make web browsing a delightful journey.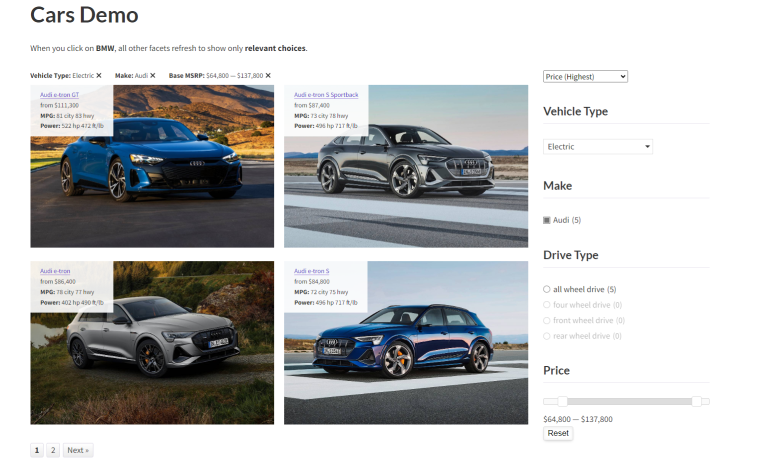 One standout feature is the User Selection list. As users engage with various faceted filters, their chosen criteria are displayed as tags with clear labels. This intuitive approach empowers users to understand precisely why a particular set of search results appears on the webpage. Users can easily do so by clicking the closing buttons next to the labels to refine their search or roll back to previous results.
FacetWP employs AJAX technology, enabling seamless updates of search results without page reloading. This also means that as users apply or modify search filters, the item count dynamically adjusts within each category, providing real-time feedback.
Furthermore, FacetWP offers versatile pagination options, providing different ways to navigate search results. Available options include traditional pagination with numbered pages, a "load more" button, or the infinite scroll.
How does the FacetWP plugin work?
Getting started with FacetWP involves creating and configuring facets through the plugin's admin panel within the WordPress dashboard. Here, you choose the facet type and specify the data source, such as tags, custom fields, categories, or taxonomies, to determine the relevance of posts or products in the faceted search results. It may seem contradictory to logic, but if you want to implement a reset button or pagination functionality, you should start by setting these options in the backend.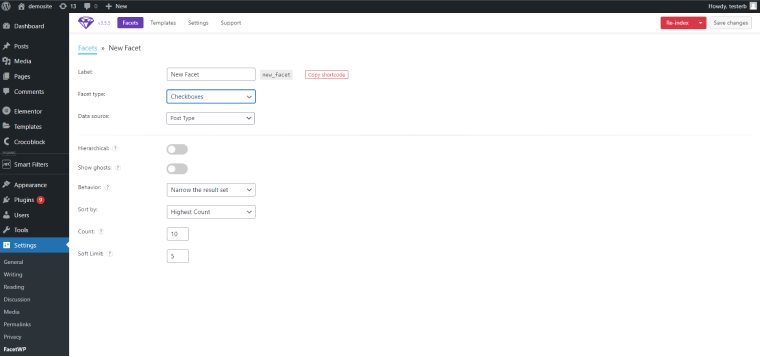 Then, it's necessary to determine where the created facets should appear on the page and which posts they should filter. FacetWP integrates with five types of templates:
WP archive page;
custom WP_Query;
a page builder listing (Bricks Builder, Beaver Builder, and Elementor Pro);
a listing created with the FacetWP Listing Builder;
a listing created with the FacetWP Listing Builder in Dev Mode.
The process for implementing facets may vary depending on the type of content you're working with. Detailed instructions for each are available in tutorials on the FacetWP website. In some cases, adding custom facets can be as simple as copying and pasting a shortcode generated during facet creation. Then, FacetWP automatically detects the correct query or post loop, making faceted filters work seamlessly.
However, implementing facets may require manual steps, like adding HTML comments to query arguments, modifying the theme's function.php file, or using hooks. While these methods are typically manageable for programmers, they can be time-consuming for non-coders.

JetSmartFilters Main Features
JetSmartFilters is a versatile WordPress plugin by Crocoblock. It can be used as a standalone tool for content filtering on websites or integrated with various Crocoblock plugins and other popular WordPress extensions, such as WooCommerce and ACF, for advanced tasks.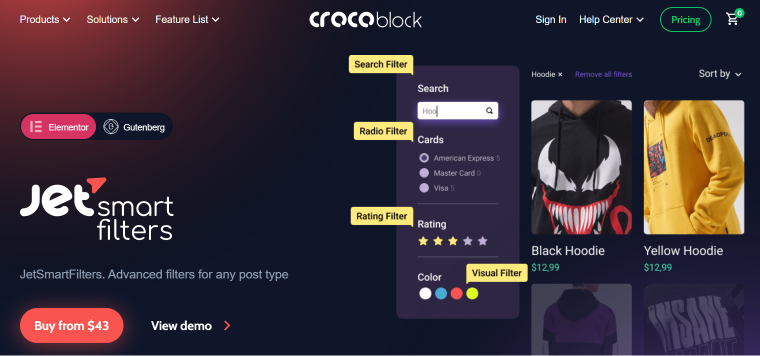 JetSmartFilters filtering functionality
It should come as no surprise that JetSmartFilters and FacetWP provide similar functionality to users. After all, both are highly regarded in the WordPress community as premium plugins for enhancing websites with search and filter tools.
JetSmartFilters provides a range of filter types that offer similar functionality to FacetWP's filters:
Checkboxes;
Select;
Range, which works similarly to a Slider facet in FacetWP;
Check Range – provides checkboxes to select pre-defined range options;
Date Range – allows selecting results by the start and end date;
Date Period – allows users to choose events using a day, month, or year filter;
Radio;
Rating;
Alphabet – enables users to pick options based on starting letters;
Search;
Visual –specifies results based on added color or image attributes;
User Geolocation – provides search results within a given location radius of the site's users.
JetSmartFilters achieves some core filtering functionality not by creating entirely new filter types but by customizing basic filter types.
For instance, by modifying the settings of the Select filter, you can create a hierarchical filter that allows users to choose categories and subcategories. This flexibility ensures you can tailor your filtering options to meet your needs. You can also add a "Search" option to different filter types, creating a functionality similar to the one provided by the Search facet by FacetWP.
UI options in JetSmartFilters
JetSmartFilters provides additional features designed to improve the user experience when searching through numerous options on a website.
There is always more than one way to manage faceted search results. For example, you can use the Active Tags functionality to activate and deactivate tags attributed to different items beforehand. This functionality differs from Active Filters, which allows users to see which filters they've already applied to their search.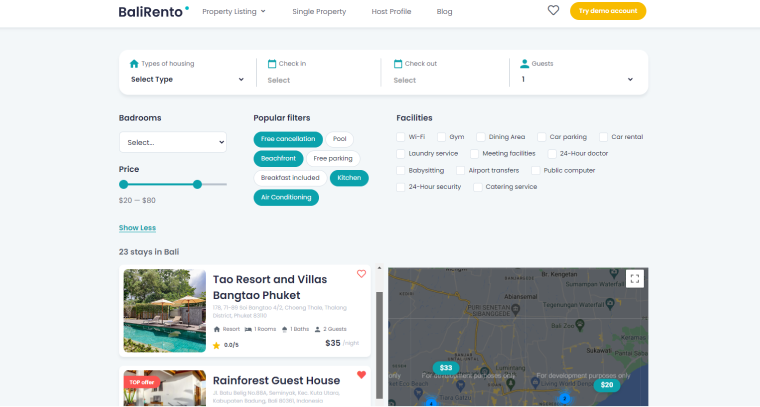 JetSmartFilters also allows adding pagination functionality (page links or "Load More" button) for structuring different types of content on the web pages. As for the AJAX feature, it is one of the available options for all filters along with page reload. You can configure AJAX reload to be triggered with every new filter application or when requested via a button, which may be a better option for searches with multiple facet filters.
How does the JetSmartFilters plugin work?
JetSmartFilters offers a different approach to building a sorting system when compared to the FacetWP plugin. Notably, it allows users to integrate filters and sorting tools on their pages using widgets or blocks instead of shortcodes. So, when dropping a widget (in Elementor) of the required type, users can simply type the name or starting letters of a previously created filter.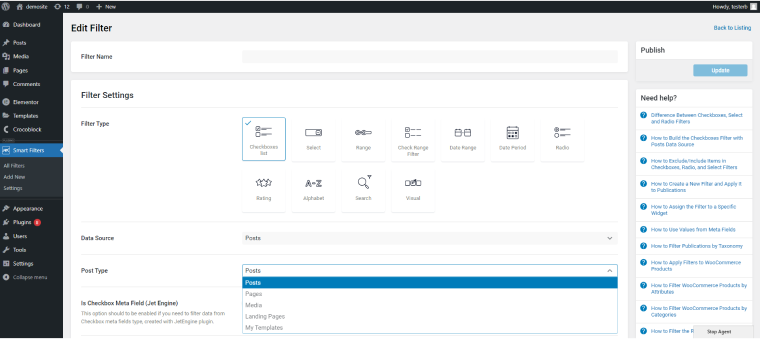 This approach doesn't necessarily guarantee a faster building process, but it aligns with other Crocoblock plugins where nearly every distinct design element is presented as a widget or block. Moreover, it offers a user-friendly experience, keeping backend coding out of reach for users.
Another significant difference is that, in JetSmartFilters, there's no need to create sorting tools within the WordPress admin panel. This applies to a reset button and a pagination functionality as well. Everything that isn't a filtering tool can be directly added to your page in the page builder, streamlining the customization process.
JetSmartFilters styling options
Users can access styling options provided by the page builder they've chosen when configuring sorting and searching tools. However, JetSmartFilters offers several additional built-in features to fine-tune the design of facet filters. These features are particularly valuable when dealing with products or posts divided into multiple categories on the same hierarchy level:
Search Enabled – adds a search facet with autocomplete functionality for quickly finding the needed category;
More/Less Enabled – defines how many criteria are initially displayed and adds a button for displaying more options;
Dropdown Enabled – converts the list of options into a drop-down menu;
Scroll Enabled – confines all options within a container with adjustable heights and a scrolling slider.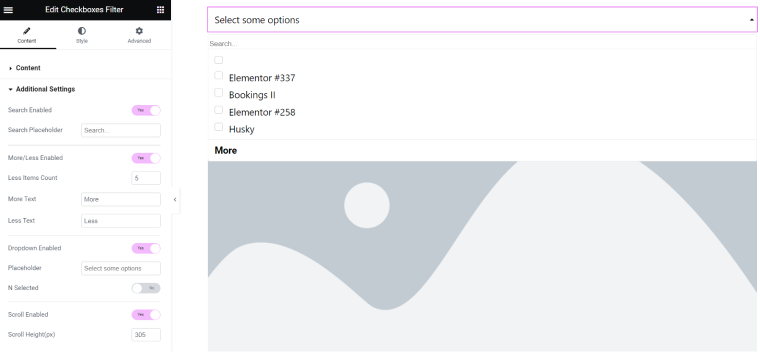 While the WordPress Block builder offers limited styling options, JetSmartFilters seamlessly integrates with JetStyleManager, a free plugin provided by Crocoblock. JetStyleManager empowers users to customize the appearance of every building element on the front end. JetSmartFilters and JetStyleManager are integral components of the Crocoblock suite of plugins designed to expand the capabilities of the Gutenberg builder.
FacetWP and JetSmartFilters Pricing
FacetWP offers two types of paid plans. The Basic plan allows using FacetWP on three websites and filtering any post types. It costs $99 per year. With the Professional plan, you could use FacetWP on up to 20 websites and filter post types and users. It costs $249 per year.
Users can purchase JetSmartFilters plugins as a standalone filtering tool. In this case, the price is $43 for one site and $88 for unlimited sites annually.
However, it is best to use JetSmartFilters with the JetEngine plugin for building highly dynamic sites. They are part of the Crocoblock All-Inclusive subscription, which costs $199 for one site or $399 for unlimited projects annually. Purchasing a complete suite of the Crocoblock plugins eliminates the need for additional third-party plugins for most aspects of WordPress website development.
What Is the Difference Between FacetWP and JetSmartFilters?
Both plugins offer outstanding features that can create filtering tools for most websites, including blogs, online stores with many products, trading platforms, etc.
WordPress filter plugins' similarities
Both plugins enable the implementation of advanced faceted search, allowing users to filter and narrow down search results based on various criteria, such as categories, tags, custom fields, and taxonomies. Furthermore, users can leverage the advanced capabilities of these tools, including conditional logic. This means that when multiple facet filters are applied, each filter considers the results generated by other filters and refines the search accordingly.
JetSmartFilters and FacetWP excel in creating optimal user interfaces on the front end. Users not only find the precise results they seek but also gain a clear understanding of why specific results are presented while others are not. Features like indexing of available results help users utilize filtering tools effectively, pagination ensures results are displayed conveniently, and the AJAX engine offers a seamless workflow.
Furthermore, both plugins integrate with popular plugins and page builders, enhancing the creation of dynamic WordPress websites. These include ACF, JetEngine, WooCommerce, and Elementor. Also, FacetWP works well with the Beaver Builder, while JetSmartFilters integrates with the WordPress Block builder.
Benefits of FacetWP
After carefully examining the features and functionalities of these WordPress search and filter plugins, I've chosen to highlight their benefits rather than their "pros and cons." This approach is taken because these plugins may cater to different types of developers.
I have a sense that this plugin originated when web design demanded a more hands-on approach from developers, and it continues to maintain that tradition.
In addition to its extensive feature set, FacetWP is renowned for its flexibility and advanced customization options. It's often the top choice for developers seeking precise control over creating filtering and search tools. FacetWP encourages the use of hooks and offers detailed instructions for modifying core theme files, enabling developers to tailor their solutions to exact specifications.
Benefits of JetSmartFilters
JetSmartFilters offers extensive possibilities for creating searching and filtering tools on WordPress websites. While the sorting tools on the front end may resemble those crafted by other premium WordPress plugins, the design process sets JetSmartFilters apart.
In contrast to FacetWP, JetSmartFilters enables users to unlock the full spectrum of its features without the need for coding. Initially, the wealth of customization options provided by JetSmartFilters within the WordPress dashboard and in the page editor may appear overwhelming. Yet, this aligns with the approach adopted by all Crocoblock plugins – they encompass all conceivable options that a developer might require in one comprehensive package, eliminating the need for extra add-ons or the involvement of programmers.
JetSmartFilters can transform basic filters to the extent that they appear and function quite differently. It offers the flexibility to convert a simple checkbox filter into a drop-down list featuring a scroll bar with a search field or even add a "load more" button – features users may not realize they need until they see them.
Additionally, the URL Aliases feature allows you to change how website addresses (URLs) look when you use certain filters and reload the page. This helps make the website's URLs better for search engines and more attractive to users.
For developers who prefer to work with the WordPress Block editor, JetSmartFilters is a perfect choice. It offers a seamless and familiar design experience within the block environment and integrates with Crocoblock's free tool for block stylization.
FAQ
Which websites benefit from using filtering and search plugins?
These websites include eCommerce websites, online marketplaces, directories, news websites, real estate listings, event platforms, job boards, and any websites with a substantial amount of content or products.
What are the main similarities between FacetWP and JetSmartFilters?
Both plugins enable the implementation of faceted filtering, allowing users to locate search results based on different criteria. They also offer user-friendly design, AJAX-based filtering, and integration with popular page builders.
What are the advantages of FacetWP?
FacetWP provides many customization methods for developers who prefer in-depth customization using coding.
What are the advantages of JetSmartFilters?
JetSmartFilters provides a user-friendly experience for non-developers and seamless integration with the WordPress Block builder.
Sum Up
After a thorough evaluation of the capabilities of both FacetWP and JetSmartFilters, it's evident that these plugins can effectively construct sorting tools for a wide range of websites. They both offer a diverse array of customizable facets and seamless integration with popular page builders.
The choice between JetSmartFilters and FacetWP should primarily hinge on your unique goals, technical expertise, the tools you already use, and the level of customization and control you seek. JetSmartFilters shines as a more integrated, user-friendly solution, making it a favorable choice for developers who prefer a streamlined approach, especially those using other Crocoblock plugins. FacetWP is better suited for developers who are comfortable fine-tuning their filtering tools through coding.