Wherever I turn, it seems like everybody is talking about the same – Bricks. A visual website builder slash theme, a clean-code and flexible solution, which has quickly become the new best thing. It's on the wave, and everyone tends to predict a bright future for Bricks builder.
The same potential saw Crocoblock, so the Bricks team launched their very first JetEngine integration. Initially, JetEngine served as a dynamic data provider, allowing Bricks users to create custom fields and meta boxes and select them as a data source, so the builder would render JetEngine data. Now, there are two integrated plugins – JetEngine and JetSmartFilters. We refined the JetEngine integration and added support for smart filters, which will work best together. But first, let me tell you more about Bricks.
Bricks Builder 101
"Just Build It," says the motto on the homepage, and we get some familiar vibes, indeed. 😉 Bricks is a WordPress builder and a theme using a default WordPress template structure. The builder took everyone by surprise since it offered a website-building toolkit, templates library, and – most importantly – speed and flexibility.
Here is what Bricks brings to the table:
Gutenberg compatibility;
50+ elements to mix and match;
WooCommerce builder;
Query Loops;
Conditional Logic and role settings;
Integrations;
Popup builder;
custom CSS styling;
extensive templates library;
dynamic content;
compelling performance, and more.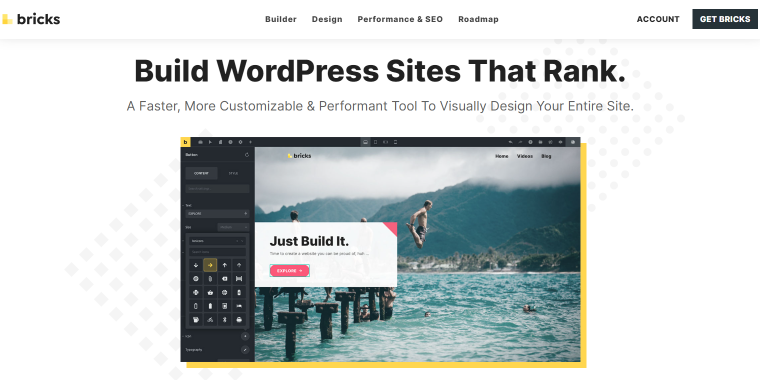 A developer's dream, is it not? Throw the pricing into the mix, and even the biggest skeptics would have to reconsider. So far, the Bricks team offers two lifetime pricing plans, Starter and Ultimate, which are priced at $99 and $299 for one and unlimited projects accordingly.
Another reason why many people switch to Bricks is its incredible performance:
"Did some test creating exacting the same page in same environment, and the increase in speed and stability was dramatically higher! It's really great!" (Crocoblock community)
Some are even convinced that Bricks builder for WordPress would be able to challenge Elementor:
"Elementor is like getting a ready made remote controlled car for Christmas. It's cool… it has flashing lights, controls are easy. Bricks […] is like your sweaty dad coming in from toys'r'us with a huge bag full of lego technics, dumping it on the floor and telling you to make it your bloody self. C'mon… You've been doing this a while now. Dump the remote control and build one yourself." (Crocoblock community)
Whatever the case, one thing is certain: after the initial integration, Crocoblock and Bricks users started to crave more. Andrew Shevchenko created a poll, asking the community whether they want Crocoblock to elaborate, and 60% of the members voted in favor. Finally, the improved and more solid integration has seen the light, and it's right about time to tell you what it includes.
What's New to JetEngine and Bricks Integration?
In addition to custom fields, custom post types, taxonomy items, relations, and options pages, the refined integration supports more widgets and modules. Among the supported JetEngine widgets, there is the Listing Grid, Dynamic Field, Dynamic Image, and Dynamic Link. What does it mean? It means that it is now possible to create a listing item layout using Bricks builder functionality and pull the needed data from custom fields via several dynamic widgets. Afterward, you will be able to output the created architecture in the Bricks editor using the Listing Grid widget.
To create a listing item, make sure to activate the corresponding toggle in the Bricks > Settings directory first and choose "Bricks" as a Source for listing item creation.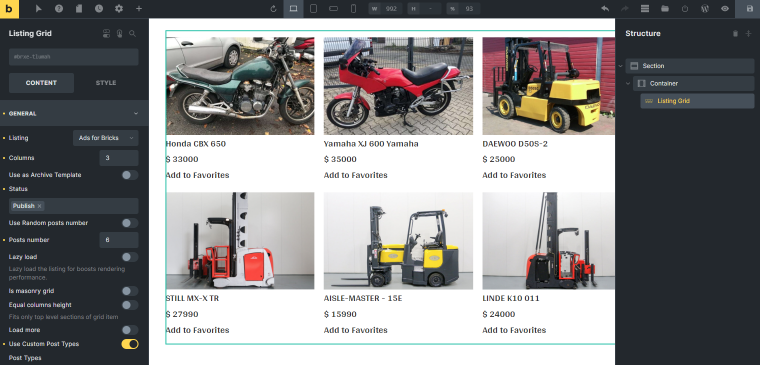 As to modules, we've integrated the following:
Dynamic Calendar;
Data Store Button;
Map Listing;
Profile Content;
Profile Menu.
But that's not all. We've also added the much-requested feature – the compatibility of JetEngine Query Builder with the native Bricks Loop Builder. So now, you will have even more flexibility when it comes to fetching dynamic content just the way you want. Also, you can use Macros Generator for generating Query Results.
How JetSmartFilters and Bricks Work Together
"Thanks you Crocoblock team so much for hearing us. I have been waiting for using JetSmartFillter with Bricks since the first time Bricks realese." (Crocoblock community)
For those who couldn't wait to see Bricks and JetSmartFilters compatible — they finally are. We decided to base the smart filters' compatibility on the JetEngine code, as there were two reasons to do so:
It would allow us not to duplicate the main code needed for integration.
The filtering would not be possible without JetEngine's custom fields and dynamic data.
NOTE
Please remember that JetSmartFilters widgets will not appear in the Bricks WordPress builder unless you install and activate the JetEngine plugin.
In the first-time integration, smart filters will be connected to such JetEngine providers as Listing Grid, Dynamic Calendar, and Map Listing. We have wholly replicated the widget settings responsible for the layout and adjusted the style settings as per the builder's peculiarities.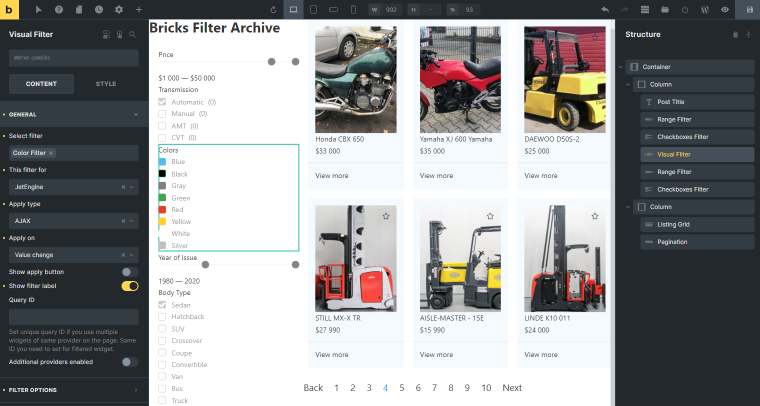 Final Thoughts
Bricks is another winning integration implemented by the Crocoblock team. It supports JetEngine and JetSmartFilters plugins, which means more flexibility and higher performance. Thanks to the Bricks' extraordinary speed and optimization, those who prefer JetPlugins will be able to build high-fidelity pages without bloated code.
JetEngine and Bricks combined allow you to build dynamic listings, calendars, and maps taking data from custom fields, terms, and query posts. As to JetSmartFilters, its integration basis is JetEngine code, so they best work together. Using the filter widgets, it is easy to build a filtering structure with Bricks features and style its appearance.
Feel welcome to test out the new integration, share the feedback, and let us know which other features and plugins you would like to see integrated.