What's in the Chart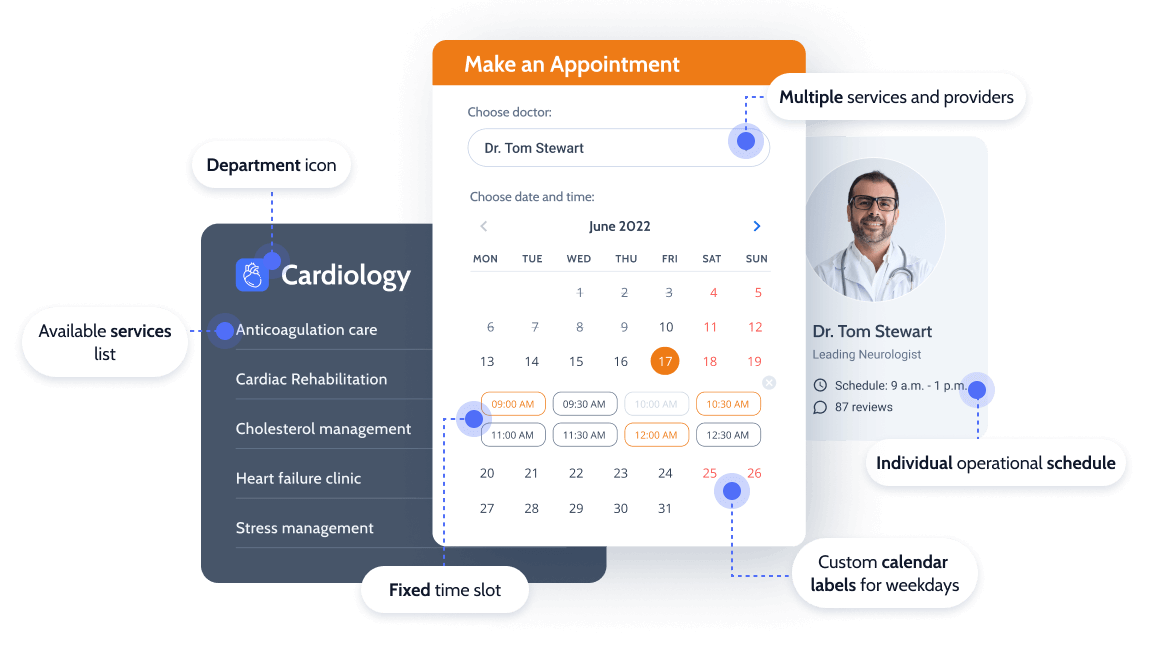 Template
Overview
Enjoy the updated doctor appointment website template that is pre-configured and pre-designed for you.
Watch Now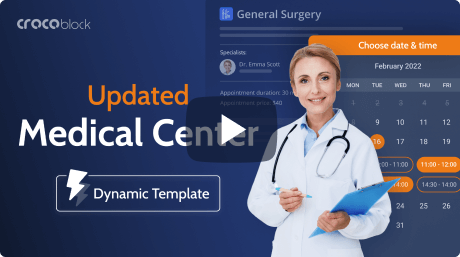 Department
& Doctor
Pages
Create and style single page templates from scratch in one
convenient interface. Use ready-made templates freely.
Showcase doctor details by pulling data from meta fields
Query all services assigned to a certain doctor
Add certificates to a clickable photo gallery
Let patients leave reviews about doctors
Display appointment duration and price
Indicate doctors who provide each service
Add a link to the appointment booking form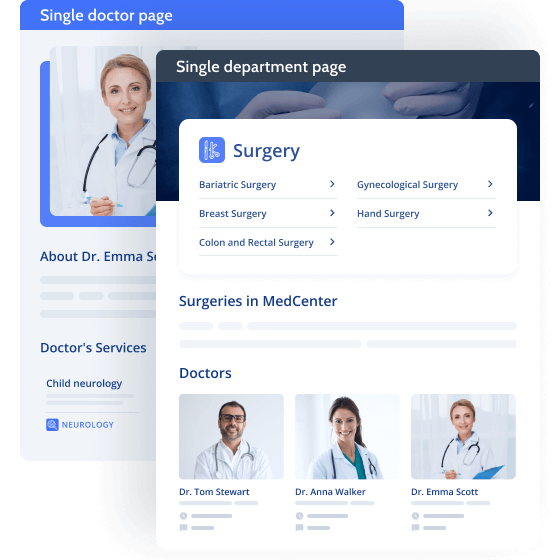 Department
& Doctor
Catalogs
Use JetEngine to promote the existing doctors and
departments through a responsive front-end architecture.
Showcase the doctor's details in the grid
Sort the available doctors by specialty
Make the department icons clickable
Output doctor's schedule and reviews
Configure one listing & apply changes to all items
Customize the department listing and staff archive pages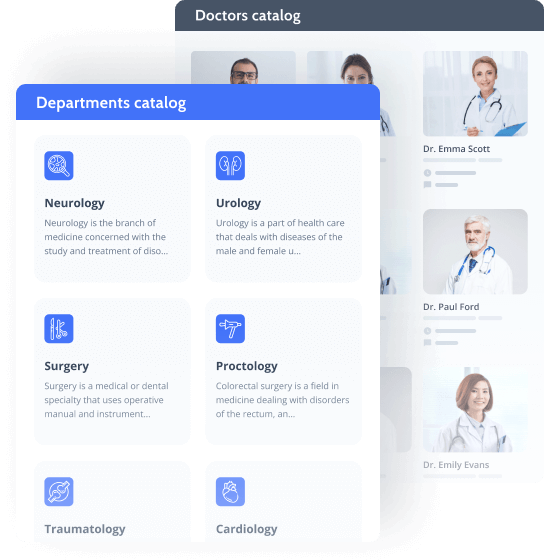 Appointment Booking Setup
Multi-step booking forms
Break the form into multiple parts and give patients more leeway to think over each step.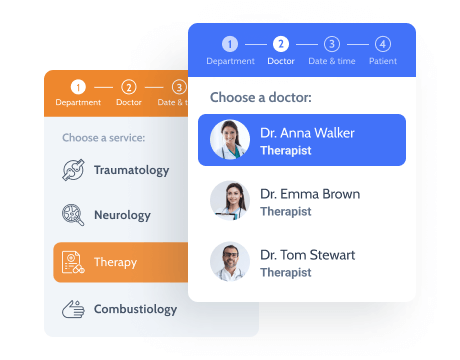 Availability calendar
Allow booking several time slots to see the same doctor on the same day from one account.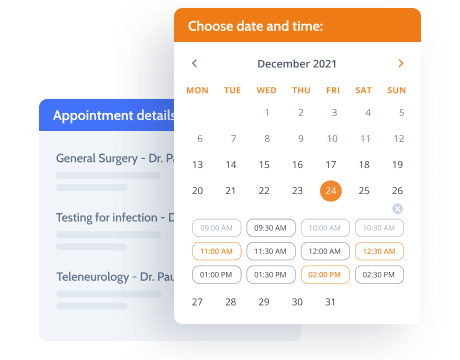 Appointment confirmation
Confirm the appointment and contact details by showing the patient a booking summary. Set the price calculation routine and output the service total on the front end.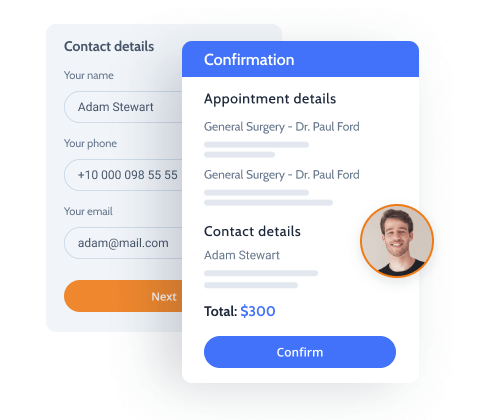 Different
payment options
Add a WooCommerce checkout supporting PayPal, Stripe payments, etc., to the website.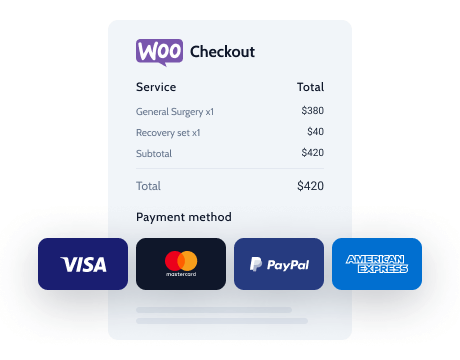 Third-party
calendar services
Automate appointment booking via Google
Calendar, iCal, Zapier, and Integromat.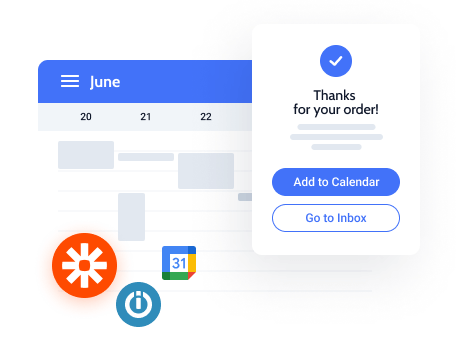 Query & Output

Appointment Data
from Database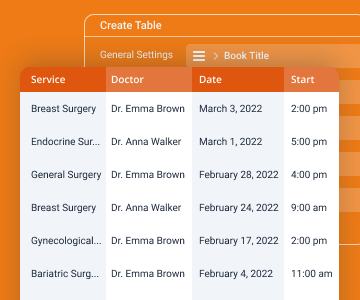 Table builder
Build a front-end table layout to show the appointment details at best.
Table builder | JetEngine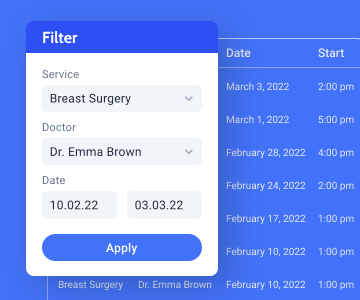 Smart filters
Develop a filtering structure that will sort the appointment list by certain criteria.
Smart filters | JetSmartFilters
Build & Manage


Website Structure

Use JetThemeCore to build custom theme templates and
website pages. Manage them all freely via one dashboard.
Build archive, single, and CPT pages
Apply different visibility conditions
Enable/disable certain page elements
Add badges to post thumbnails
Assign custom header, body, and footer templates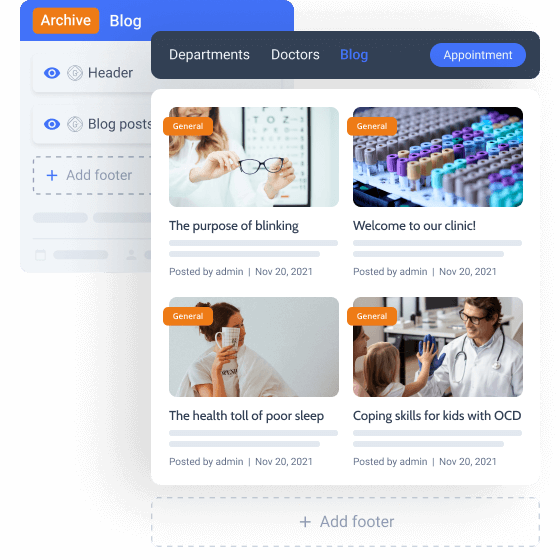 Medical Center

Website Dynamic Features
Why Crocoblock

& Dynamic Templates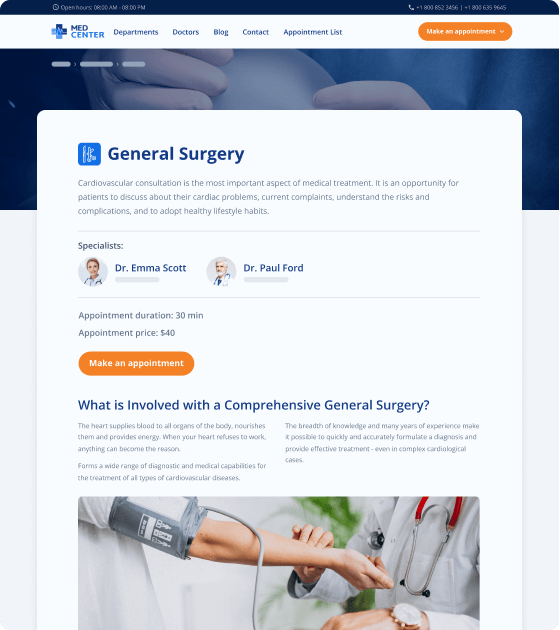 Still think that a stack of potentially "useful" pages, skins, and plugins won't have a toll on your project? In fact, they can slow down your website and complicate the setup.
We embrace the "Less is more" approach. Inside a lightweight medical center template, you'll find what's crucial for your development journey. No need to remove the unnecessary; unpack Crocoblock and proceed to build your private clinic website.
Crocoblock seeks to make the default template logic as versatile as possible. Therefore, you are free to change page structures, fine-tune the dynamic data, edit user accounts, and mix listing grids. Add anything and customize whatever you need.
The medical center website template contains nothing but JetPlugins' feature set. This means you obtain 20 Elementor add-ons by a single team, which have the same interface and are fully compatible.
To develop a website from scratch, you'll have to spring for many plugins and add-ons. We suggest a smart way to cut unnecessary expenses – the private clinic template. As a complex solution, it houses only niche-relevant components, all priced honestly.
Reaching out to several support teams for troubleshooting can be too tiresome. Since Crocoblock dynamic templates are powered by JetPlugins only, you get extensive guidance on every step of your journey. Whenever you need us, just shoot a request via your messenger.
Choose Subscription
30 days money-back guarantee
For more details on the Subscription proceed to the Pricing page
Already Got Crocoblock All-Inclusive?
Install and activate the plugin
Follow Wizard's instructions