On February 22, 2022, Elementor launched Elementor Hosting, its own cloud-based hosting service. This article will review what is included in this product, what WordPress users will appreciate the most, and how it compares to other hosting services.
Table of Contents
What Is Elementor Managed Hosting?
Elementor page builder now offers services usually purchased separately and possibly from different providers. These services allow for easy website setup and encompass hosting, SSL, security backup features, and the tools for designing the website itself, including pre-installed WordPress and Elementor Pro.

In simple terms, you can host a WordPress website with Elementor hosting, design web pages using the Elementor Pro plugin, and manage all processes through a user-friendly dashboard. Unlike many other hosting providers, Elementor Hosting doesn't impose hidden fees for SSL, backups, bandwidth, and more. Now, let's take a closer look at the specific features included in this bundle.
Elementor Hosting review
For its hosting, Elementor uses the formidable Google Cloud infrastructure widely acclaimed as one of the foremost cloud hosting platforms. The significance of this choice lies not only in the cutting-edge technology but also in the commitment to security. Google Cloud ensures that your website remains invulnerable to threats, boasting six layers of protection. And with data centers positioned worldwide, your website should be equally accessible to all users.
After easy Elementor Hosting setup process, users are granted these features in the Basic Plan:
Zero downtime allows your website to stay accessible to visitors 24/7.
You can easily link your custom domain to the website.
10 GB storage: space for diverse content, including images and videos.
30 GB bandwidth: handles high traffic volumes without slowing down.
25K monthly visitors: capable of hosting a substantial audience.
Automatic daily backups are stored for 14 days, with manual backup options.
You can export your website to another hosting platform using backup files.
Free Elementor subdomain such as [email protected].
SSL certificate provided by Cloudflare encrypts data and establishes trust with your visitors.
DDoS protection against malicious attacks is guaranteed by Cloudflare's CDN.
Elementor cloud website builder
In addition to hosting services, Elementor Managed Hosting websites come with pre-installed WordPress and the Elementor Pro plugin. With these editing tools, you can effortlessly design and customize your site, making it uniquely yours, without writing a single line of code.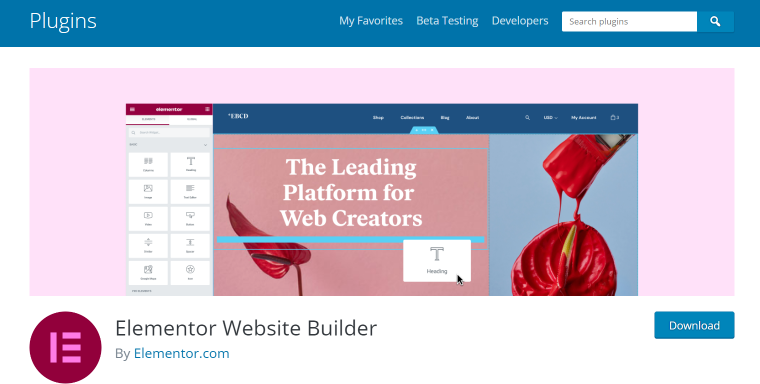 Elementor Pro has many outstanding features, making it one of the most popular website builder plugins. Let's mention some of them:
intuitive drag-and-drop editor to design and customize your website;
a diverse array of powerful widgets for enhanced functionality;
a variety of AI-driven tools for generating images, codes, and text;
300+ templates to choose from for rapid design;
theme builders to design and manage every part of website pages from one place;
the "Hello" WordPress theme built-in;
form builder to integrate forms for user engagement;
popup builder to captivate your audience with interactive pop-ups;
dynamic widgets and tags to make your website dynamic and data-driven;
ability to integrate other plugins to extend the functionality of your site;
eye-catching animations and motion effects;
responsive designs to ensure your website looks impeccable on all devices.
In addition to a standard WordPress dashboard allowing site management, the Elementor cloud subscription will enable you to manage all your websites through the Elementor account dashboard. This is where you can lock your site for the search engines, create new backups, link a custom domain name, and more.
Furthermore, the Elementor Hosting license includes 24/7 Premium Support, covering all your website needs, whether you encounter challenges with the Editor or technical matters related to Hosting. Premium support eliminates the need to switch between services to identify the root of the problem.
Elementor Hosting Pricing
Initially, Elementor offered cloud services for a flat fee of $99 per year for one site. There was no information about the price changing for renewal either.
Now, there are four Elementor hosting pricing plans, and some options previously available for a flat fee are accessible only to those buying the most expensive plan (storage, bandwidth, and monthly visitors).
Here's a breakdown of the four available plans billed annually:
Basic Plan: $120 for the first year, renews at $180. It includes all discussed hosting and website-building features.
Business Plan: $240/$300 per year. It allows 20 GB storage, 50K monthly visits, 50 GB bandwidth, 30-day backups, and a staging environment.
Grow Plan: $276/$396 per year. It allows building three websites with 25 GB storage, 75K monthly visits, 75 GB bandwidth, and site cloning.
Business Plan: $600/$720 per year. It allows building ten websites with 40 GB storage, 100K monthly visits, and 100 GB bandwidth.

Weighing the Pros and Cons of Elementor Managed Hosting
Now that we have a clear understanding of what Elementor Hosting offers and the cost of its subscriptions, we can summarize its advantages and disadvantages and identify the target audience it caters to.
Advantages of Elementor Hosting
Elementor Hosting offers a streamlined way to establish a live website. It bypasses the intricate steps in hosting, ensuring security, downloading design tools, and managing backups. With this tool, you gain access to a trusted hosting service and the WordPress building plugin favored by many professional web developers. Furthermore, it provides a library of Elementor's template kits to make the website-building process even faster.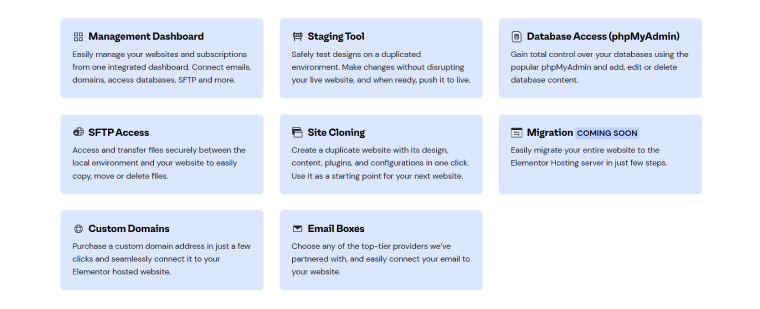 Elementor Hosting shines as a one-stop solution. You can overcome the technical complexities tangled with WordPress hosting with a single payment. Finally, you get premium support, where you can ask questions about hosting or site-building.
Disadvantages of Elementor Hosting
However, no solution is without its limitations. Elementor Managed Hosting restricts bandwidth and monthly visitors, even within its most premium plan. The 100,000 monthly visitor cap may prove insufficient for highly active websites. Moreover, despite its label as an all-in-one solution, the users still have to pay extra fees to get a custom domain from a registrar.
Users have reported that Elementor Hosting's website speed falls short of industry-leading standards. This flaw can be attributed to its layered structure – a builder plugin atop WordPress, all resting on cloud hosting. While a 1 to 5-second download speed may suffice for certain websites, it can harm others.
Importantly, not all WordPress plugins are compatible with Elementor Hosting. It disallows those designed for builders other than Elementor; some may be flagged as conflicting by the Elementor team. A thorough compatibility check is advisable before committing to an Elementor Managed Hosting license.
The target audience of Elementor Managed Hosting
Elementor Hosting caters to a specific audience niche. It's for the users seeking an all-inclusive WordPress package that simplifies website creation. Familiarity with Elementor Pro also proves advantageous when creating a website with the Elementor cloud services.
The prospect of a single fee covering all facets of launching your live site may be compelling for:
web designers looking for a time-saving solution that allows them to focus on front-end design;
small WordPress agencies;
developers, simplifying hosting and setup for clients;
marketing specialists who want to streamline the website creation process;
bloggers to quickly set up and manage a personal or professional blog.
However, it's essential to recognize the limitations. Elementor Hosting may not suffice for larger enterprises or agencies handling substantial traffic loads or extensive inventories. Even the top-tier plan's visitor limit of 100,000 can fall short of bustling membership platforms or global online stores. In such cases, alternative hosting solutions may be a more suitable choice.
Elementor Hosting Alternatives
SiteGround stands as one of the premier WordPress hosting providers in the industry, offering an excellent environment for websites of all types and sizes.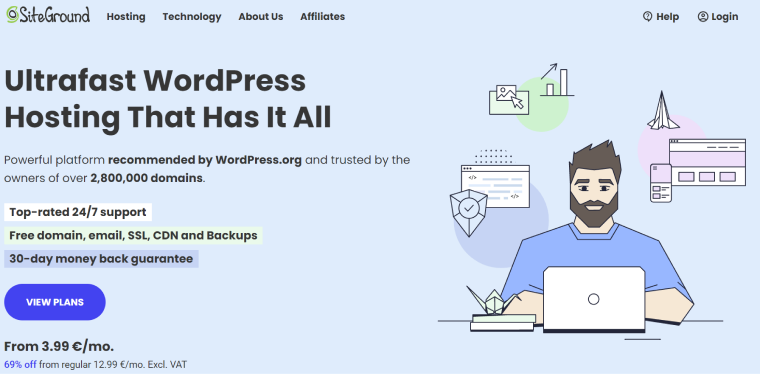 When purchasing a SiteGround license, you will get access to a WordPress Starter wizard – a helpful tool that simplifies the WordPress installation process into just a few clicks. This user-friendly feature ensures that even beginners can easily set up their WordPress site.
SiteGround excels in performance and uptime, ensuring the WordPress website remains available and loads rapidly. This commitment to performance makes it a reliable choice for those prioritizing speed and reliability. It also allows users to pick their custom domain name on the SiteGround platform, which is also a valid domain registrar.
Pricing:
StartUp: €48 for the first year, €192 on renewal. Ideal for hosting a single website with 10 GB of web space and 10K monthly visits.
GrowBig: €84/€336 per year. It supports unlimited websites, offering 20 GB of web space and up to 100K monthly visits.
GoGeek: €130/€480 per year. It supports unlimited websites, offering 40 GB of web space and up to 400,000 monthly visits.
SiteGround outpaces Elementor Hosting in terms of loading speed, thanks partly to Elementor Pro's potential impact on the latter's performance. SiteGround also offers more generous monthly visitor allowances in its highest-tier plan.
The initial pricing for SiteGround and Elementor Managed Hosting may not differ significantly for users who decide to buy Elementor Pro separately. But it's worth noting that SiteGround's renewal costs are notably higher.
Bluehost stands out as a robust WordPress hosting provider endorsed by none other than WordPress.org itself. This hosting platform provides a one-click installation of WordPress software. Together with a user-friendly dashboard, this makes website management a breeze, even for beginners.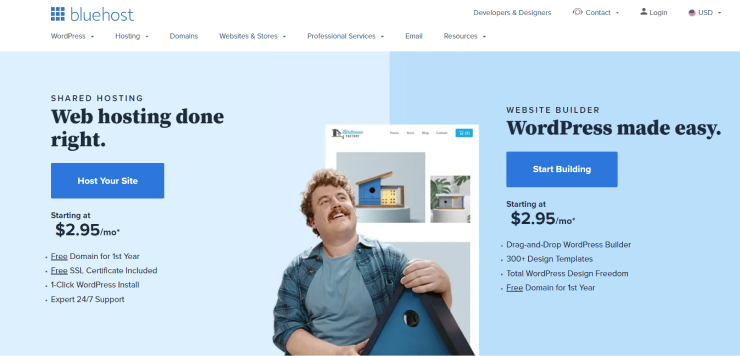 Unlike hosting platforms with tight limits, including Elementor hosting, Bluehost offers the freedom of unlimited monthly visitors and unmetered bandwidth. Another Bluehost's perk is site analytics provided by natively supported ManageWP, simplifying website management tasks.
Pricing:
Basic: $33 for the first year, $144 on renewal. Hosting a single website with 10 GB of web space.
Choice Plus: $60/$264 per year. It supports three websites, offering 40 GB of web space.
Online Store: $120/$324 per year. It supports three websites, offering 40 GB of web space, an online store theme, and a bundle of eCommerce plugins.
Pro: $168/$348 per year. It supports five websites, offering 100 GB of web space.
Bluehost excels at handling busy websites with substantial traffic and monthly visits. Moreover, its pricing is exceptionally competitive. However, it's worth noting that some features in Elementor Hosting's basic plan, such as automated daily backups, are included only in Bluehost's premium plans.
Those looking for maximum simplicity or want to try how WordPress works should check out WordPress.com managed hosting.

Users can effortlessly build and oversee websites without the need for technical configurations. WordPress.com offers a user-friendly experience as it handles hosting, security, updates, and backups. However, this ease of use entails constraints on customization and plugin choices compared to Elementor Hosting.
Pricing:
The good news is that WordPress.com has a free plan for everyone to try.
Free: provides a free subdomain and basic hosting services. The website is limited to 1 GB of storage and will feature heavy WordPress advertising.
Personal: €48 per year. It supports one website, offering 6 GB of web space, no-ad experience, and a free custom domain for one year.
Premium: €96 per year. It offers 50 GB of web space, additional customization options, and live chat support.
Business: €300 per year. It offers 50 GB of web space, access to plugins, WordPress.org themes, SEO tools, 50 GB of storage space, and unrestricted bandwidth.
Commerce: €540 per year. It is the same as the previous plan, plus essential features for building e-stores.
WordPress.com platform is an ideal tool to build simple and small websites quickly. But even the most expensive plans offer less customization and control over your site than the alternative hosting providers.
FAQ
What is WordPress hosting, and why do I need it?
WordPress hosting is specialized hosting designed to optimize WordPress websites for performance, security, and ease of use.
What is Elementor Managed Hosting?
Elementor Managed Hosting is a unique hosting solution that combines hosting services, a website builder, and customer support under one license.
Can I use plugins with Elementor Hosting?
Yes, but Elementor Hosting may have limitations on plugin compatibility. Some plugins designed for other builders or conflicting plugins may not work.
What are the key features to look for in a WordPress hosting provider?
Essential features include reliable uptime, fast loading speeds, robust security measures, automatic backups, scalable resources, user-friendly control panels, and excellent customer support.
Conclusion
In conclusion, Elementor Managed Hosting presents a unique and compelling solution in the web hosting arena. It integrates hosting services, a top-notch website builder, and comprehensive customer service support under a single license. This all-in-one approach is ideal for those who seek to dive right into website creation, omitting many technicalities.
For enthusiasts of Elementor products, this is an excellent choice. However, if your website demands unlimited bandwidth or expects traffic exceeding 100,000 monthly visits, it may be wise to explore alternative hosting providers and buy the Elementor Pro license separately.